IN THIS EDITION
---
Promo Only shares the secrets of their 23-year success
From the pages of Mobile Beat Magazine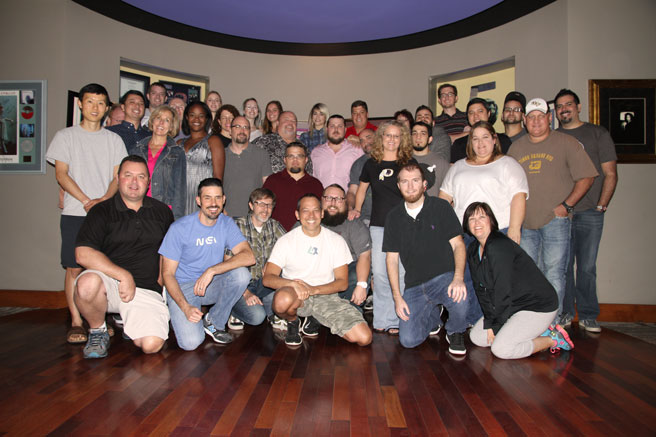 (Reprinted with permission)
It's not rocket science, but for most DJs it is a bit of mystery just how promotional music services work. And so, in the interests of good investigative journalism (and a tax-deductible trip to Disney World), I headed on down to Orlando, Florida to speak with the executive branch of one of the longest running promotional services in the industry, Promo Only. Who better, I figure, to tell us how the game is played than the people who practically invented the game.
Nestled just off I-4 in an industrial park dotted with IT companies, Promo Only has been churning out promotional releases since 1992, when co-founders Pete Werner and Jim Robinson hit upon what proved to be a pretty good idea.
"As a Billboard Reporting DJ, Pete was getting a whole bunch of promotional records," says Robinson. "I was a mobile DJ. And I wanted the same music. And I couldn't get it. It just wasn't available to me. But I did have digital recording equipment; I was among the first to use SoundTools [the forerunner to today's ProTools]. Pete and I came up with the idea that putting all those promotional releases on CD might be a good thing, not just for me, but for a lot of DJs."
"We all had SL-1300 CD players in the clubs, but we had nothing to play on them," says Werner. "The labels would not spend the money to make a CD record pool. They weren't about to incur the cost and distribute them for free. So we went to the labels and asked if we could do it for them. We struck a deal to gather up the hottest new tracks, put them on one CD and distribute them nationally."
"We also saw that the label's limited edition pressings were better than anything the remix services were offering - and nobody could get them," says Robinson. "So we would take the best of those mixes and put them on CD."
"The labels saw the advantage of that," adds Werner. "The songs went up the charts because DJs were finally getting copies of tracks that had previously been limited to a vinyl pressing of just 100 copies."
"And we did it all with the label's permission," says Robinson. "We've been legal since Day One. And we're very proud of that fact."
Take a tour of Promo Only's 8000 square foot facility, as I did, and you'll see little evidence of CDs today, as little by little warehouse space has been reallocated to the server space required by the push to online distribution.
"The transition to digital was something we saw coming long before it became the norm," says executive program director Chuck Barrett. "Long before POOL [Promo Only Online], we partnered with Destiny Media Technologies to create the Play MPE system [secure digital to radio]. We parted ways only to pursue what we felt was the best course for our subscribers -- a dedicated system. POOL was actually several years in the making and an often difficult process. But well worth it."
You know I had to ask: So how do you guys get the rights to release all this great music?
Keep Reading...
---
Spotlight: The Las Vegas DJ Show 2015
August 30th - September 2nd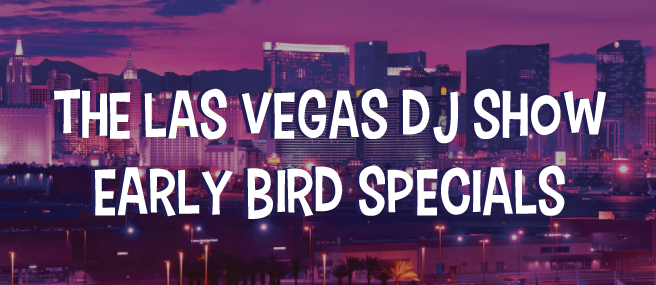 Need a nudge to attend this year's must-attend event, the Las Vegas DJ Show? We've got 10, courtesy of event producer and ADJA President Hugo Drax.
#10.
Over
35 seminars in 3.5 days
- All aimed at getting you more business
#9.
The industry's most sought-after
speakers and trainers
- including sports & entertainment icon
Michael "Let's Get Ready To Rumble" Buffer
#8.
The best location:
Planet Hollywood Resort and Casino
is at the epicenter of everything Vegas
#7. Special room rates
available at your choice of eight Caesar's Entertainment hotels
#6.
The industry's most complete Exhibit Hall. Every major manufacturer will be there with exclusive
offers and demos
#5.
The hottest nighttime fun - free with your
LVDJ show badge
- at the world-famous Marquee and
Hard Rock Cafe
#4.
Wine, dine and party at this year's SpinMaster's competition, hosted by DJ Flipside
(Jump Smokers) September 1st at the Hard Rock Cafe (VIP pass purchase required)
#3.
Exclusive event-only Promo Only deals and demos, starting with admission
Discount Code: PROMOONLYROX
#2.
A variety of admission packages starting at just
$49.00
#1.
A bar tab you can write off!
The Las Vegas DJ Show. It's Vegas. Only better.
thelasvegasdjshow.com

Early bird specials available here!
---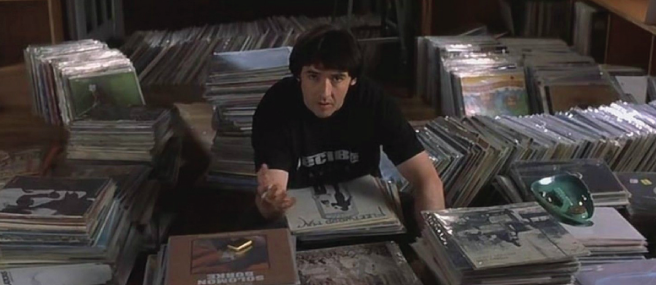 Daunted by that endless pile of tunes in your "Downloads" folder? Here's the solution: Treat your digital files as if they were a real record collection and spend time getting them sorted! You'll thank yourself come gig time. Here's how...
Digital DJ Tips Presents...
7 Secrets Of Good Music Organization For Digital DJs
This month's post is inspired by Tips member Jason Nappier, who writes: "I have a ton of music, but it's all dumped on my hard drive. When I used CDs, I knew where everything was, so if I needed an idea, I would just flip through and something would jump out at me quickly. Without that organization, I find myself blanking and scrolling through mountains of junk before seeing a song that fits where I'm going. Can you help?"
It's an extremely common problem, especially for DJs used to vinyl and CDs. Transitioning to digital where there's just a whole list of files in a browser can take the soul out of owning music. It can lead, as Jason says, to "blanking and scrolling," when you should be intimately interacting with your music selection as you play.
Here are some time-trusted techniques for taming a digital music collection, with special emphasis on helping DJs coming from a vinyl and/or CD background.
MY KILLER TIPS
Use a separate program to organize your music - Your DJ program is simply your "DJ booth". It's where you perform. When it comes to organizing your music, use something else. For most people it's iTunes®, because the work you do in there shows in your DJ software seamlessly. iTunes is your virtual shelves and racks of, organized how you choose


Pack a "crate" for every gig - CD and vinyl DJs never take their whole collection to a gig with them. You shouldn't either. Instead, "pack" a playlist full of about twice the number of tunes you think you'll need for any given event. Put your soul into choosing those tunes. Spend hours doing it, and be strict and only play from that playlist or folder within your DJ software at your event. This will force you to think harder about your music choices ahead of time, and prevent blanking and scrolling syndrome.


Have less music - Your collection is probably too big. What happens with vinyl is you have a go-to "area" of your collection and whole "no go" zones of stuff you rarely look at. With digital, everything tends to get lumped together. Worse, you tend to collect much more as digital files are cheaper and take up virtually no room. But it's a trap. A lean, mean music collection keeps you focused on quality, so regularly prune stuff out. Oh, and keep all non-DJing music out of iTunes entirely. Figure out another place for that stuff. [continue reading]
About Digital DJ Tips: Featuring news, reviews, show reports, and tutorials, Digital DJ Tips is one of the most-read DJ tech websites in the world, with over 60,000 students on its paid and free DJ courses.
---
Review: MonoPrice MHD 2.0
A look at the new, affordable action camera
Reviewed by Tim Nitsch | timnitschfilms.com
While the MonoPrice MHD 2 offers a lot of value for the money, especially for POV enthusiasts, it's not going to compete with the higher-end options out there -- but I don't think that was their goal in the first place.
The Pros
The MHD 2.0 has a very small profile. This is especially great if you're mounting it on a headset, helmet, truss, or whatever else provides a cool view. Waterproof down to 30 feet, the MHD2 goes where you go with no need for an extra watertight case making the unit bigger and heavier.
One of the biggest features of this camera is actually one of its smallest. On the bottom of the unit you'll find a 1/4-20 female thread mount that allows you to easily position it on a tripod, light stand, or monopod without the need for an adapter. This is a feature that even the most expensive POV cameras don't offer, so seeing it shows that they put some thought into the design of this camera.
The buttons are large and offer nice tactile feedback to let you know when you've engaged them (especially great when you're wearing gloves) and are protected by a secure waterproof cap that can be easily removed with a simple flip. Under the cap you will find the micro SD slot, Mini HDMI port, USB port, and a switch that allows you to select between two recording settings.
The unit also vibrates when you have engaged any of the buttons and when the unit turns off, a surprisingly nice feature that I've never seen on another action cam like it.
The Cons
Minus a dedicated on and off switch, the unit turns on when you either press the photo button or slide the recording switch, and turns off after so many minutes of non-use to conserve battery. Speaking of the battery, it's not removable as far as I can tell, which is a big oversight.
I've never been a big fan of Micro SD cards, but in a unit this small and this shape, there are very little other options. I would have liked to see more options to adjust recording settings, but can't complain too much at this price-point.
Trouble viewing this video? Watch it on YouTube.

Image quality
Today is all about high resolution and high frame rate. The M will do 1080p at 30fps or 720p at 60fps. I would have liked to see at least a 1080p at 60fps option. But again, you need to think about the price; for the price of a POV camera that has 4k and HFR you could buy 4-5 of these cameras. So it's a trade off.
The dynamic range of the sensor isn't bad; it's not great but it's not bad. Color reproduction is on par with other cameras in its price range. Low light performance is average. But then again, POV cameras were never designed with low light performance in mind.
The data rate tops out at around 15 Mbit/s, which is a little low if you're trying to max out on quality. The trade-off is that your file sizes will be smaller and you can record longer before you fill the card.
The Bottom Line
Overall, the MHD 2 is a nice little camera. It offers a lot without breaking the bank. It's not perfect, but no camera is. I would give it a solid 7/10.
MSRP:
$89.99
For more details and demos visit
monoprice.com
---
Success Coach Stacy Zemon:
How to Overcome Your Reluctance to Sell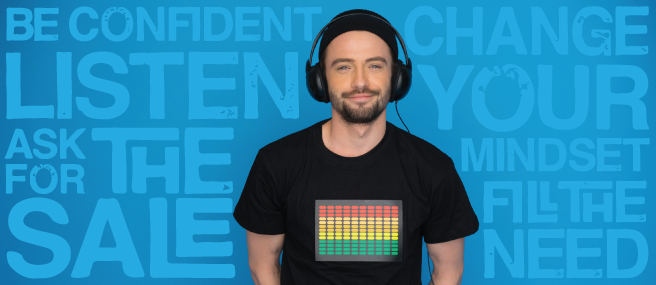 "Mobile DJs need to book events to have a successful business, yet sales often intimidate even the most seasoned among us," say's DJ Success Coach Stacy Zemon. "Why are so many people afraid to ask for the sale? It's the fear of rejection that holds us back. Take the selling out of the selling process and you'll find that closing sales is simpler than you think. Try these seven simple steps on your next appointment.
1. Change your mindset
Don't talk yourself out of the sale before you even get to the appointment. Keep in mind the prospect took time out of his or her busy day to hold the appointment. They must be interested in what you have to offer or they would not have agreed to meet with you. Be positive and go in with the attitude that you have what the prospect needs or wants and they are ready to buy.
2. Be confident in your expertise
Think of yourself as a doctor of fun: someone who has the experience, training and expertise to "cure the pain of boredom." Your prospect has a problem and your knowledge, services and techniques will bring them relief and alleviate their problem.
When you visit the doctor, the first thing he or she might ask is, "What's wrong today?" It's wise to do your homework before you meet with your prospect so you're more equipped to ask the right questions. In turn, your prospect will generally tell you exactly what they want or need. Then tailor your proposal or presentation to those precise needs.
[continue reading]
---
Quiz of The Month: BuzzFeed Presents...
Can You Remember The Last 21 Songs of The Summer?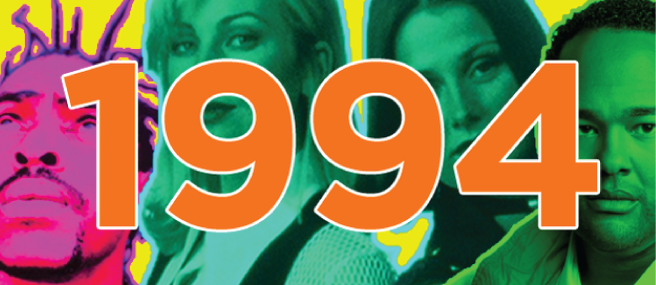 Put on your thinking caps, but don't stress... it's multiple choice, so just take the
quiz!
---
POOL Pro Tip
Discover more music. A lot more music...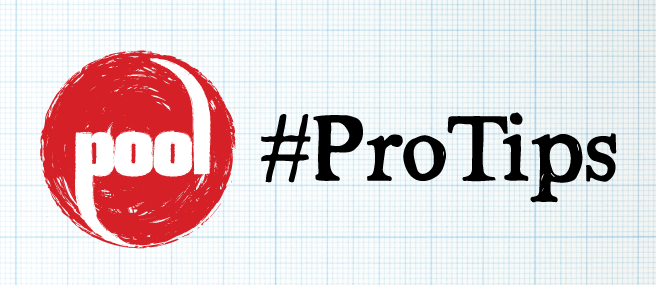 In addition to the standard radio releases we offer, you'll find more than a few exclusive Intro Edits, Clean Edits, Squeaky Clean Edits (that's a thing), and Explicit tracks available in most POOL subscriptions.
Simply input "intro," "clean," squeaky," or "expl" into the MIX field in our download app or your DJ app's search engine and grab what suits the occasion, as needed.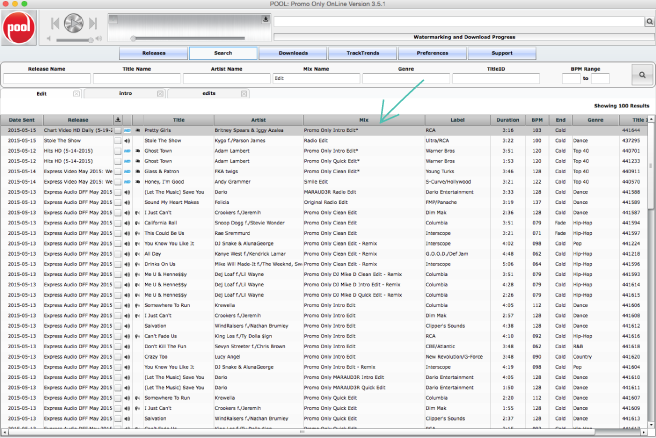 Questions about POOL?
Contact us at
poolsupport@promoonly.com
or by calling
407-331-3600
---
MAY 2015


Find all the hottest Top 40, Hip-Hop, Country, Rock, Dance and Latin Hits, and where they appear on your Promo Only Series.
**EDITORS NOTE**
The current Hitlist may still be in the process of being compiled so please check back if the one shown is not the most current.
---
Special Promotion!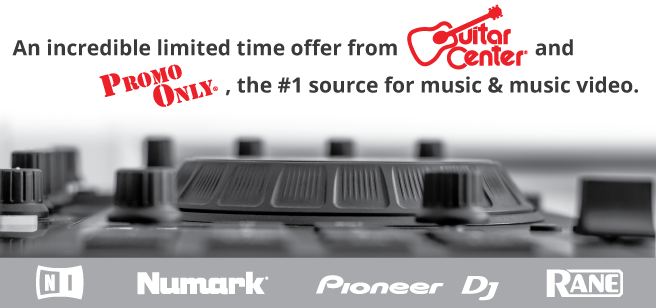 For a limited time we're bundling our premium
POOL Platinum package (a $100.00 value)
into the purchase of any new Native Instruments, Numark, Pioneer DJ or Rane controller to provide a true plug-and-play experience.
Out of the box you'll have access to daily delivery of the newest audio and HD music video releases, as well as our exclusive Clean Edits, Intro Edits, Quick Edits, limited-release Dance mixes, and flashback tracks - all at no additional charge.
Current subscribers will be upgraded to Platinum; current Platinum subscribers will be offered their choice of four (4) Classic compilations (160 videos/$100 value). Offer provides one calendar month of content.
Guitar Center receipt
and
completed rebate form
must be presented by email, fax or mail to qualify for offer.
Qualifying Gear and Rebate form available at:
guitarcenter.com/DJ-2015-g6346t1.gc

Offer Valid April 15th - July 31st, 2015

P.S. Recent purchases of qualifying gear will be honored.
---
Useless Info: AsapSCIENCE Presents...
Why is it so hard to remember someone's name?

You meet a new acquaintance and after you finish introducing yourself you suddenly realize you've already forgotten their name. Sound familiar?
Watch the latest from the guys at AsapScience to find out why, then watch their AsapTHOUGHT video,
"7 Tricks to Remember Names"
so you can develop your 'name remembering' skills.
Trouble viewing this video? Watch it on YouTube.

---
Got a suggestion for future issues or care to comment on our content?
Hit us up at promo@promoonly.com