IN THIS EDITION
---
Trending: Client Reviews
Myth-busting with DJ Jerry Bazatta

When it comes to the business of DJing, few brains are as ripe for picking as our friend and financial guru DJ Jerry Bazata's. We recently had the pleasure of speaking with Jerry about the impact of client reviews and how to more effectively manage them, good and bad.
We've distilled that conversation down for a quick read that could pay off for years to come.
Myths
More is better: We've been taught that the more reviews you gather the more your company will prosper. Not so much, it turns out. On average a prospect reads only the first 2 - 3 most recent reviews about your business before making a decision. Boasting in your advertising that you have 100+ reviews is therefore not only overkill, but can also call into question the genuine nature of their content.


Clients expect perfection: Studies show that more than 90% of potential clients place less confidence in a business with a perfect "5 Golden Star" rating than a business with the occasional average review that points out some minor shortcoming. We all make mistakes. And that's not necessarily a bad thing.


Quantity trumps quality: An overwhelming majority of the reviews I see all say pretty much the same thing: "Played the music we requested, had the dance floor full, was great to work with and was responsive to our needs." If all your reviews express that statement in one form or another, it then begs the question of a prospect: what is so unique about this business that I should hire them? A quality review will highlight the significant steps or actions you've taken to make the client's experience exceptional.
Management
Prescreen & prevent: Prior to asking a client to post a review on The Knot, send them a personal email asking for their feedback. Read the response and highlight one or two unique thoughts they shared, and then invite them to post those thoughts. If there is anything negative about your performance, this will allow you to address those concerns in a non-public forum, as well as increase your odds of a good review, thanks to your attentiveness.


Say thanks: Always acknowledge every review and thank each client for taking the time to share the positive aspects of your service. Reviews are not a one-way street and prospects are looking to see you're not taking these comments for granted. Remember to keep your response genuine; new prospects are watching.


Always act the pro: Should you be fortunate enough to get constructive criticism on your business page, look at it as an opportunity. Although your initial reaction may be to become defensive, think carefully about what you put in writing. Your response should be brief and acknowledge the fact that while you did not meet the client's expectations, you did your best and strive to improve at every opportunity. Allow a prospect to read between the lines and determine if this was a legitimate complaint or merely someone looking to grind an ax.
"As an industry we are obsessed with reviews," says Jerry. "But reviews were never intended to be the primary marketing tool for your business. Think of them as an interactive tool to enhance the positive traits of your business -- one that reaches well beyond the general marketing dialog."
To learn more about or more from Jerry, visit
mainediscjockey.com
and follow him on
facebook
---
Artist Spotlight: Brooke Fraser
She's putting on her big-girl pants + North American tour

The album title says it all: Brutal Romantic, the fourth release from singer-songwriter Brooke Fraser, marks a radical shift in musical direction for the former Christian pop artist, taking her from her much acclaimed (15x Platinum) acoustic sound to a bolder, edgier, yet nonetheless lyrical collection of dance-inspired tracks. Rife with electronic undercurrents and replete with depth of soul, Brutal Romantic reintroduces Brooke as beauty with a beat.
"I really felt that Flags [her third album, released in 2010] was the end of a trilogy for me as an artist," says Brooke. "I felt like I'd explored the folk pop singer songwriter world. I knew that I had always set my voice against really warm organic sounds, and I really wanted to experiment with setting it against different textures - spiky things and cold things and mechanical things, and bring out the tension and contrast and balance that could be enjoyed if I did that."
If Flags was her Lilith Fair, drawing on the styles of artists like Norah Jones, Sarah McLachlan and Indigo Girls, then Brutal Romantic is Brooke's Lorde and Gaga or, apropos of her native New Zealand, her Strawpeople or Phoenix Foundation.
Trouble viewing this video? Watch it on YouTube.


"Art should disturb the comfortable and comfort the disturbed. I like the idea that music can bring solace to people but also shake things up."
You'll find Brooke appearing this month on POOL Hits HD and Alternative Video. For more about Brook and her current North American tour visit at
brookefraser.com
---

Digital DJ Tips Presents...
NAMM 2015: Five trends from the floor
Bubbling underneath the relentless new product releases at last month's NAMM 2015 deeper forces were at work - forces destined to shape the DJ industry in coming years. We had the chance to go face to face with over 50 companies during our week there, and learned firsthand of five trends that will impact how our industry will look in one, two or five years' time.
#1 Serato is dominating mainstream digital DJing
It's true - Serato is everywhere. How Serato has achieved its current dominance is a product of clever partnerships and sheer hard work, but there's a built-in fault line that is likely to fracture, at least a little, at some point.
When it comes to DJ software, on one extreme we have Traktor, a "walled garden" software increasingly mapped for use with its own small choice of hardware providers. At the other extreme is Virtual DJ, a software that work pretty well with absolutely anyone's hardware, with or without official endorsement.
And there quietly in the middle resides Serato DJ -- software that needs Serato-licensed hardware to work. This is good thing -- it allows Serato to control everything about how its software interacts with said hardware, giving DJs a smoother, less buggy experience. But so aggressively has Serato courted hardware manufacturers - everyone from Pioneer at the pro end to Hercules and Gemini at the consumer end - that the more ambitious manufacturers are starting to squirm at having to use third-party software on their devices, especially software that seems to be everywhere. Sooner or later one or two of these hardware companies will have the clout to come up with alternatives. Actually, one already has...
#2 Pioneer's rekordbox has come of age
Already the go-to hardware in most DJ booths, Pioneer hardware has grown increasingly rekordbox compatible (rekordbox is Pioneer's proprietary DJ software, focusing more on library management than performance but increasingly leaning towards the latter). So it makes sense for DJs who DJ in "real" DJ booths to organize their music within the rekordbox ecosystem.
Increasingly rekordbox is a viable choice for controller DJs, and arguably the best choice for those who want to DJ on Pioneer gear...
[continue reading]
About Digital DJ Tips: Featuring news, reviews, show reports, and tutorials, Digital DJ Tips is one of the most-read DJ tech websites in the world, with over 60,000 students on its paid and free DJ courses.
---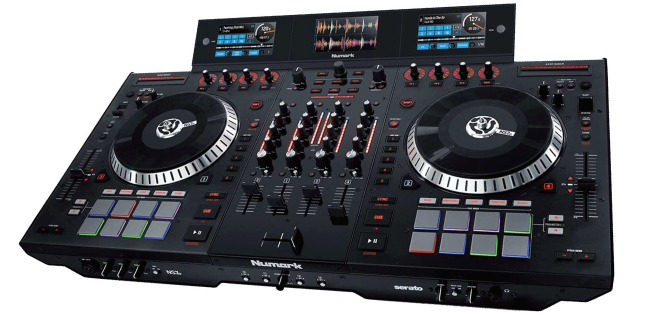 Review: The Numark NS7III | Serato DJ Controller
For the turntablist in all of us.
As those fortunate enough to have made it to sunny California well know, NAMM 2015 saw the launch of the newest iteration of Numark's all-you-can-eat turntable/controllers - the NS7III. Designed to integrate seamlessly with Serato DJ, the NS7III builds on the full-featured NS7 II (four decks, touch-sensitive controls, full-blown audio interface, and full-service motor-driven vinyl platters) by adding three hi-res 4.3-inch color screens.
Like Numark's newly-minted NV controller, two of the three screens provide moving waveforms, playhead, deck, and FX status, while the front-and center third screen boasts a dedicated view of your track library.
Pro Tip:
Screen III can also be switched to display stackable parallel waveforms for complete beat matching control of all active programs (hint: leave the laptop closed).
Trouble viewing this video? Watch it on YouTube.

Standout Features Include:
Premium Serato DJ controller with 3 high-resolution color screens, with ability to display stackable waveforms
Stacked parallel waveforms on central screen for simple, direct visual beat matching
Screens provide 1:1 real time feedback of Serato DJ, letting you close/move the source laptop and focus on the music
Dedicated track library screen with corresponding navigation controls
4 decks of Serato DJ software control; built-in 4-channel audio mixer
2 variable-torque motorized platters with high-resolution MIDI tracking
Touch-activated knobs produce groundbreaking control of filters, EQ, and more
Authentic vinyl records provide the feel of a professional DJ turntable
16 velocity-sensitive Akai Professional MPC pads with backlit RGB feedback
10 pad modes for hot cues, loops, song slicing, and sample triggering
Dedicated touch-activated control of Serato's 12 professional iZotope® FX
Built-in professional 24-bit USB 2.0 audio interface
Zone/booth outputs and balanced XLR outputs for club use
Rugged, road-worthy metal construction Serato NoiseMap ready for use with extended DVS setups
Plug and play with Serato DJ (included) - no upgrade purchase required
MSRP: $1799.00
Street: A more than reasonable $1499.00
For more info visit
numark.com
---
Success Coach Stacy Zemon:
How Much Is Enough Gear?

Guest Writer | Stu Chisholm, Author of The Complete Disc Jockey
DJ Success Coach Stacy Zemon asks, "You've got the ultimate DJ rig for 2015 but how do you know you've got enough gear to cover every type of event?" ProMobileDJ.com's Stu Chishom has the answer for you...
I've been performing a top-to-bottom overhaul of my DJ business, and my mantra has been, "leaner, smaller, better." In the past, my strategy was to overwhelm, bringing a DJ booth, sound system and light show that was the party equivalent of shock and awe. I wanted guests to know that I was serious even before I even turned my system on!
Yet over the course of my 35-year mobile career, I realized that there were some events where such excess is not required or just plain silly. One such event was for about 50 people, and the entire stage could barely hold a small banquet table. I had to improvise: Instead of the lavish double-depth table I normally used, I brought in a cube-shaped console I kept on hand as back-up, and plunked it on top of the amp rack normally hidden beneath said table.
This gave my rig a podium-style look, with a footprint of roughly 22" X 22", and allowed me a little bit of room to move. With a hastily applied black drape, it wasn't pretty, but the show went on. Soon after I built a façade for it, and in lieu of the massive truss and moving mirror intelligent lights of my big light show, I packaged together a "lighting pod," consisting of four basic lighting effects: a wash light, strobe, mushroom and...
[continue reading]
---
In Memory:
Music Promotion Icon Vince Pellegrino Dies at 68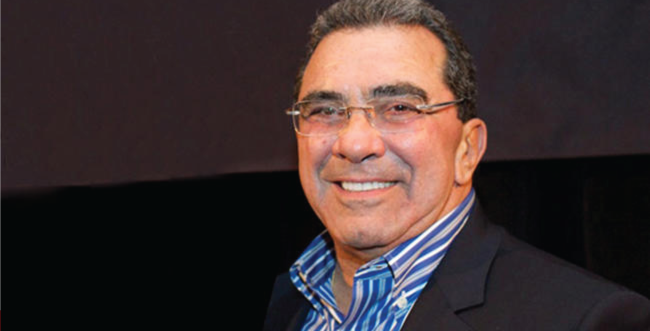 The story of Vince Pellegrino, founder and president of the Pellegrino Entertainment Group and publisher of S.I.N. (Street Information Network), is one of a man who not only loved music, but clearly loved people, and was loved by everyone he worked with and whose lives he touched.
From his early days in the 1970s championing the music that evolved into a movement called disco, first as club DJ and later as retail buyer and label executive, Pellegrino possessed a passion that was clearly infectious. Over the years in his work at CBS, Polygram, RCA and Chrysalis Records, he developed the promotion and marketing skills that led to his starting the company and work ethic so many in the business today have spoken highly of.
"Vince was an icon in the world of music promotion and did so much to advance the careers of countless artists. I was blessed to spend time with Vince talking about the industry and life. Our industry has lost a legend," said Promo Only co-founder Jim Robinson.
Rest in Peace Vince. You will be missed.
---
Video Of The Month: DJ Angelo "Fly Or Die"
Mixing while sky diving...

Elevating the art of DJing and thinking outside of the box is something that DJ Angelo is widely recognised for, but never has he pushed himself (or technology) to this extreme before.
Whilst his turntables stayed well and truly grounded on this occasion, Angelo took to the skies (15,000 feet to be exact) armed with a iPad Mini and Algoriddim's bestselling DJ app djay 2 in an attempt to become the first DJ to perform live....in mid-air!
Trouble viewing this video? Watch it on Facebook.

---
IDMA 2015: Stand up and be counted
Your vote can make a difference.

Thanks to your support, Promo Only and Promo Only Promotions have been voted the IDMA's Best Promo Subscription Service and Best Independent Music Promotion for the last eight consecutive years.
We're calling on your support again this year: We need your vote to lock in our ability to continue to bring you more music for less.
Here's how easy it is: One click on the link below will take you to an online ballot. Simply click on the nominees of your choice (we are competing in Categories 48 & 49), hit submit and get ready for the rush of releases, remixes and exclusive dance mixes headed your way, every day, this year.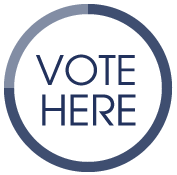 Voting ends March 2nd, 2015

Promo Only and you.
Good things happen when DJs come together.
---
POOL Pro Tip
Need to update your POOL info quick? Our website never sleeps.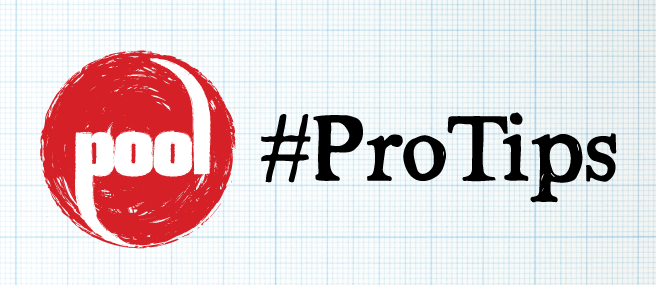 Long after our office hours end, our website is ready to handle any updates or changes you need to make to your POOL account.
Simply log in to
promoonly.com
using your POOL username and password and you can quickly update your credit card info, change any billing information required and even throw a new folder of tunes or two in your cart - all from the comfort of home or wherever you might be.
Questions about POOL?
Contact us at
poolsupport@promoonly.com
or by calling
407-331-3600
.
---
FEBRUARY 2015


Find all the hottest Top 40, Hip-Hop, Country, Rock, Dance and Latin Hits, and where they appear on your Promo Only Series.
**EDITORS NOTE**
The current Hitlist may still be in the process of being compiled so please check back if the one shown is not the most current.
---
Useless Info: ASAP Science Presents...
8 Sick Remedies That Actually Work - Scientifically!

It's that time of year when many of us wind up with a cold, flu, or the weather just has us rundown and feeling plain icky. Check out these eight remedies that actually work!
Trouble viewing this video? Watch it on YouTube.





---
Got a suggestion for future issues or care to comment on our content?
Hit us up at promo@promoonly.com