IN THIS EDITION
---
Trending: iHeartRadio's Brian Fink
A look at EDM's, past, present and future

When he's not busy fulfilling his duties as production director and on-air personality at Tampa Bay's 93.3FLZ, or overseeing the programming for iHeartRadio's syndicated Evolution broadcast, Brian Fink serves as iHeartMedia's EDM Brand Ambassador, a role that has, as Brian readily admits, its challenges.
"One of the biggest problems is that EDM encompasses everything," says Brian. "But somewhere along the line, the meaning of EDM has been distorted to refer only to festival, progressive house stuff, which it's not; EDM is electronic dance music: House, deep house, breakbeat, trance - everything fits beneath the EDM umbrella."
And what of the never-ending rumors of EDM's imminent demise?
"Dance isn't going anywhere. I do think that many dance genres are cycling through, just like music does. You look at ten years ago and it was hard trance, the type of stuff that's being produced now, just at a slower BPM. Future House is almost the same thing as UK Garage, with one more beat added on to it. Dance is cycling through right now. But dance is certainly not going anywhere.
"In fact, EDM's crossover to the mainstream is nothing short of phenomenal. Not so long ago it would have been impossible to get Calvin Harris on top 40 stations; now Calvin releases a record and he's all but guaranteed to appear on mainstream radio. Afrojack's "Summerthing" is all over mainstream radio. I listen to a track like that and I'm, like, 'wow, that's a pretty hard track.' And on top 40."
We're at a crossroad: It's up to us to let people know that the world of electronic dance music is more than just the DJs on the Ultra main stage.
Want to explore a little more of what EDM has to offer? Check out this guide to
EDM's most popular sub-genres
(includes audio samples).
Interested in a free no-strings-attached trial of our all-EDM Electronic Bundle? Email us
here.
For more on Brian Fink, including Brian's syndicated playlist, visit
www.933flz.com
---
Spotlight: 2015 Promo Only Summer Sessions
The music industry's networking event of the year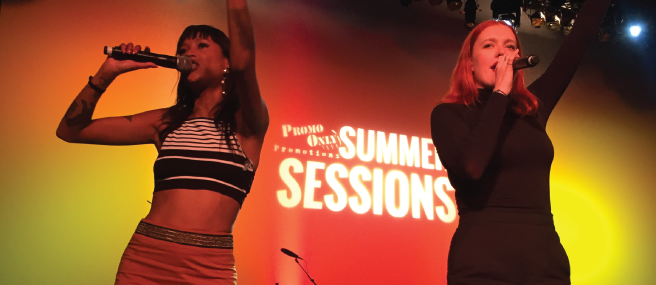 Icona Pop performing at the Promo Only Summer Sessions Awards Show | Photo credit Nick James Hahn (Promo Only)
Unique in its combination of work and play, this year's 9th annual Summer Sessions brought together over 400 top radio programmers and major label executives for a series of panels and parties designed to informally exchange ideas and information vital to our industry.
Events and panels included the Internet Radio Panel; the National Programming Panel (moderated by Cary Vance, Promo Only Promotions); the Producer/Remixer Panel, Mix Show Panel and Radio Programming Panel; our invitation-only Opening Night Party, featuring a special appearance by legendary producer Timbaland; and our all-access Summer Sessions Mix Show DJ Party, brought to you live from the Mixx Nighclub, and our Awards Show featuring new music from JoJo and Icona Pop in The Music Box at the Borgata Hotel and Casino.
Thanks to everyone who joined us! And if you couldn't make it, we've got a few highlights to encourage you not to make the same mistake twice...
See more photos from this year's event on Facebook courtesy of our awesome photographers Matt Jylha and Joe Licul.
---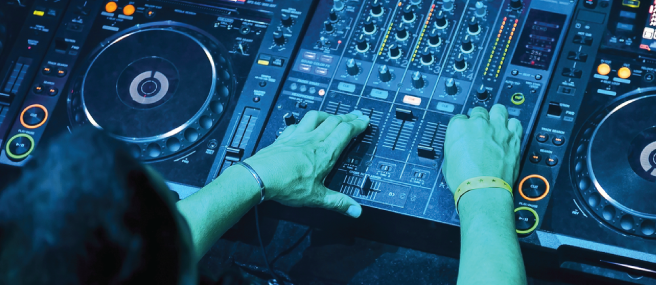 Digital DJ Tips Presents...
7 Things I Learned DJing Without A Laptop This Weekend
This weekend, I played my first show since 2005 without a laptop (or an iPad). Specifically, I was using the Pioneer XDJ-RX, the all-in-one Rekordbox unit that - in a first for a controller - I suspected would come close to delivering all the benefits of a laptop, without the laptop.
Here's what I learned...
1. Rekordbox software is good
Preparing my music on the software that's integral to this approach, Rekordbox, was a pleasant experience. Especially in these days of iTunes woes, I found the software intuitive and with enough DJ-led features (built-in key analysis, cue points, waveforms etc) and organisation features (smart playlists being the main one) that I didn't miss iTunes at all.
When you're done, you insert a USB drive into your laptop, hit "export", and all your tunes are transferred to it, ready to use on the XDJ-RX at your gig. End result: No laptop!
Pro-Tip:
Re-format your USB device first (mine didn't work properly until I did), and use a decent, modern USB device: Transfer took ages an older drive I had...
2. Nobody thinks you're DJing on a toy
The XDJ-RX simply looks like the real deal. Maybe it's the relatively large size (although I carried it easily enough to my gig in a UDG bag), maybe the Pioneer DJ logos, maybe the fact that it looks similar to a couple of CDJs and a DJM mixer pushed together, but people commented that I had "the real gear" several times. Like it or not, perception matters, especially at highly paid events Maybe not having a laptop there helped with that perception too.
3. The big, bright screen makes a huge difference
Y'see, personally I've tried before to work with Rekordbox, with both the XDJ-Aero and the XDJ-R1 controllers, but it wasn't for me, and the reason is simple: No decent screens. Once you're used to seeing all your track info, artwork, waveforms, and library on a laptop screen, it's a huge step backwards to DJ without it. The screen here is good enough to stop you (by and large) from missing a laptop screen at all. I DJ'd at sunset with the sun behind me and the screen was plenty bright enough, and you can dim it later on for night-time use (the gig finished at 2am).
[continue reading]
About Digital DJ Tips: Featuring news, reviews, show reports, and tutorials, Digital DJ Tips is one of the most-read DJ tech websites in the world, with over 60,000 students on its paid and free DJ courses.
---
Review: Swinsian
The iTunes alternative
We don't need to tell you that matters for iTunes users recently turned sinister with the introduction of iTunes 12.2 and the havoc it wrought to DRM, artwork, and tags, uninvited changes that blocked some DJs from access to their libraries. While fixes are no doubt afoot, we thought this might be the perfect time to introduce you to a software that, unlike the other alternatives, is an actual replacement for iTunes, not just as a music player, but as a music library manager capable of handling all the music file formats that iTunes supported (and then some). Here's what our bench-test uncovered . . .
Speed
This is definitely the main thing for us, and Swinsian really delivers. It is specifically designed for handling large libraries, and succeeds where iTunes often fails miserably. It launches fast, has a very responsive user interface, lets you browse a large library quickly and smoothly, allows you import tracks and edit tags efficiently, and even has a Find/Replace feature that supports regular expressions (wildcards on steroids), which is a crucial time-saver when you need to edit large numbers of tags in specific ways.
Tags
With Swinsian, you can finally say goodbye to iTunes' infamous dialog box and easily edit tags on multiple tracks at once. Regex compatible find and replace helps you keep your music correctly tagged, and the powerful Duplicate Finder helps you find and remove pesky duplicate tracks.
Other worthy features include...
Folder watching
iTunes library import
Album art import
Global keyboard shortcuts
OS X and Growl Notifications
Duplicate track finder
Separate playlist windows
Smart playlists
Library stats
Automatic Podcast downloading
Applescript control
Available for a modest $19.95
For more info - and a free trial of Swinsian, visit
swinsian.com
---
Success Coach Stacy Zemon:
Social Media Time Saving Tools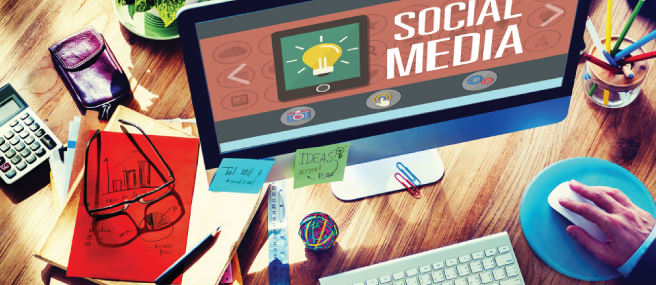 "Most of the DJs I've met are small business owners," says DJ Success Coach Stacy Zemon. "As such they find themselves in the same conundrum most entrepreneurs do: 'How can I possibly get all of my social media marketing done when I have a business to run?' With this in mind, I decided to focus this article on four time-saving tips and tools for you."
Tip #1: Schedule out your Facebook posts.
Facebook allows you to schedule your posts days, weeks, even months and years in advance. All you do is select the day and time. It's a good habit to spend 20 minutes every week, on a designated day, and schedule out a few posts for the week. You can leave enough space between them to allow yourself to share something off the cuff every now and then. Here's
Facebook's instructions on post scheduling.
Tip #2: Don't spread yourself too thin. Pick one platform and focus there.
Especially when you're doing it alone, you just can't have a presence on every single platform. Pick one or two that you really enjoy and focus there. It's better to do a few platforms and do them well than have several that are poorly managed.
[continue reading]
---
Disc Jockey News's John Young:
What To Do On A Night Off
John shares five tips on what you could do to maximize your time off on a Saturday night. Off time is a great time to work on growing yourself and growing your business for future success!!!
Trouble viewing this video? Watch it on YouTube

---
Tyde Levi: How To...
Become A World Famous DJ
Trouble viewing this video? Watch it on YouTube

Tyde Levi teaches you exactly how to become a world famous DJ! Pay very close attention... ;)
---
POOL Pro Tip
Batch downloading made easy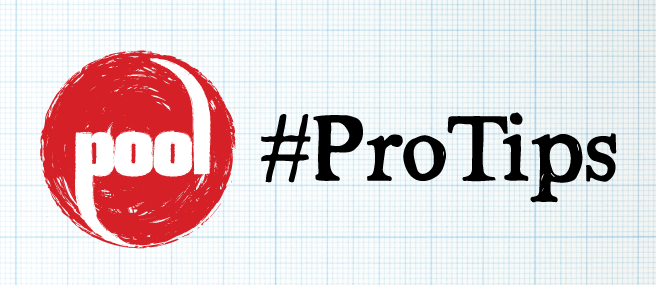 Whether you're just getting started with us, falling behind on your downloads, or recovering from a hard drive cash and taking advantage of our free Store & Restore Guarantee, our POOL
CONTENT FILTERS
can make batch downloading a breeze.
Let's say you need to catch up on the last few months of Express Audio - without scrolling around for each individual folder...
1. Simply go to your PREFERENCES tab and locate the "Show Content By Format" column in the CONTENT FILTER window (the bottom half of the screen).
2. Hit "Deselect All" and the check ONLY the Express Audio box (although this will work for any selection).
3. Check APPLY PREFERENCES
4. Return to the RELEASES tab, hit "REFRESH VIEW and voila - you're a few quick clicks from downloading just what you need.
Questions about POOL?
Contact us at
poolsupport@promoonly.com
or by calling
407-331-3600
---
AUG 2015


Find all the hottest Top 40, Hip-Hop, Country, Rock, Dance and Latin Hits, and where they appear on your Promo Only Series.
**EDITORS NOTE**
The current Hitlist may still be in the process of being compiled so please check back if the one shown is not the most current.
---
Hot Video Classics Special:
Get the best music videos of the past four decades at a retro price!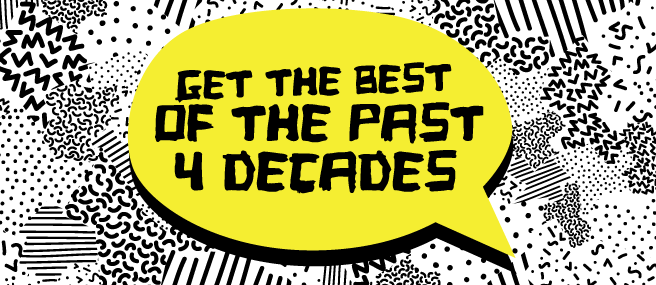 We're offering a four-decade deep, turnkey video library of 600+ essential hits for a total of $225.00 (playable as audio-only, too*).

Your choice of any 15 Hot Video Classic Specialty POOL Releases (Best Of The 70s - 2009) at $15.00 each.

Available Music Video series include: Best Of The '70s, '80s, 90's, and 2000's!
*Video files will play as AUDIO-ONLY on software that supports MPEG4
Hot Video Classic Series Available by the Download (POOL) $25.00 ea. $15.00 ea.
(Maximum 15 volumes per customer order at special pricing.)

To order click here.
Offer Ends September 30th, 2015.
---
Usefull Info: AsapScience Presents...
Smoking vs Vaping

Is vaping actually better for your health? Here's what the guys at AsapScience say...
Trouble viewing this video? Watch it on YouTube.

---
Got a suggestion for future issues or care to comment on our content?
Hit us up at promo@promoonly.com