In this Edition...
---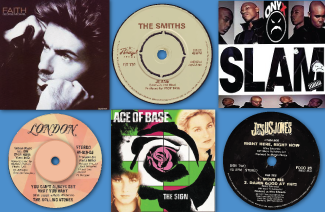 Feature: Game of Tunes
Anyone can play a new hit. But a seasoned DJ knows when not to.
Playing favorites is a favorite game of ours. Sure, playing the hottest new hit is a crucial part of what we as DJs do. But there's something especially empowering about watching what happens to a dance floor when you hit on the right combination of music, time-travel and surprise that we just can't pass up - and neither should you.
If you've yet to harness the power of a well-timed classic, we've got a few tips to get you in the game today...
One of our favorite moves involves a simple formula (for best results run this play after things are well-warmed up and in danger of cooling down): Scan the room for the average age, subtract ten years (or more if you're playing, as we are in this example, to a 40+ demographic), drop the hit of the day, back it up with a stop-them-in-their-tracks throwback - Barry White's "Can't Get Enough Of Your Love, Babe" has never let us down - and feel the surge that happens when you serve up a totally unexpected slice of someone's glory days.
It's a game-changing moment - for you, your audience and your paycheck. You just connected with your crowd in a way they won't forget next time.
Flashbacks can put you on the fast track!
It's hard to ignore the exploding popularity of retro-parties & Throwback Nights (trending now -
websites devoted to planning the perfect 90s party
) and even harder to ignore the fact that a thorough command of 70s, 80s and 90s classics is more important than ever if you're looking to cash in on the past today.
So dust off those CC & The Music Factory, Haddaway and Real McCoy anthems, pack plenty of Bell Biv Devoe, Janet Jackson, and Montell Jordan, pop some Ace of Base, Spice Girls, N' SYNC, Third Eye Blind, Nirvana and Blues Traveler on that playlist, and get ready to party like it's pre-1999.
Need a little more inspiration? Check out the off-the-cuff classics our own staff has been known to throw down at their events...
Ricky Vazquez | Media Consultant
• "Yeah" - Usher
• "It Takes Two" - Rob Base
• "Don't Stop Til You Get Enough" - Michael Jackson
"Nick James" Hahn | Director of Marketing & Distribution
• "I Can't Go For That (No Can Do)" - Hall & Oates
• "Paid In Full" - Eric B. & Rakim
• "All That She Wants" - Ace Of Base
• "Lithium" - Nirvana
• "Stranglove" - Depeche Mode
Glen Ervin | Sales Manager
• "Can't Get Enough Of Your Love, Babe" - Barry White
• "Jeopardy" - Greg Kihn Band
• "Good Vibrations" - Marky Mark & the Funky Bunch
Got some sure fire classics of your own to share? Post them on our
Facebook
and be entered to win (1) Full DJ Expo Pass or one of (5) Exhibits Only Passes*
*No subscription required to enter. Winner will be chosen by random drawing. Prizes will include Specialty Releases only.
---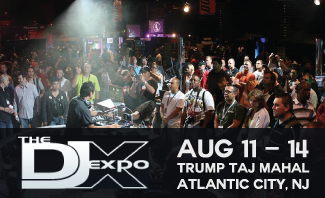 Spotlight: DJ Expo 2014
August 11-14th @ Trump Taj Mahal Atlantic City
If twenty-three years of watching our industry evolve has taught us anything, it's this: There's not a single person reading this that couldn't benefit from the wealth of know-how, networking opportunities and savings found at DJ Expo. Here's a quick look at why staying home is a habit worth breaking...
The Exhibit Hall
DJ Expo offers demo rooms and an exhibit hall full of the newest pro-audio gear, software, lighting and accessories from the market's major players, each hosting exclusive on-site deals. Exhibits will run at the Trump Taj Mahal's Mark G. Etess Arena from Aug. 12-14, Tuesday through Thursday.
Sessions, Workshops & Events
Additionally, you'll find more than 25 industry panel sessions and workshops on tap, with topics finely honed for club and mobile DJs, plus music-making jocks of all stripes. Whether it's new technologies, performance, music, studio tips or marketing, Expo sessions offer career-enhancing info not found geared for any and all.
Exhibitors will also be offering sponsored seminars, workshops and evening events. In addition to club events, like DJ Skribble's always-hot Ego Lounge blowout, expect to see the best of the Mobile Nation get busy in the annual "DJ of the Year" competition, plus one lucky DJ Expo attendee win the annual "Ultimate DJ Giveaway" and the tons of free swag and gear that goes with it.
For our part, we'll be manning Booth #200, offering our usual hands-on demo of POOL and hands-down best deals on subscriptions and products, and joining our friends, old and new, Tuesday night for the DJ rumble at
MIXX | Borgata
.
Early registration discounts are still available at
djtimes.com/thedjexpo/register
FULL-EXPO PASS
PROMO CODE PO404
$219 (over 40% off onsite Price)
EXHIBITS-ONLY PASS
PROMO CODE PO403
FREE Until JULY 8th, $25 After
Tuesday Night Party at MIXX | Borgata
open to all
Promo Only subscribers
(Free Entry)
---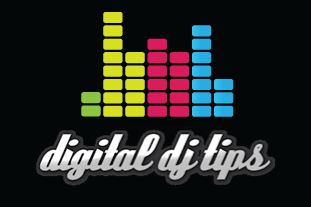 Digital DJ Tips Presents...
How I Brought The Flow Back To My Laptop DJing
I've been in this game a long time, and like many of my friends, I was a CD DJ before arriving at laptop DJing. Also like many of my friends, I realized that certain aspects of it were starting to feel tedious and boring. But at the same time I had no desire to return to the old ways. So a short while ago I set out to find a solution to make using a laptop more fun, less tiring, and a bit more like the old days of CDs (or vinyl!). I want to share what I found with you now
Insight vs Analysis
I recently did a creativity/production course, a small part of which talked about the different ways that the mind works, and how there are two ways of arriving at solutions, using either "insight" or "analysis". (Some people use a lot of insight, some a lot of analysis, but everyone uses both lots, to make all kinds of decisions.)
For example, answer this question as you normally would: What's 12 multiplied by 12? If you instantly said "144", that's insight; you knew the answer and effortlessly recalled it. If you "worked out" the answer, perhaps by saying to yourself "10 times 12 is 120, two times 12 is 24, therefore 120 plus 24 equals 144", well, that's analysis - and analysis is appreciably slower and harder than insight!
So let's look at what this all means for the DJ. In my CD days, I had a wallet or two of CDs roughly organized, so I knew more or less where everything was. The thought process was quite simple: I would play a track, watch the crowd, and then (mostly using insight) decide the next tune that I was going to play; generally this would just pop into my head without my having to think too much. It was rare that I'd find myself looking at the CD track listings or browsing the CD wallet, and at this point, I'd just go straight to the CD as I already knew roughly where to find it, load it into the player, and go. Job done.
Now I want to show you how - until recently - my workflow looked when laptop DJing. I had loads of playlists. I'd look at the crowd, would think roughly what style of track I was going to play next, then have to think which playlist it was in. Then once I'd selected the playlist I'd scroll through to see what I had that might suit. Only then would I actually pick a track! Do you see the difference? I am now using analysis a lot more; I have to concentrate. And what if I change my mind? Now I've got to repeat the process again! All of this is taking away from the "flow." I'm no longer in the zone; I'm looking at big lists and making decisions, and it's just not fun anymore.
How I fixed it
Once I realized that to work at my best I needed to use insight not analysis, the rest came fast and easy...
[continue reading]
About Digital DJ Tips:
Featuring news, reviews, show reports, and tutorials, Digital DJ Tips is one of the most-read DJ tech websites in the world, with over 60,000 students on its paid and free DJ courses.
---
Review: Reloop's RP-8000 Hybrid Turntable
The next generation turntable/controller
If the new RP-8000 looks instantly familiar, there's a reason for that -- it shares common ancestry with of the well-known Super OEM design, a design widely regarded as the closest most of us will ever come to a new Technic SL-1200 (thanks in no small part to Technics' 25-year lock on its patented direct-drive motor, which has only recently expired). Super OEM has been lurking under the hood of Stanton, Audio Technica, Kam, Citronic, Synq, American Audio, and Reloop players for years; and with good reason - it is a design that has stood the test of time.
The RP-8000 doesn't look, then, to reinvent the steel wheel; but, rather, to enhance the solid performance of the OEM design by seamlessly incorporating the latest hi-tech -- digital pitch control, four combinable performance modes (Cue, Loop, Sample and slicer), mappable MIDI control, eight hot cue points, and more - into a package that feels like the Technics SL-1200.
Trouble viewing this video? Watch it on YouTube.

Our takeaway...
In the beginning there was the Technics SL-1200, and lo it was good. So good in fact that most manufacturers, with the notable exceptions of Vestax and Numark, have for decades pretty much stuck to straight-up Technics clones.
With the advent of the RP-8000, however, Reloop has taken a giant step into a brave new world - this is SL-1200 re-envisioned as the perfect cyborg solution for those who demand the best of both worlds, classic and new. As such, it does command a premium price (some $200 more per deck compared to a regular Super OEM).
Is it worth it? If having all the creative control you need at your fingertips, and having those fingertips touch a platter matter, then we'd have to go with a hearty 'hell yeah.'
Universally available at
$799.99 each
or
$1599.98 by the pair
For more info, visit reloop.com
---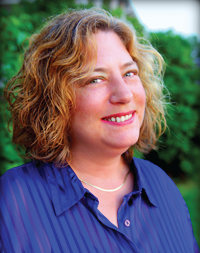 Success Coach Stacy Zemon:
6 Social Media Marketing Tools
"Using social media as a part of your marketing mix is very important these days," says DJ Success Coach Stacy Zemon. "Social media platforms allow you to connect with your target audience, build relationships with your prospects, attract new business leads and, most importantly, share content and information as it relates to your industry."
If you are not currently using social media platforms to market your DJ business, you are definitely missing out on new business opportunities for your company, but you don't have to...
Here are six tools that you can use today to market your company with social media:
[continue reading]
---

Article of The Month:
13 Google Search Tricks
The Huffington Post | By Carina Kolodny
You think you know how to Google? You don't know how to Google. Even the most seasoned Googler might not know every tip and trick available with just a few extra keystrokes in the search bar. Consider this your instructions manual for the world's most popular search engine.
Click
here
to get the scoop on Google search tricks, some of them may change your life.
---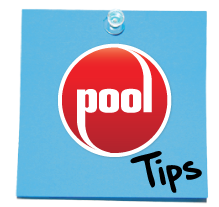 POOL Tips:
June Tip of The Month
Trouble viewing this video? Watch it on YouTube.

---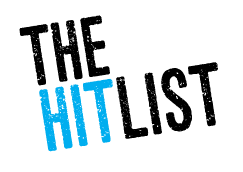 The Hitlist:
Find all the hottest Top 40, Hip-Hop, Country, Rock, Dance and Latin Hits, and where they appear on your Promo Only Series.
Browse the Current Hitlist
**EDITORS NOTE**
The current Hitlist may still be in the process of being compiled so please check back if the one shown is not the most current.
---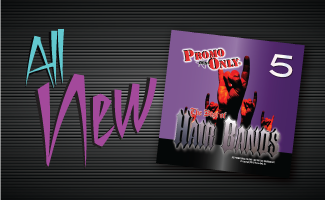 June Special
New! Best Of Hair Bands Vol. 5

This month pick up our brand new Best of Hair Bands Vol.5 or get all 5 volumes of our Best of Hair Bands Video Collection at a radical price!
[Click each title to view video tracklistings. To order at special pricing see below]


Digital Download


Best of Hair Bands Volume 5 $25 $20
All 5 Best of Hair Bands Volumes $125 $75
To order, click here.

Physical Media (Discs)
Best of Hair Bands Volume 5 on Disc (DVD/DFF) $40 $25
All 5 Best of Hair Bands Volumes on Disc (DVD/DFF) $200 $100
To order, call: 407-331-3600
Hurry "dudes", this offer ends June 30th, 2014
These music videos are also playable as audio-only on any software that supports MPEG4!


---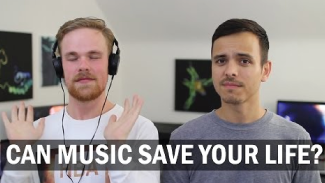 Useless Info: Asap Thoughts
Can Music Save Your Life?
Last night a DJ saved my life
... but can music safe your life? It might. Did you know that popular music can actually be used to rehabilitate the memories of people who have suffered from severe brain injuries. So how powerful is music? Watch to find out.
Trouble viewing this video? Watch it on YouTube.

---
Got a suggestion for future issues or care to comment on our content?
Hit us up at promo@promoonly.com