---
Are you on Facebook?
So are we. "Like" our page to stay on top of the latest.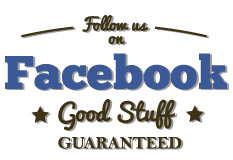 ---
Denon DJ: A History Lesson
Ever wonder how all those knobs and thingies that make modern DJing possible found their way to your mixer? Believe it or not, it all started over a century ago with a company that still rocks the DJ world today.

"We are one of the oldest audio companies in the world [1910]," says Denon DJ's Brand Manager Silvio Zeppieri. "It's that history, one that stretches back to the first phonographs, that continues to inform our ability to forecast and create the features so many DJs today take for granted -- Auto Cue, Instant Start, Fader Start, Frame Search and Pitch Control are all a result of the core digital technology first developed for our professional broadcast players."

More recently Denon DJ had given us the legendary DN-4000F, the mobile industry's first dual CD-player, and introduced even more how-did-we-ever-live-without-them features such as Hot Start, Seamless Looping, On-Board Sampling, Wide Pitch, Memo Cues, Brake Effect, Key Adjust, the jog wheel and, as one might expect from a company whose roots reach back to 78rpm records, the active spinning platter.

Further proof of Denon DJ's dedication to the art of interactive turntable performance can be seen today in the succession of active platters it continues to bring to market, most notably its new flagship media player and controller, the SC3900.



Not bad for a bunch of old timers. ;)


How's Denon's second 100 years shaping up?
"Our vision is to continue to inspire and empower DJs to reach for the highest levels of performance and creativity by providing innovative gear at the best of prices," says Zeppieri. "Ultimately, though, it's our customers who determine our direction as we continue to provide the products that best meet their ever-changing needs. There's no question that DJ controllers have taken over. Just five years ago, you could count the number of DJ controllers on one hand; now you'll need a spreadsheet!" ... And a Denon. :)

For more info on the company that's first with firsts visit Denon DJ
---

Best of Love Songs
Don't be too quick to think "slow" season is coming...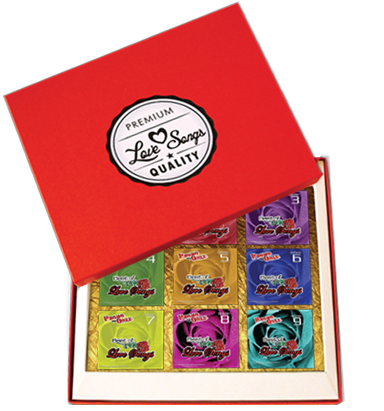 Click Here for release information.

This year, why not let Best of Love Songs DVD/DFF put the potential to book
more wedding and Valentine's Day parties in the palm of your hand.

Purchase one and save. Pick up the complete collection and save even more!

$20.00 each. All 9 volumes for $150.00
Available on DVD and MPEG4 data disc

Offer good through February 13th, 2013

To order your copy today call 407-331-3600 or email customerservice@promoonly.com
---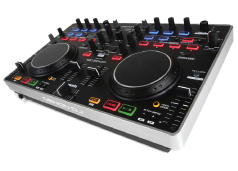 The Denon MC2000
The best entry-level controller/mixer ever? Probably.
Mapped to plug-and-play with Serato DJ Intro (and for a modest fee, Serato DJ), the Denon MC2000 is bringing big-time tech to the budget-minded masses with the latest in intuitive layout and controls.
Up-front, the MC2000 is out of the box ready: it gets all the power it needs via the included USB cable and the connection between it and your computer. From there, Serato DJ Intro provides all your basic two-deck digital mixing features as well as the ability to easily manage your library via Serato Crate and/or advanced iTunes® integration. Exporting high-quality audio is likewise a breeze thanks to a USB interface that connects to speakers wherever you find them: in a club, at a gig, or just around the house burning through an evening of mash-ups.
With its portable design and solid build borrowed from Denon's pricier DN-MC6000, the MC2000 is the ultimate weapon in your DJ arsenal, completely redefining the quality and usability of its class, with every single detail aimed at improving value and retaining simplicity without compromising features and sound quality.
The Specs
‣ Designed specifically for 'Serato DJ intro' Software (included)
‣ Plug & Play - USB Bus Powered
‣ Full MIDI Output - Map to other DJ Software
‣ Denon DJ 'Professional Grade' Construction
‣ Intuitive File Browsing Controls
‣ Built-in Audio interface
‣ MIC Input/Line Input
Sweet price $349.00
For more information on the Denon MC2000 DJ Controller click here.
---



Mobile Beat Las Vegas 2013
February 4th - 7th
It's last call on early registration discounts for Mobile Beat DJ Show & Conference in Las Vegas! Book your trip now and you'll enjoy seminars, entertainment and a hefty hall of vendors offering the year's best deals for 10 less than those who sign up after December 31st.
The event kicks off Monday, February 4th, with six bonus seminars scheduled for early birds. Tuesday, the official 'Day One' of the show, begins with Jon Acuff, author of Quitter, and team member Dave Ramsey, showing you how to close the gap between day job and dream job; followed by YouTube motivational star Judson Laipply, who will inspire you to focus your energy on things you can change; A Pep Talk from the Deejay Booth, hosted by 20-year radio veteran, blogger and consultant Dayna Steele closes out the day with tips on how to take crowd-pleasing entertainment to the next level.
You'll also want to meet up with old friends and new at Monday night's
Decade Welcome Party
with MC Johnny Rozz. This year's theme hits "I've Got the Power", with music and fun looking back to the 1990s. Also appearing: Rob Base and Cupid; legendary dance diva Crystal "100% Pure Love" Waters; Quad City DJs; 95 South; 69 Boyz; and the voice of Foreigner, Lou Gramm and The Lou Gramm Band.
Update on accommodations:
Rates at host hotel, the Riviera, are only $49 single/double for Sunday-Thursday, and $79 single/double for Friday-Saturday. "We haven't seen a price this low since our days at the Tropicana ten years ago," said MBLV13 producer Mike Buonaccorso. "Now, there is absolutely no reason not to book in the show room block. You will get the best rooms, at the best price.
It all adds up to the best value for your conference dollar. Registration is just $219 now through December 31, then goes to $249! Continuing updates can be found at the show
website
.
We'll see you there at booth # 409 (just inside the entrance).
---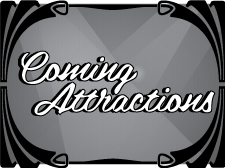 You're going to see a different Promo Only in 2013
Get a first peak by visiting us on Facebook
---

DJ Success Coach Stacy Zemon
Suggests Some New Year's Resolutions for 2013!
"If you want your chances for business success to be greatly enhanced in 2013, there are 10 New Year's resolutions you can make and apply throughout the year", say's Stacy Zemon. "Repeat after me:
1. I will...set realistic goals. Goal setting is a valuable habit - if the goals lead to success rather than distress. Make a New Year's resolution that the goals you set will be goals that are achievable,rather than unrealistic pipe dreams that are so far out of reach they only lead to frustration.
2. I will...make business planning a weekly event. Planning is vital if you want a healthy, growing business. Business planning lets you take stock of what worked and what didn't work, and helps you set new directions or adjust old goals. Not only will this help you avoid costly mistakes and stay on track, but you'll feel more focused and relaxed.
3. I will...promote my DJ business regularly and consistently. Too often the task of promotion slips to the bottom of the to-do list in the press of urgent tasks. If you want to attract new clients, you have to make it a priority.
[Read More]
Visit
ProMobileDJ.com
for ideas, information and advice from industry experts that can better your business and income!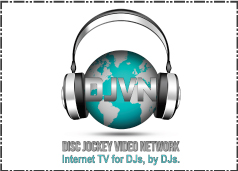 Disc Jockey Video Network: Internet TV for DJs, by DJs.
DJvideoNetwork.com
is a website for DJs featuring gear reviews, tutorials, contests, tips, and more.
---
Facebook Tip: How to See Promo Only Updates
Did you know that just 2 check marks (✔) + (✔) will make sure you always get our newest Facebook posts, pics and specials?
Just click on this nifty visual to learn how!
↘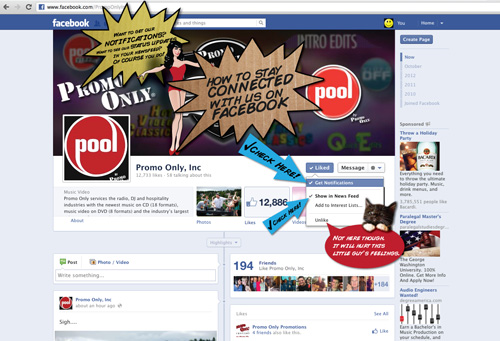 When it comes to the newest music, music video or information,
and convenience counts, you can count on Promo Only.
---
Until AM - Virtual Turntables in Your Browser
An online DJ tool featuring virtual turntables with scratching and live effects.
---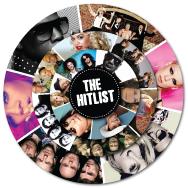 The Hitlist
-- Find all the hottest Top 40, Hip-Hop, Country, Rock, Dance and Latin Hits -- and where they appear on your Promo Only Series.
[Browse the Hitlists Here]
**EDITORS NOTE**
The current Hitlist may still be in the process of being compiled so please check back if the one shown is not the most current.
---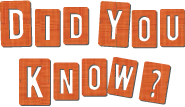 Here are some interesting facts:
• Approximately 1% of the world's population is drunk at any given moment.
• The average person walks the equivalent of 3x around the world in a lifetime - that's a lot of walking.
• The iPhone
®
is the 2nd best selling product of all time after the Rubik's Cube. Aww for real, son?
For more amazing facts watch this fun video -- it will blow your mind.
---
Got a suggestion for future issues or care to comment on our content?
Hit us up at promo@promoonly.com