---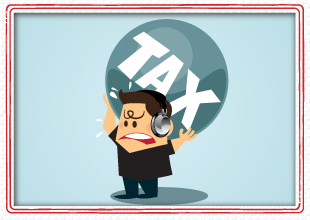 Tax Tips 2013
Keep it in your pocket
Contrary to what you may have heard, you don't have to be millionaire to take advantage of the same tax codes that allow the rich to get richer, nor do you have to be a financial expert; you just have to know one. Thankfully, we do: For our year-end wrap we invited our good friend Jerry Bazata, who, when he's not helming DJ Jaz Music and Entertainment, moonlights as VP of Global Commercial Banking,
Bank of America
, to share a few simple strategies every entrepreneur should know by heart.
"As you sort through the piles of credit card receipts, purchase invoices and notes you've made throughout the year as they relate to your business expenses, there are a number of often-overlooked deductions waiting for you that can make the difference between owing Uncle Sam and receiving a post-holiday bonus from the IRS," says Jerry, "such as..."
Meals and Entertainment:
Have you accurately recorded all your travel mileage for meetings with potential clients, travel to events and new business development? The current deduction rate is $0.565 per mile.
The cost of meals, airline tickets, taxis, and hotel rooms for trade shows like DJ Expo in Atlantic City or Mobile Beat Show in Las Vegas are deductible (however your losses at the blackjack table are not).
While traveling away from home for an event did you incur lodging and meal expense that were not reimbursed by the client? Or take any prospective clients to breakfast or lunch and pick up the tab while making a sale?
Did you take a referral source such as another vendor to dinner or a sporting event? If it was business related (did you talk shop?), it's deductable.
Equipment Purchases:
Any lighting or sound equipment, electronics, software, accessories or other items you purchased for your business in 2013 may be fully deductable in the same year it was put into service. (IRS: Section 179 Expensing). If you have been holding off on some equipment purchases you may want to consider making them before the end of the year and offsetting those cost against income reported in the same year.
Advertising Expense:
Be sure to review all your expenses as it relates to promoting your business. We often deduct for print advertising but also forget about what we pay for on the internet, professional services for ad design and marketing consultations. Any expense related to advertising your business may be deductable.
Rental Expense:
For larger events, did you rent lighting or sound equipment that was part of the overall expense of preparing for an event? You will record the income, but you can deduct such out-of-pocket expenses.
Charitable Contributions:
You are not permitted to deduct the value of the time you donate to a charity, but any direct expense such as mileage, meals and lodging may be deductable whole or in-part.
Office Supplies:
Often we forget about the little things that we take for granted everyday such as office supplies, ink for the printer, postage, pens and paper that we need to make sales and run our business. All of these items are tax deductable.
Retirement Fund:
Getting older in inevitable and regardless of when you get started in the DJ business, you need to plan for retirement. Selling you equipment or even your business is not going to get you into a penthouse suite on Miami Beach. You need to consider setting aside a portion of the millions you make each year as a mobile DJ for the golden years you'll spend at the retirement home for Vinyl DJs.
To learn more about tax deductions for small business owners Jerry recommends the following:
mainediscjockey.com
---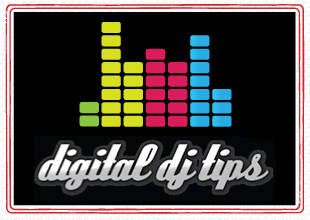 DJ Tips presents...
To Cloud or not to Cloud. We've got the answers...
I'm afraid I've lost the name of the reader who asked me this, but it's a great question and I'd love to hear everyone's views on it. Here it is: "I bought a new smartphone with 50GB of free Cloud storage as part of a promotion. I was looking for a Cloud storage option anyway to backup my music library (lost a lot of good music a year ago when my hard drive suddenly died), so this option is very handy. But is it OK to backup my collection to the Cloud?
"I mean I can't prove that all my tracks are owned legally. For example, some tracks are from a label's 'best of' collection that was free to download for a limited period of time, while now it costs $15 to buy that same collection. What if they ask me to remove the files because of copyright questions? And will it be safe?"
Digital DJ Tips says:
A few things here. First, many of the services "legalize" your music by charging you a subscription annually for the privilege of using them, and paying some of this along to the record labels, while replacing your uploads - wherever you got them from and whatever their quality - with pristine new legal versions; however, when they don't have a track, they use your version (wherever it came from). So while I've never heard of anyone being questioned over where their tracks came from, at least here in the UK, that can change from country to country (and person to person!) so be informed.
As for how safe Cloud storage is, my take on it is that if you keep your tracks stored locally on your laptop, on your smartphone, and have a Cloud backup too, you're pretty safe, as you'd have to lose all three at once to lose your collection - and the chances of that happening are pretty slim.
I love Cloud storage; I think it can be really convenient with data rates getting higher and cheaper. But I know DJs who feel you should treat digital music just like vinyl or CDs - and have very carefully cared-for local copies, backed up away from the Cloud.
How about you?
Do you see any legal issues with storing promo music in the Cloud? Do you back up your library to the cloud, or locally? Where can you see this going? Please share your thoughts at
digitaldjtips.com
About Digital DJ Tips
Digital DJ Tips helps people learn to DJ using modern digital DJ gear. With news, features interviews, reviews, show reports, and tutorials, it is one of the most-read DJ tech websites in the world, and has over 60,000 students on its paid and free DJ courses.
---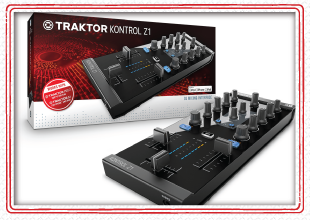 Native Instruments Traktor Kontrol Z1™ controller
®
iOS has never been like this
Despite all the positive momentum we've seen in iOS controllers, the reality for most DJs is that mixing with an iPad or iPhone still isn't all that. Cuing with a headphone splitter and navigating through a maze of pop-up windows to control EQ, effects and filters is, at best, inconvenient; and takes time to master. Native Instruments seems determined to shake that impression, and with the launch of the Kontrol Z1 Controller, appears ready to bring the same zero-setup, full-on Traktor mix experience to your (and thousands of other DJ's) iPhones and iPads.
The Z1 brings a lot to the table: NI's engineers have nicely boiled down the essentials of Traktor DJ for iPad into an ultra-compact and instantly recognizable package...
EQ AND FILTER SECTION
With a 3-band EQ, dedicated gain controls, and chunky filter knobs for each of its two channels, the top section of TRAKTOR KONTROL Z1 gives you full tactile control over your DJ sets. When using TRAKTOR DJ, pressing and holding the Mode button independently toggles decks between filter (button turns blue) and one-knob FX control (button turns orange). When using TRAKTOR PRO 2, the Mode button toggles between low- and high-resonance filters.


CUE SECTION
Use the A and B buttons to select which channel you want to cue. The Cue Mix knob adjusts the ratio between cue signal and master output in your headphones. Cue Volume adjusts headphone cue volume.


FADER SECTION
With smooth line faders for both decks as well as a crossfader, TRAKTOR KONTROL Z1's fader section lets you mix with effortless style. The easy-to-read level meters give you instant visual feedback when rocking the club.
Trouble viewing this video? Watch it on Youtube

Like it not, it won't be long before you start to see more iPads in more DJ booths. And it's likely they'll be connected to a Z1.
Price: $199.00 (fully loaded).
For more info visit
native-instruments.com
---

Business Partner Guidelines
Starting and thriving in a mobile DJ business by yourself can be a difficult and lonely proposition. It can be much more rewarding if you have the right partner to share the journey. Still, the question of whether you should have a partner in business is a tricky question.
A partner gives you a shared responsibility for the company so you don't have to bear the entire weight yourself. Sometimes, two people together are greater than the sum of the whole (if they have a synergy of skills). Just as often, two people together are less than the sum of the whole (if they fight all the time).
"Over the years in this business, I've seen it happen time and time again: Two DJs who are the best of friends get together to form a new company. And then, sooner or later, their relationship, and then their business goes South and crashes hard," says DJ Success Coach Stacy Zemon. "I've had this painful experience and if you'd like to avoid it like the plague, here's some advice from someone who's been there and done that to consider..."
Read More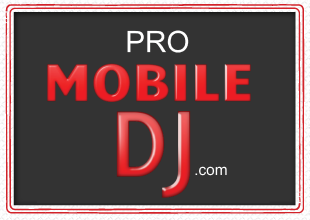 If you want to be a better DJ and run a better business then visit
ProMobileDJ.com
every day. You'll get ideas, information and advice from Stacy Zemon and her team of industry expert writers!

Disc Jockey Television:
Internet TV for DJs, by DJs.
DJvideoNetwork.com
features a growing lineup of channels including reviews of the newest products and services for DJs - sound, lighting, music mixing, and other tutorials - tips and tricks to help you become a better DJ - and lots more!
---
United State of Pop: "Living The Fantasy"
DJ Earworm's mashup of the 25 biggest U.S. hits during 2013
Trouble viewing this video? Watch it on Youtube

---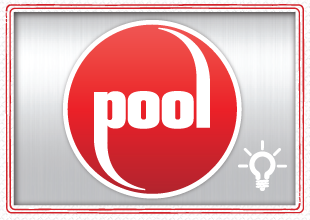 POOL Tips and Tricks
Tip of the Month - Skit Free.
If you're like most DJs, you're no fan of the beat-free video skits that kick off the majority of music videos.
Here's how easy it is to skip the skits and go straight to the drop.
Step 1: Open your
POOL App
and click on the
PREFERENCES
tab

Step 2: Go to the
Download Options
tab (directly below
Launch Setup Wizard
& set your
Default Video Skit
pull-down window to
Exclude
...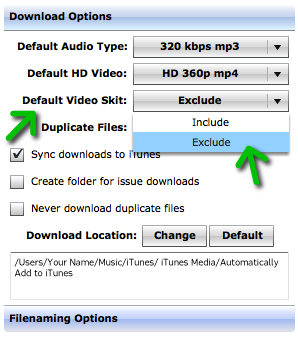 Step 3):
SAVE
your preferences - and done!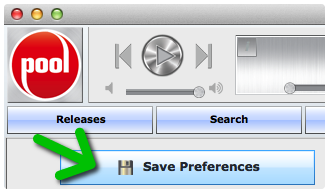 Questions about POOL? Contact support at
poolsupport@promoonly.com
or by calling 407-331-3600.
---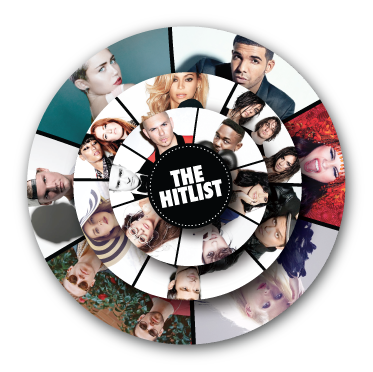 The Hitlist:
Find all the hottest Top 40, Hip-Hop, Country, Rock, Dance and Latin Hits, and where they appear on your Promo Only Series.
Browse the Current Hitlist
**EDITORS NOTE**
The current Hitlist may still be in the process of being compiled so please check back if the one shown is not the most current.
---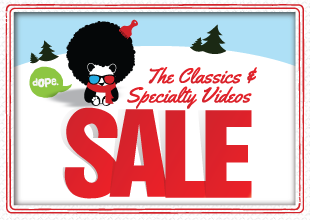 December Blowout Sale!
Announcing our Classics and Legacy Video Blowout Special!
We're counting down 2013 with the best prices of the year on our complete line of legacy Video releases!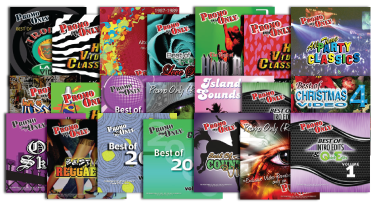 View complete video track listings here.
Digital Download (POOL)
All Specialty Videos for digital download are
$15.00 each
(a $10.00 Savings). No minimum purchase required.
To order,
click
here.

Physical Media (Discs)
All Specialty Videos on DVD/DFF are
$25.00 per disc
(a $15.00 Savings). No minimum purchase required.*
To order,
contact:
customerservice@promoonly.com
| 407-331-3600
*Extra shipping charges will apply to orders of 6 or more Video discs.
Specials end. Classics are forever.
Happy Savings!

Offer Good through December 31st, 2013



---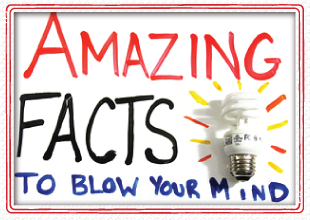 ASAP Science Presents...
Amazing Facts to Blow Your Mind Pt. 3
Ready to have your mind officially blown? ASAP Science has some truly jaw-dropping facts to share...
Trouble viewing this video? Watch it on Youtube
---



Follow us to stay on top of the latest...
---
Got a suggestion for future issues or care to comment on our content?
Hit us up at promo@promoonly.com