IN THIS EDITION
---
Trending: Mobile DJ Meetup
Putting a new spin on DJing

If the idea of an intimate event that focuses on the needs of working DJs hits home with you, you're not alone. There are a growing number of mobiles out there opting for the more personal combination of location, relevant discussion and career-enhancing info a small, value-rich forum can provide. Case in point: The Mobile DJ Meetup.
"Share, learn and grow is the charge to all and says it all," say event co-producer Owen Blevins who, along with friends and co-producers Donnie Lewis and Don Maycock, has authored an event that uniquely offers attendees, presenters and vendors unprecedented opportunity to interact without "big is better" distractions.
Think of all those great talks you've had
over dinner after a day at a big expo and you'll have
an idea of the connection a small show can offer.
"Nobody's trying to get rich here," says Owen. "In fact, we have limited the number of tickets to one hundred to enhance the personal interaction and tailored learning experience we think you deserve. And are well on our way to a sell-out."
Here's what you need to know (before it's too late)…
The event is being held Sunday November 3rd through Tuesday November 5th in Allentown PA at the Holiday Inn on I-78
Kick off begins Sunday with a meet and greet from 7:00p – 11:00p at the Sam Adams Brewery, followed by two days of personal networking, swap meets, contests and more
Presenters: Brian Scott Redd (keynote), John Young, DJ Barr, Artem Lomaz, Sean "Big Daddy" McKee, DJ Rachel, Michael Alevras, Donnie Lewis, and Lou Paris
Vendors: Roland, ProX, Vibo, ADJA, Promo Only, Ape Labs USA, Max Photo Booth Design, Floyd Rose Headphones, and ADJ offering product demos
Topics: Games, Motivation, Marketing, Sales, Projection Mapping, Outstanding Guest Experiences, Website SEO, Industry Analytics, Lighting Design, Weddings, School Dances and more
Buddy ticket prices begin at $109.00 (not a typo!) and includes admission plus lunch both days to all speakers, events, and networking opportunities.
For more info visit the event page on
Facebook
Tickets can be purchased via
eventbrite.com
The Mobile DJ Meetup
Share. Learn. Grow.
November 3rd – 5th, 2019
Allenstown, PA
---
Spotlight: POOL Charts & Playlists
Have got your back

At the risk of sounding a little creepy, every time you open your POOL download app's
Charts & Playlists
tab our team of programmers are standing behind you to ensure you stay on top of what you need to succeed with ease.
Top 20 Playlists
Culled from our partnership with Mediabase and the 180 stations it monitors in the US and Canada, our Top 20 playlists offer the hottest songs in radio rotation, with fresh updates available weekly.
As a POOL subscriber you'll receive a Top 20 playlist for every major genre your plan includes. Audio Silver, Audio Gold and Platinum subscribers receive all available Top 20 playlists.
Year-End Playlists
You'll find a year's worth of chart-toppers, including many of our exclusive PO Clean Edits and Intro Edits, in our Year-End playlists.
As a POOL subscriber you'll receive one genre-specific Year-End playlist (50 songs) with POOL Top 40, POOL Urban, POOL Country and POOL Rock. Audio Silver, Audio Gold and Platinum subscribers receive all four Year-End playlists (200 songs total).
Video Top 20 Playlists
Why do we offer a free Top 20 Video playlists to our audio subscribers? Because we care and so should you, as music video can provide impact and invite interaction that audio simply can't.
Whether it's the sing-alongs a Lyric Video can inspire or the occasional hit serviced only as music video, we think you'll find our Video Top 20 worth a look.
Can You Dig It?
We've tapped Central Florida's rich rhythmic tradition and the DJs who know it best to bring you this collection of classic hip-hop, funk, and freestyle.
Brought to you by Orlando turntable titans DJ Dolo and DJ BMF, you'll find a fresh Can You Dig It? folder in your playlists tab quarterly.
Nick's Picks
Easily our most eclectic collection, Nick's monthly picks make it just too damn easy to wow a crowd with new and classic genre-spanning tracks that make for irresistible dancefloor play.
Available via video and playable as audio-only on any software that supports MPEG4, Nick's Picks, Mainstream Top 20, and Country Top 20 can also be previewed on
Spotify®
Charts & Playlists. We've got your back.
---
ProMobile DJ with Gregg Hollman
Ready to take the Karaoke Opportunity?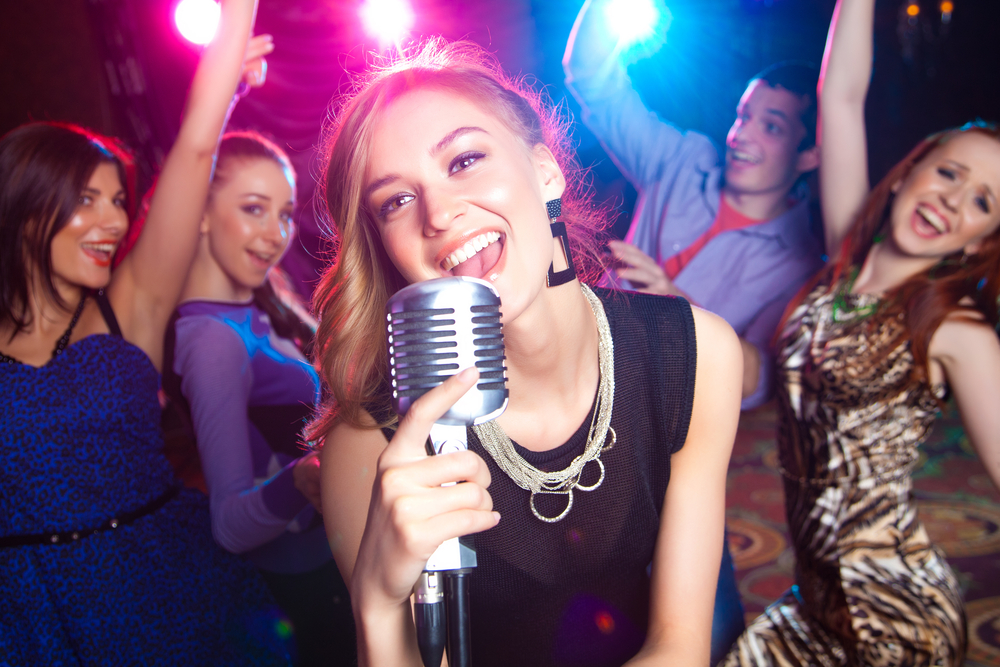 When I established my mobile DJ entertainment company 15 years ago, I had no intention of offering karaoke services. Fast-forward to the present and about 15% of my book of business derives from karaoke, encompassing regular bar jobs, family events, and corporate events.
Karaoke is immensely popular for company holiday parties and teambuilding events.  Surprisingly, I've found few mobile DJ companies offer karaoke, mostly because of some popular myths badly in need of busting.
The Myths of Karaoke
Karaoke is Tacky
As a karaoke host you'll encounter singers of various abilities. One of the delights of the job is working with wonderful singers whose versions you come to savor even more than the original. Many aspiring musicians enjoy dropping in on karaoke nights to show off their skills. You will certainly meet many quirky guests in the karaoke world. You'll also meet some super cool people who will become your friends.
You Need to Be a Great Singer to be a Karaoke Host
Not necessarily! Being able to sing a few songs to get the party started is a huge asset. Many karaoke hosts also have a signature song up their sleeve. More important though is the ability to be a great emcee to make the singers feel like stars and to pump up the party. Unlike some karaoke hosts who sign at every opportunity when there's a gap in the lineup, I prefer to spin music videos and encourage guests to sign up.
Karaoke is Restricted to Low Paying Bar Jobs
This is not at all the case. While $250 per night might be the best a DJ could hope for at a bar night, in the private events world one could easily charge $250 per hour (and up) for corporate events, particularly when pairing karaoke with polished production elements like big flat screen TVs and stage lighting. Karaoke aficionados also enjoy hosting private events for their family and friends where they can sing. I've even offered karaoke weddings to couples who love to sing!
What You Need to Get Started!
The biggest barrier to entry to becoming a karaoke DJ is...
continue reading
About Gregg Hollman: Better known as "DJ Gregg Ambient," Gregg Hollmann is a lifelong music lover who parlayed a passion for music and parties into a career.  His unique perspective and approach have allowed his company Ambient DJ Service to become a leading brand in the New Jersey market.
---
The Gear Corner: Chauvet Freedom Centerpiece
Th elegant 100% TRUE wireless, battery-operated uplight
Review by Ben Stowe, CTS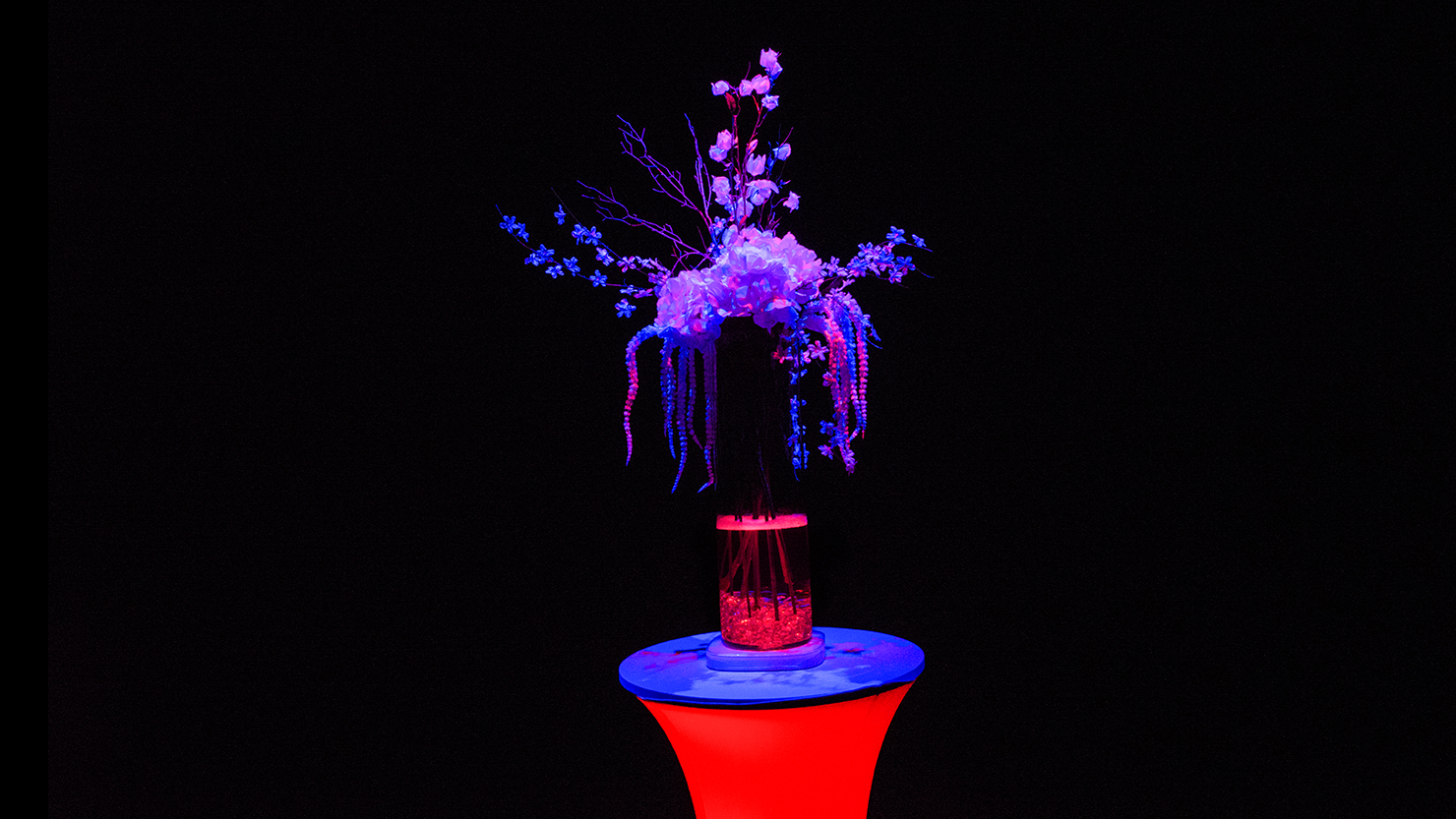 Here's an innovative new product that puts profit front and "center" (see what I did there). The new Chauvet Freedom Centerpiece is an excellent product to round out any event lighting arsenal. This fixture is designed specifically for lighting centerpieces and table arrangements and as such offers both on-board battery and wireless DMX. Battery run-time ranges from 8 to 16 hours depending on use. This allows for easy, seamless deployment as well as the ability to create dynamic designs that work with the rest of your lighting in the event space.
A robust array of 19 RGBW and 20 Cool-White / Warm-White give extensive color mixing options and polarized lenses keep glare out of guests' eyes. A Pulse Width Modulation rate of 5.8 kHz ensures flicker free video so the permanent record of the event features your design in its intended elegance.
The sturdy 9" metal base supports most centerpieces with ease, and a removable cover allows for super-hero fast costume changes from white to black to fit any décor. The units are also outdoor rated so you can use them, you know, outdoors. Perhaps more important, this also makes them impervious to drinks being spilled, or the occasional event designer that is rushing to fill vases and misses the mark.
The Freedom Centerpiece is sold in a 4 pack that includes case, charger, covers and remote.
Contact NLFX Pro and ask for the "Promo Only Promo Price"
If you can say it 3 times really fast, we'll even hook you up with a free t-shirt with your order.
Give us a call at 218-444-2994 or visit: nlfxpro.com
---
Brian Buonassissi:
Top 10 Tips For Selecting "Speaker Walk-Up" Music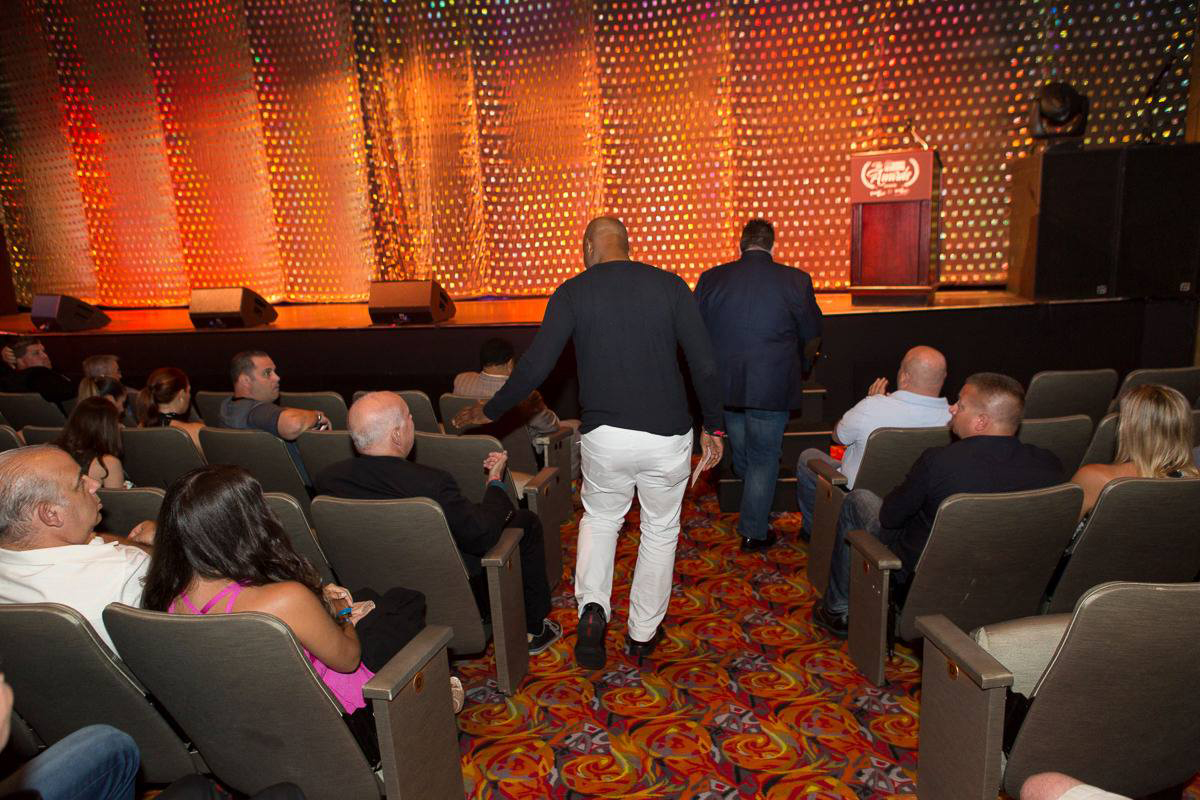 It's about to start for me – the big corporate conference season. A lot of companies get back from summer break and have all employee 3-4-day pow-wows before their final big push for the 4th quarter. I get called in for these events all the time to play music for their general sessions and be the voice of God. The reason why I'm a regular on the circuit is because I don't just show up and play. A LOT of work goes into each conference. I'd argue more work than my wedding events and almost as much as my fashion events. In addition to setting the music vibe as doors open/close, I have to play the walk-up music for the speakers, the basis for this month's article.
How do you select what music to play? Let me give you some tips on how to go about this. Before I do that though, the underlying premise of these tips is this: You have to realize that your job is as s a "set-up" man or woman, much like an opening DJ for the headliner. My role is to support the speaker and set-up them up as best I can. If you can keep that in mind, these tips will take your far.

TIP #1 Research the speakers Have they done this talk before? If so, can you find a performance of it online? What resonates from the talk? Any songs come to mind watching it? What walk up music was used, if it at all? Read their bio. Do they have any musical artist they like? From that initial pass, make a list of 5-6 tracks that could potentially work. This kind of research depth but will pay dividends for this event and others later on.
TIP #2 Reach out to the speakers
If you don't have the speaker's direct contact information, reach out to the planner or event organizer. 99.9% of the time they will love the fact that you are putting this much effort into the event as the DJ (very few do) and will give you that information willingly, as it makes them look good too! If you can't get that information, stalk them on Instagram or Facebook or go to their website and contact them directly through those mediums. Once you do reach them, don't take up too much of their time. Make it quick – ask them first if they had any thoughts/ideas (don't give them your suggestions from tip #1 above just yet). If they have a track in mind (usually the more experienced speakers do), they'll give it to you. If they don't have any ideas, then you can give share your thoughts.
TIP #3 Ask if they have a video they use to intro themselves
Usually those videos have some type of music behind it. If that's the case, maybe you can find the same song (or instrumental of it) and use that as the transition while they walk up. It's subtle but it makes the intro from the video to them talking feel seamless.
TIP #4 Take your location into consideration
If nothing is striking fire with tips #1-3, another idea is to look at songs from the location you're in. If you're in New York or Las Vegas, maybe play a song with the City mentioned in it. If you're abroad, this becomes generally even easier as you're dealing with a specific genre.
TIP #5 Take where the speak is from into consideration
Instead of where you are, maybe you pick a track based on where the speaker is from. If they're from Australia, maybe you use an Iggy Azaela track. If they're from Boston, maybe you play a Dropkick Murphys. This keeps it super tailored to the speaker.
TIP #6 Top 40 and R&B instrumentals work well
Songs like SOS by Avicii, Adventure of A Lifetime by Coldplay, I Don't Like It, I Love It by Flo Rida, and Not For Long by B.OB. are good ones because they are somewhat familiar than feeling like elevator music or something too obscure. Also, you'll notice these are all over the map tempo and energy-wise. Keep a folder with different vibes and moods with these "walk-up" tracks in it.
TIP #7 Play off the speaker's gender
This is probably the last place I'd go but sometimes it makes sense. Songs like "The Man" by Aloe Blacc or the hook of "Respect" by Aretha Franklin can work well. Like all these song ideas, don't get stuck picking every song based on this but can mix things up well.
TIP #8 Use the right part of the song
Don't play the song from the beginning every time. Sometimes the "gold" in the song for a walk-up is in the middle of the song or an instrumental section further in (example: SOS by Avicii).
TIP # Keep things upbeat and be aware of energy shifts
I'd say for the majority of the conference events I do; I try to keep the vibe as upbeat as possibly. This doesn't mean go to the extra and play festival bangers, but you have to be careful not to dip too low BPM-wise. Also, keep in mind how they've been in sessions. If it goes all day, by mid-late afternoon, attendees can fall into that "need a nap" lull so the upbeat music can keep them going if you select tracks correctly.
TIP #10 Don't use the same song for multiple speakers!
Playing the same track for multiple speakers minimizes the impact of that song plus it's lazy. Usually, I'll go with a first come, first serve mentality unless I feel like a song is perfect for a certain speaker's talk in in which case, I'll go to the other speaker and see if we can come up with something else.
As you can probably see from these tips, this is not for the weary. It's a lot of work, especially if you want to stand out and be in demand. The silver lining though is that these conferences are lucrative and it's typically weekday work. If you can really dial this in, this is potentially residual work and the sky is the limit for you. These events challenge you to think differently – not programming to fill a dance floor but setting the mood/vibe for an entire company experience, which personally I find more gratifying.
What are your thoughts? Any tips I may have missed? Send me a note either way.
About: Based out of NYC, DJ Brian Buonassissi is a successful internationally traveling DJ/MC specializing in luxury destination private events. He runs a multi-city mobile DJ/event business with satellite offices in Southern California, Scottsdale, AZ Destin, FL, Tallahassee, FL and New York City. You can connect with him at: brian@djbrianbofficial.com.
---
Video of the Month: The Cars
"Drive"

Trouble viewing this video? Watch it on YouTube


RIC OCASEK
March 23, 1944 - September 15, 2019

"Drive", written by Ric Ocasek, was the third single released from The Cars 1984 studio album,