IN THIS EDITION
---
Trending: Joey Restivo
The Freestyle Legend has a DJ Drop with your name on it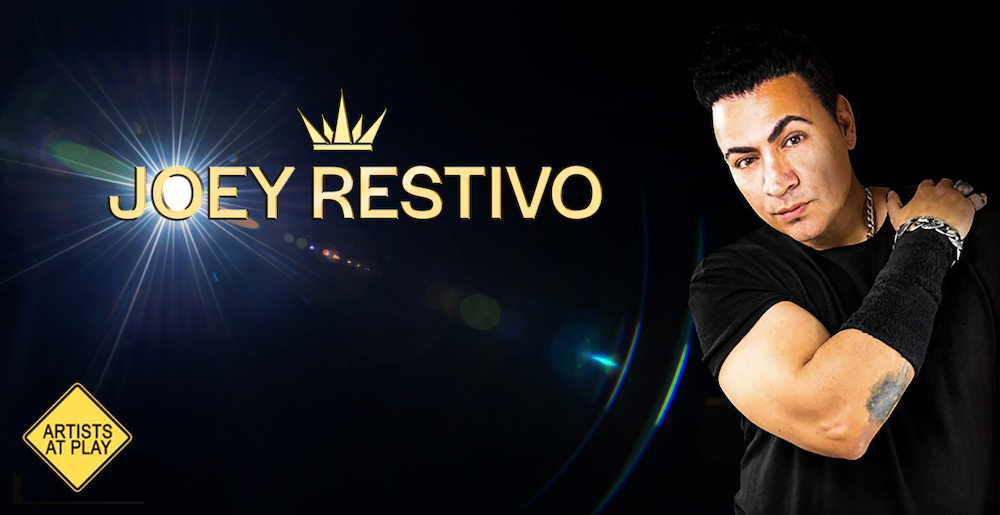 As fans of his work with 90s Freestyle sensation Linear well know, if there's one thing Joey "Bang" Restivo knows it's how to blow up his brand. A true O.G. impresario, Joey continues to flex his buzz-building muscle with concert tours, his indie label Artists At Play, and, for a limited time, the custom video DJ drops he's producing exclusively for POOL subscribers, at no cost to you.
More about that in a minute.
But first, for those of you too young to remember when Freestyle was pop-crossover gold for stations like WKTU (NYC), WCAU (Philly), WPOW (Miami) and XHRM (San Diego), it bears mentioning that not so long ago Freestyle was everywhere. Born in the boroughs of 80s New York, Freestyle's feel-good breakbeats and powerhouse vocals spawned the soundtrack of a generation, thanks to artists such as TKA, Sa-Fire, Judy Torres, Cover Girls, Lisa Lisa, Shannon, Stevie B, and, of course, Linear.
"So many people grew up with it," says Joey. "And now those same people have experienced life, with all its ups and downs, and are looking for something that for a brief moment takes them back to what I call their personal old school."
You can't fake the genuine devotion Joey feels for those who come to his concerts.
"It's not about me when I'm on that stage," says Joey. "It's about where you were when you heard my song, where you were when you heard Stevie B's music, and Debbie Deb. Me and Stevie B, we go outside and sign autographs after the show, I like to meet the fans, and I can't tell you how many people come up and hug me and tell me 'Thank you! I feel like I'm 16 again.' People remember those songs, and they're grateful to hear them again."
Joey would like to show his gratitude to POOL subscribers for adding his recent remake of Linear's smash hit "Sending All My Love" to their playlists by extending a very special time-sensitive offer.
"We love our DJs. And hope you'll check out my boys Odd Ballaz and their new track, 'Be Happy,' too," says Joey, "as well as my offer to produce a free DJ drop exclusively for you!"
That's right: Joey is set to let everyone know you're in the house, as only Joey can.
---
Spotlight: DJ AL3
The one and only Party Rocker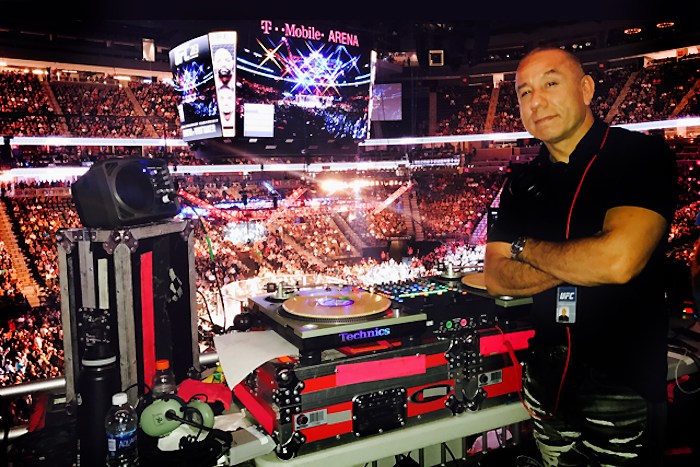 Albert Lineses III, aka DJ AL3, aka The Party Rocker is by all accounts a DJ's DJ, a passionate advocate of the craft whose crafty mixes and positive energy serve to inspire and delight those lucky enough to catch AL3 live. He's also one hella nice guy, especially for someone best known as the Official DJ of the Ultimate Fighting Championship.
We recently climbed in the ring with Al to discuss the secrets of championship performance.
How did you kick-start what's become a pretty amazing DJ career?
I started off straight up doing house parties and graduated to events and weddings and from there broke into clubs when I turned 21. I think the event work made me a better DJ. All the stuff you learn doing private events, the immediate feedback you get from people, especially the house parties I used to do up in the 'hood, you'd immediately know if people were feeling it or not.
I think these days a lot of DJs are jumping to clubs because they have the gear and 'X' amount of followers and I don't think a lot of them learned the basics or developed the sensitivity to rock an event for three, four hours. They don't know how to take people on a journey.
I've been on the road now for 13 –14 years. I try to have multiple spots. I love DJing when I'm in town and even for friends, because I believe to be a good DJ, someone who's really in the loop, you need to be part of the culture. Which is why I like to still DJ clubs, because that keeps your ear on the street and gives you the immediate response to a song, you get to hear people's requests.
I like to know what people are feeling.
And today you're the first and only official DJ of the UFC (Ultimate Fighting Championship) playing to tens of thousands of people. How does something like that happen?
Honestly, it's love of the art of DJing. It's all I've ever wanted to do. So I always try to do not just the best job I can do but to be the best DJ for the event I'm doing. And by bringing my A game every time I did radio or clubs and -- even now if I get booked to do a private event I give one hundred percent one hundred percent of the time -- people noticed. That's the path you want to be on.
Sometimes the right person, a person who can change your life, notices.
I got noticed.
For info, news, photos and more visit:
al3.com
---
ProMobile DJ with Stu Chisholm
The wisdom of getting it in writing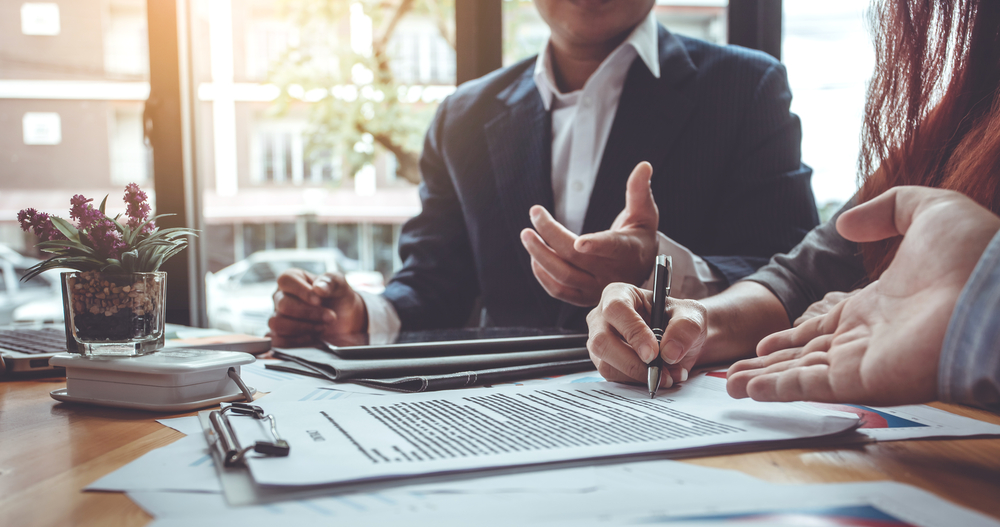 As so often happens when I'm preparing an article, an interesting conversation made me set aside what I originally had planned to discuss something entirely different. A long-term friend and fellow DJ called me to bemoan the weather report. He's a long-in-the-tooth veteran DJ who know specializes in doing classic car cruises and oldies parties, and he holds down a weekly gig at a local hangout where between 400 and 600 owners of vintage vehicles show off their rides every week. Tomorrow, it's supposed to rain. I told him about when I worked for a local baseball complex and would often get called off when the weather turned bad and games were canceled. While it sucks sitting on pins-and-needles waiting for that phone call, I told him how I had added a "pay regardless" clause to my contract, so at least my bills could get paid on time.
To my shock, my friend was also shocked. Such an idea had never occurred to him. When I mentioned that the same is true of my mobile contracts, he added another bit of sobering reality: "I never use a contract," he said.
Color me stunned. This is a colleague who has been in the business for easily a decade longer than I have, and probably more, with roots in radio and a solid reputation. And all this time, he's been working on a handshake.
NATURE'S MERCY
Now I know that there have been a ton of articles that have appeared periodically about contracts, but in today's litigious marketplace, it was hard to grasp how my friend coped with the uncertainty of weather and how to budget when your income can go in unpredictable (usually negative) directions depending on the whims of nature! And what about all of the other particulars, such as space and power requirements, access to the venue, parking and on and on?
It dawned on me that my friend had grown up in a day and age when mobile DJs were "hobbyists" and not all that professional. Due to his association with a local radio station, he was afforded a status that most mobiles couldn't compete with. But to him, it was just "a side gig," and even when he retired from radio, his DJ work was never a "real job" in his way of thinking.
For the rest of us, we need to ensure that our clients get what they expect and pay for, and we get what we need to not only do the job, but to survive and thrive as a business. A solid contract helps to keep all parties on the same page, minimizing the possibility of disappointment afterwards. No one can claim that a promise was made or broken if it is not written and agreed to by all parties. Contracts are simply agreements, made in writing, and are completely flexible and alterable before being signed by all concerned.
And, frankly, it's dumb not to have one.
BEYOND MY SCOPE OF PRACTICE
At this point, I'm going to do what you've seen in other articles on this topic...
continue reading
About Stu Chisholm: Stu of Stu & His Crew Professional Disc Jockey Service in Michigan has worked in several areas of the DJ Universe. He's been a radio, mobile, club and roller skating rink DJ in the Detroit area since 1979, and done commercial voice-over work, as well. Stu has been a keynote and featured speaker at DJ trade shows in the U.S., Mexico, and Canada. He is the author of the book, "The Complete Disc Jockey" and is a regular columnist with Mobile Beat Magazine. To contact him, email DJStuCrew@gmail.com. You can grab Stu's book at TheCompleteDiscJockey.com
---
The Gear Corner: Stow-A-Ways™
The Rock N Roller Transport Solutions
Review by Ben Stowe, CTS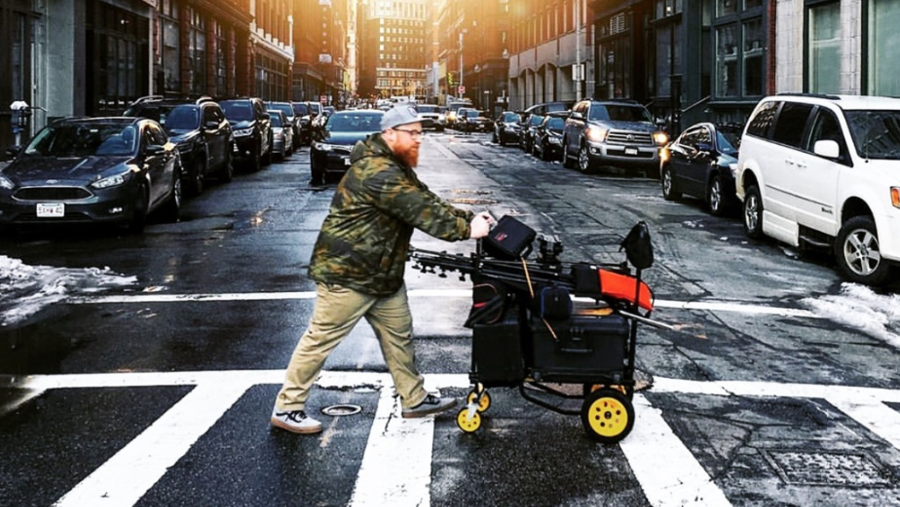 When Promo Only asked me what innovative, life changing product for DJs I would review this month, I said, "It's in the bag. Literally". The long-anticipated Stow-A-Ways series of accessories for Rock N Roller are now shipping and they are providing DJs with even faster load-ins and outs, less damage to gear and more versatility for their Rock N Roller carts. All are made of durable 600D Nylon.
The Stow-A-Ways series includes handle bags that are perfect for carrying tripod stands, subwoofer poles, mic stands and other objects that can easily drop in. These are some of the most awkward items to stack and carry, so I love these bags.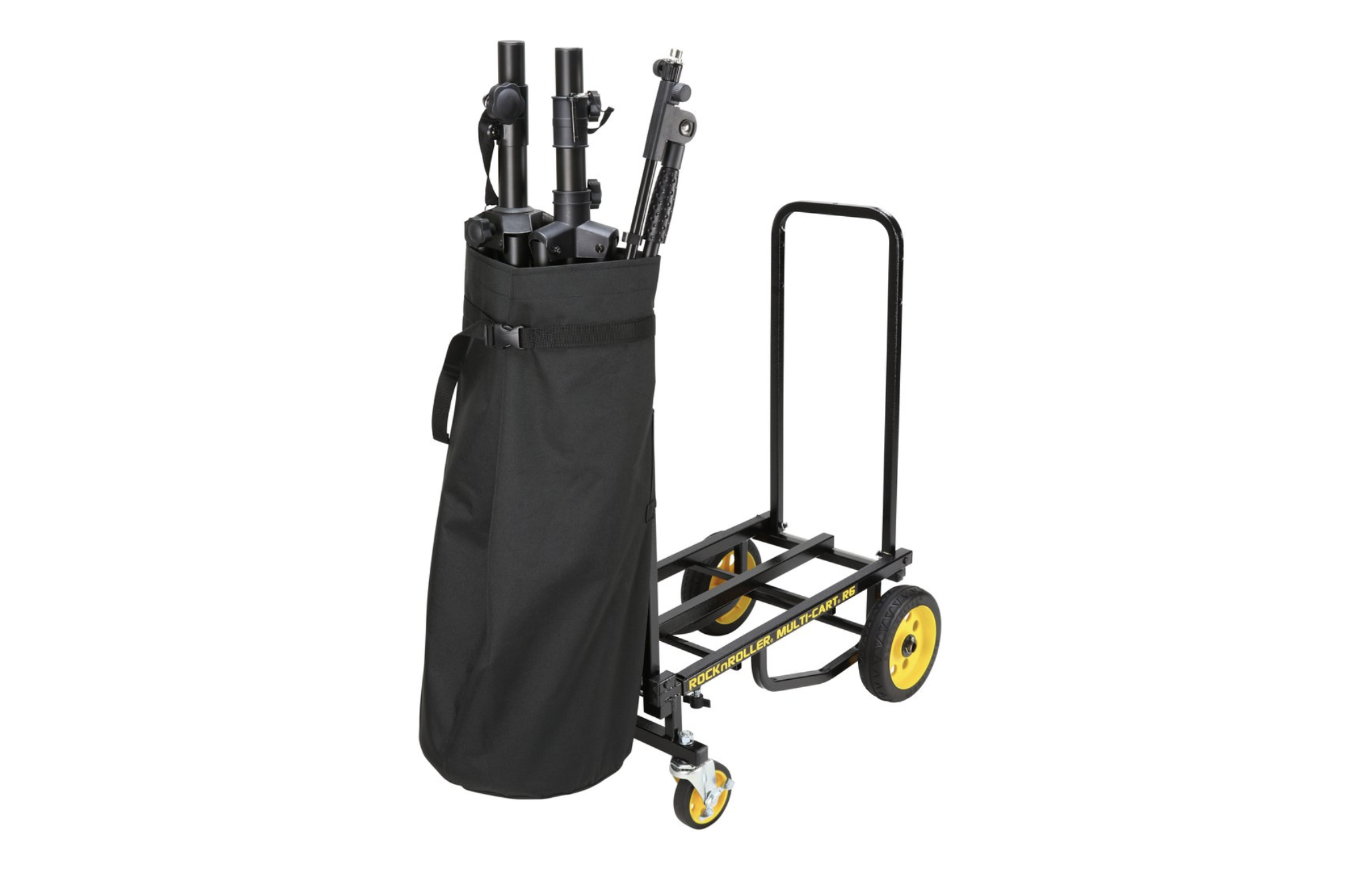 My next favorite Stow-A-Way bookends the other handle on the cart. The aptly named "Multi-Pocket Tool Accessory Bag" is loaded with pockets and pouches that are perfect for small, accessory items that you want to quickly access. The potential for this is vast. I imagine audio adapters, gaff tape, tools and more would be excellent items to keep in this.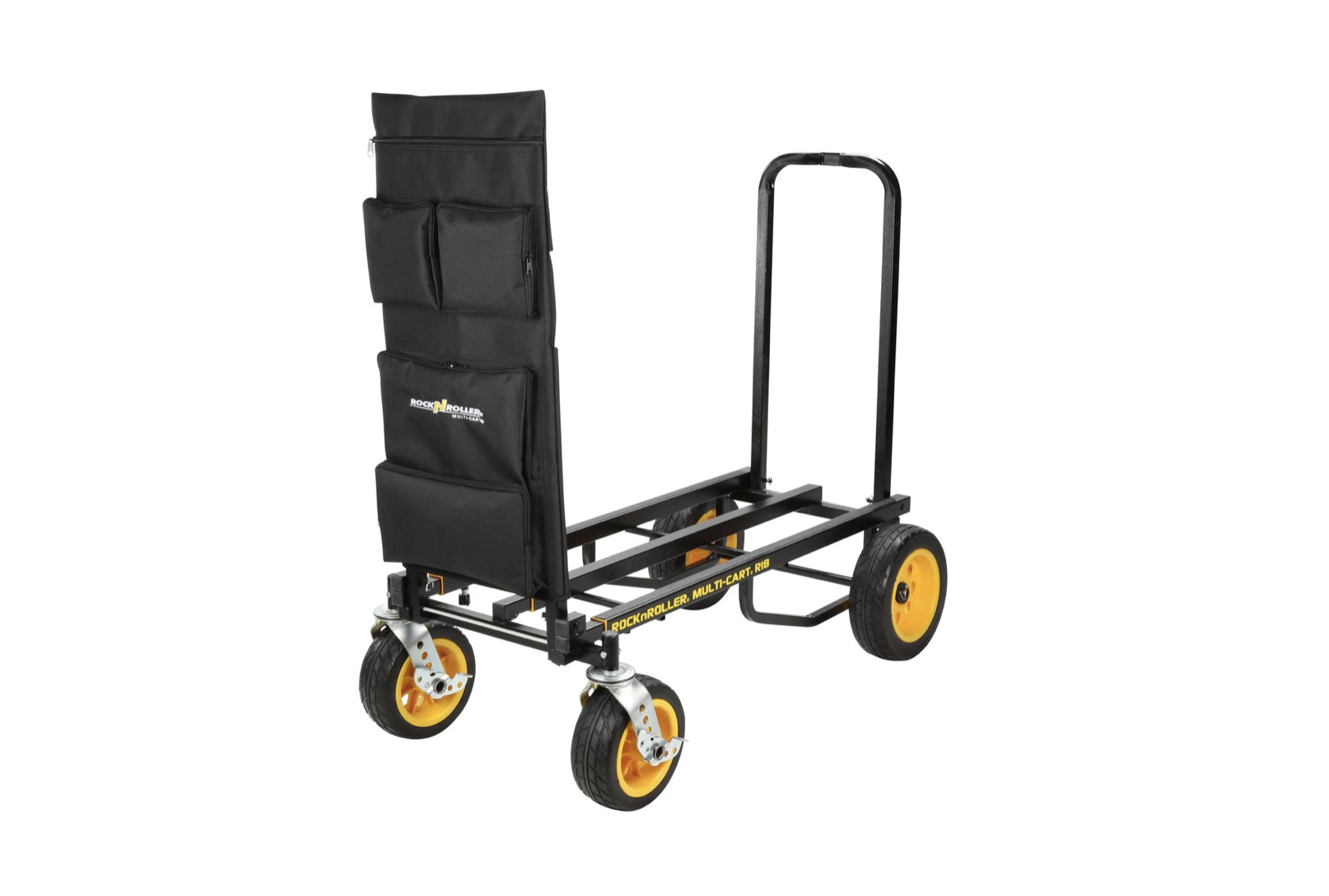 Lastly, but certainly not least is the "Wagon Bag" for the R2 cart. The R2 is very small and compact, but the Wagon Bag substantially expands its carrying ability. It provides storage up to the height of the shorter handle and allows for the cart to be folded for storage without removal.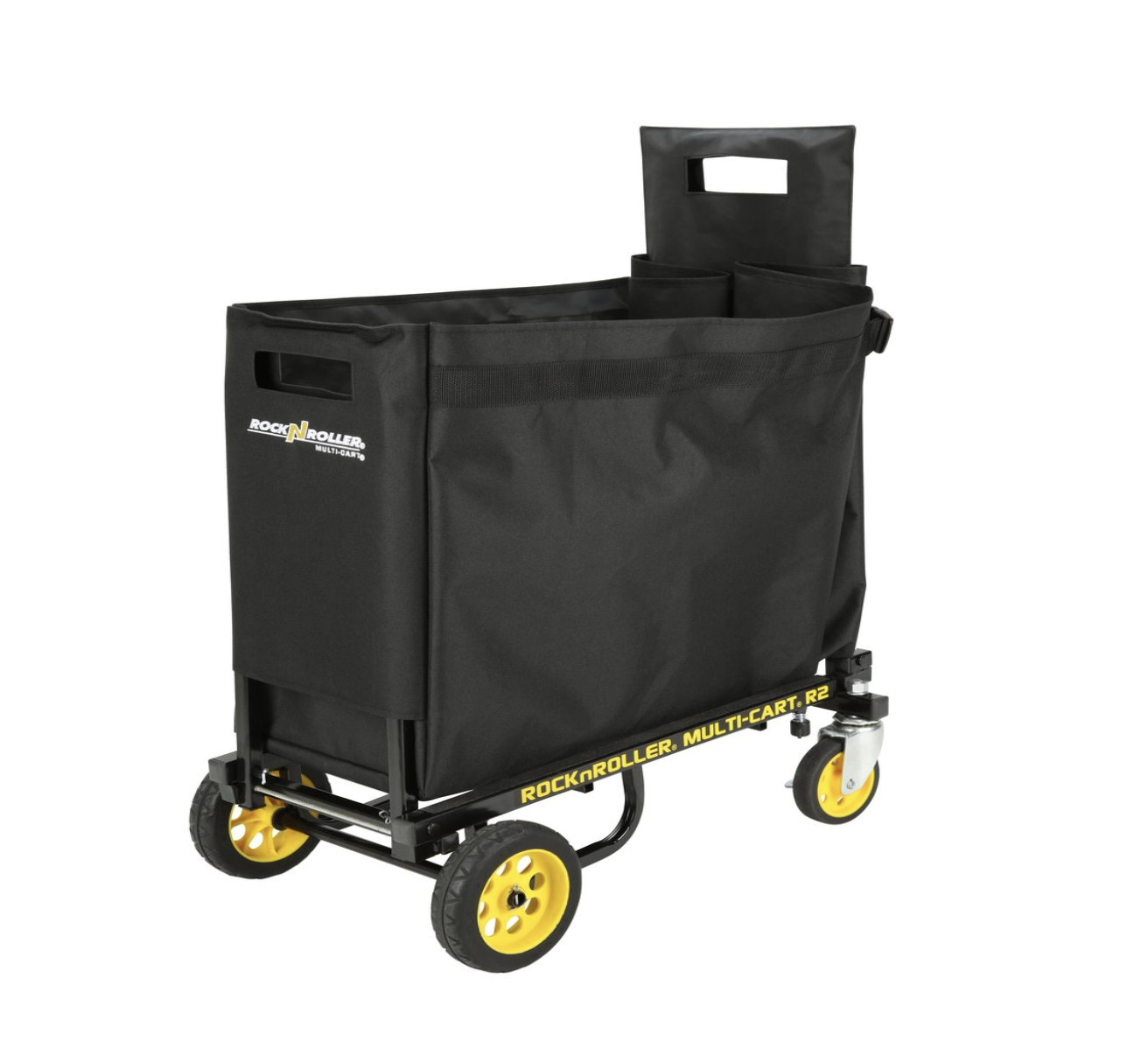 Now in stock and shipping from NLFX Pro!

For more info and Ben's best-price guarantee visit:
nlfxpro.com/hdm-45-a
---
Brian Buonassissi:
It pays to track your booking sources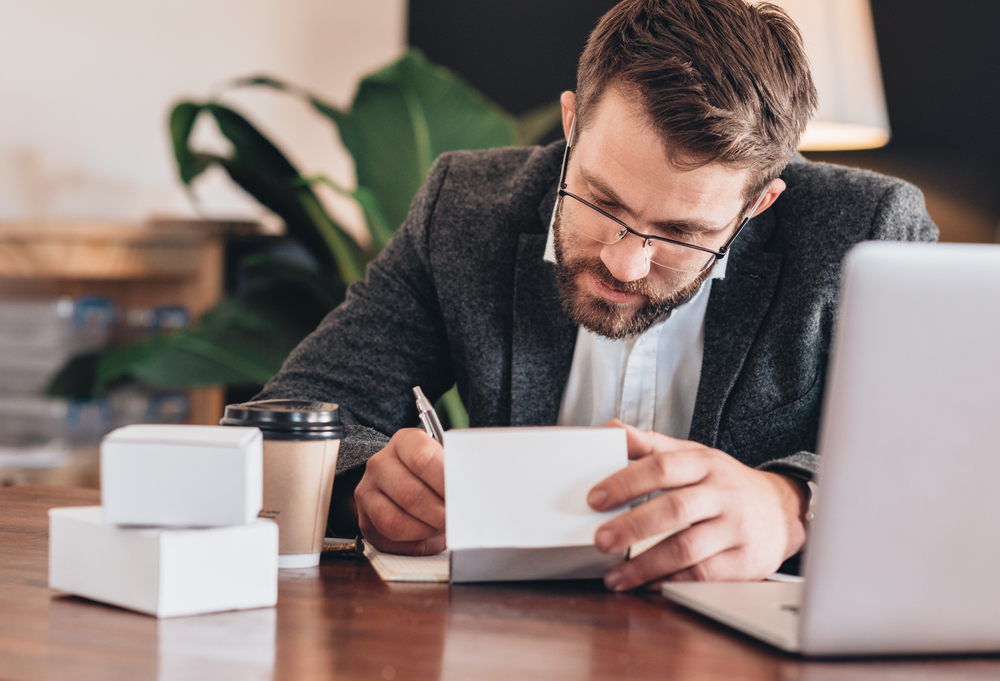 Tracking your bookings is very underrated and if left unchecked, you can find yourself in a real pickle. Here's a real life case study from my company. We had a venue in town who ramped up significantly over a 1-year period. They had always done 1-2 weddings a day, but management approved a huge expansion project which included adding 6-7 additional spaces for private events on property as well as hiring on additional sales and service staff. As the only multi-op of any significant size, they reached out to us to give us a heads up about this desire to grow their private event business and they were hoping we could help fill the void for entertainment. We were more than happy to oblige. We added 5 new DJs to our staff of 5 and it wasn't uncommon to see 5-6 of our DJs at that venue on a given event day.
The growth for them (and us) was so exponential and happened so fast, that it made up 72% of our referred in bookings after they had been under 20% the year prior. Not only were the jobs proportionately out of whack but so was our revenue. They were now making up over 80% of our revenue. It wasn't that we were getting fewer bookings from other sources – it was just that this account took off so quickly. After that year, the sales director scheduled a meeting and informed me that they were making a change and going to require all clients book every services (including ours) under their umbrella (a la "all inclusive" packages) and pay us directly with a net 30, rather than having the client pay us directly. To add insult to injury, they wanted us to work for a flat rate that was hundreds of dollars below our typical booking rate (which, of course, they were going to mark-up to the client). In essence, we were going to make less, and I would have to float a lot of money every month while waiting for them to pay us on their net 30 terms. I had a decision to make. I could make less and keep the monopoly over the rest of our competitors, or I could cut it off and get us in a healthier place with account dependency. We opted for the latter.
It hurt initially. At the end of the day, however, they quickly gained the reputation of being the "Steak and Shake" of the area after being the "Ruth Chris" just one year prior. Online reviews started hurting their business and now they're lucky if they have 2-3 events on events days. Meanwhile, we returned to a healthy booking referral mix and I'm not sacrificing dollars coming in to make it happen.
The moral of this story is to keep detailed tracking of your booking sources and your revenue generation. Too many companies just track a general "referral" category and don't drill down to see exactly where these bookings are coming from. I encourage you to list venues and planners as well as advertising sources. The more detailed you can get, the better knowledge you'll have of what makes up your booking mix. You're not going to get it 100% right but as long as you're close, it will help you. Beyond that, you should be checking this regularly – at least twice a year – to make adjustments as needed. Not only should you to see if there's any correlation between bookings and the accounts but you should also track the metric of leads coming in vs bookings coming in through those same sources. I recently went through this exercise with a few colleagues in the industry. One of them had an advertising source that was producing 10 times the leads as the others. However, the actual bookings from that same advertising source were second to last. That told him that he should probably look at whether to continue advertising via that platform.
Another advantage to doing this exercise is it gives you a reason to meet with people either way the data leans. For instance, if an account brought you 10 booking last year and only 2 this year, it makes sense to call a meeting with that account. With the data you have, you can begin to explore the reasons behind the lack of bookings. On the flipside, if you have an account producing really well, why not call and say "thanks"? Do a pop in and bring them a bottle of wine or something to recognize them? When I've done this, I've noticed an uptick in bookings because I'm top of mind.
All of this begins with tracking your accounts and making sure your account and revenue ratio is in a healthy place. One last thing to help you here – invest in a CRM. The cost is well worth the return. Not only can you automate a lot of this, running reports takes very little time if you have it set up right.
What are your thoughts? Do you track these metrics? Drop me a note and let me know.
About: Based out of NYC, DJ Brian Buonassissi is a successful internationally traveling DJ/MC specializing in luxury destination private events. He runs a multi-city mobile DJ/event business with satellite offices in Southern California, Scottsdale, AZ Destin, FL, Tallahassee, FL and New York City. You can connect with him at: brian@djbrianbofficial.com.
---
Video of the Month: Yeasayer
"Ecstatic Baby"
Trouble viewing this video? Watch it on YouTube