IN THIS EDITION
---
Trending: Promo Only 25th Anniversary
We're celebrating with special savings all year long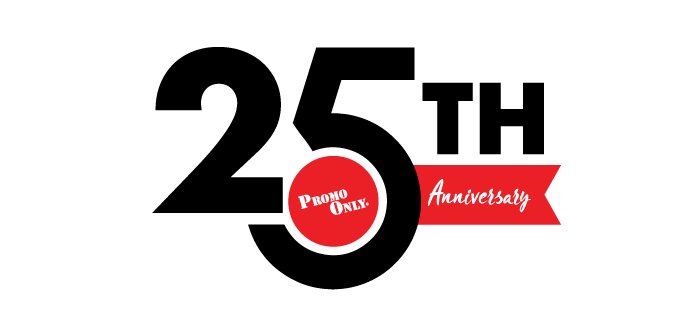 Once upon a time music did not appear out of thin air. You held it in your hand, if you were lucky. And only a very few got lucky when it came to promotional releases. This is the story of how the few became many. And how these many years later, more DJs than ever are able to experience more music than anyone could have possibly imagined.
Our tale begins with two DJs walking into a bar. One performed there, the other ran a mobile service. Shoptalk ensued, much of it centering on the dearth of 12" vinyl promo releases essential to both their careers, a drought precipitated by record label reluctance to invest in budding CD technology. As more or less a "what sorcery is this?" mentality settled upon the labels, the heroes of our story decided that maybe – just maybe – the labels might go for having a less risk-adverse start-up company burn their newest releases onto CD and bear the cost of distribution to DJs and radio stations themselves.
It worked. The end? Hardly.
Taking its name from the red rubber-stamp ubiquitous to promotional vinyl, Promo Only released its first CD, Promo Only Club, in June of 1992. A wide range of radio, club and Latin series quickly followed, with an equally comprehensive line of music video and video classics in hot pursuit, all of which reached fruition with the launch of POOL (Promo Only Online) and its unique ability to bring you all of the above (and more) at prices never dreamed of in the day.
This year, twenty-five years ago from the conversation that started it all, we find ourselves celebrating what's become the largest and most award-winning promotional service on the planet.
We hope you'll join us as we turn up the party by turning up the savings with 50 weeks of exclusive Anniversary offers!
You know that feeling you get when you save money? It's about to happen a lot, because beginning February 1st you'll find special time-sensitive deals posted on our Facebook, Twitter and Instagram feeds.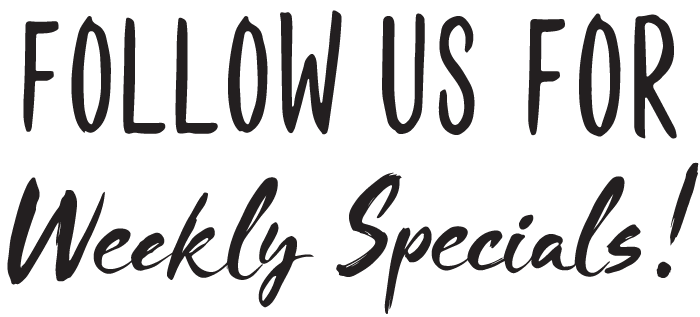 These offers will not be available elsewhere, will not be extended, and will not be repeated, so follow us on all three platforms and be sure you don't miss a thing.
What's in store for the next 25? More exclusive content than ever, to be sure, possibly delivered by telepathy. Because if the last 25 have taught us anything, it's that anything is possible, thanks to your support.
---
Spotlight: Visual iCandy broadcasts at Promo Only HQ
We hosted a worldwide video DJ broadcast. And this happened.
Trouble viewing this video? Watch it on YouTube

In the latest episode of an instant tradition, we invited some new friends to join the Orlando DJ Facebook community for our quarterly Promo Only Meat & Greet and an evening of beer, brisket and broadcasting.
The stage was set by the intrepid IT visionaries of Visual iCandy, a cutting-edge media and entertainment group specializing in content creation and premium quality livestreaming.
All that remained was for those in attendance to drop the beat. And drop the beat they did.
Hosted by iCandy producers and founders DJ Evan Clark and DJ Crush, with special guests DJ G-Force, DJ King, surprise guests DJ Magic Mike, and Nasty BeatMakers (DJ Khaled), and captured in all its 4-plus hour glory by iCandy's innovative livestream technology, we present this encore of the Visual iCandy Season Finale.
Visual iCandy Season Finale is presented by Promo Only, powered by Smashvision, and brought to you by Pioneer and agiprodj.
For more about the incredible resources available at Visual iCandy, and how you can bring your DJ experience to life, keep that dial tuned to
visualicandy.com
---

The Gear Corner: Denon SC5000
A look at the mighty new Prime DJ Desktop Player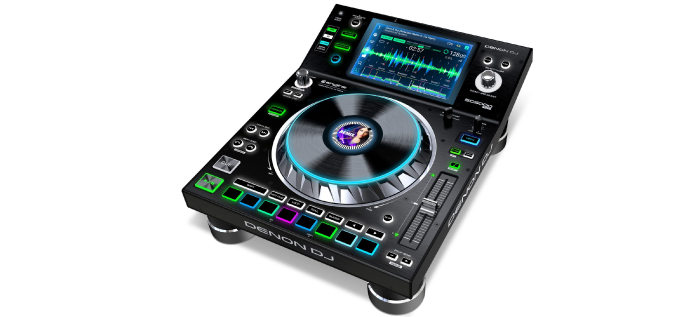 With a teaser video that had everything but "Boom! I Got You Boyfriend" as the soundtrack, Denon's #changeyourrider campaign has all but announced that it is coming after Pioneer's heretofore exclusive turf – the stand-alone media player market.
At first glance, Prime certainly qualifies as a media player -- you can play music directly via SD or USB, analyze your music on the fly and instantly generate BPM, key, and waveforms. But it's what's under the hood that sets the SC5000 apart: it is the first media player to use the all-new Engine™ Prime software.
An innovative curation and analysis system, Engine Prime allows you to easily organize, categorize and import music, either directly from iTunes and Serato DJ or via drag-and-drop from existing music folders. Put the SC5000's on-screen alphanumeric search function to work and you can quickly find, load and play any track needed without distraction or hesitation.
Trouble viewing this video? Watch it on YouTube

Key Features Include:
7-inch HD display with multi-touch gestures


24-bit/96kHz digital audio outputs


Dual-layer playback with individual audio outputs


Plays uncompressed audio formats (FLAC, ALAC, WAV)


8 multifunction trigger pads for Cues, Loops, Slices and Rolls


8-inch rugged metal jog wheel with HD central display


Customizable RGB color around the jog wheel


(3) USB and (1) SD input for music playback


LAN output to link to up to four players


The Denon SC5000 lists for $2999.00. And flies off the shelves at a pocket friendly $1899.00.
For more info visit
denondj.com
---

Disc Jockey News's John Young:
WeeGo Portable Jump Starter
Trouble viewing this video? Watch it on YouTube

John Young advocates the WeeGo Portable Jump Starter as something you should keep in your DJ vehicle. It jump starts cars, trucks, boats, motorcycles, ATVs, etc. - any gas engine up to 6.4L (diesel up to 3.2L) and it's patent pending
Smarty Clamps
have comprehensive safety protections and include a smart box that guides you through a safe and simple jump by a series of lights and sounds...
---
Creating Connections with Mitch Taylor:
12 Secrets For Success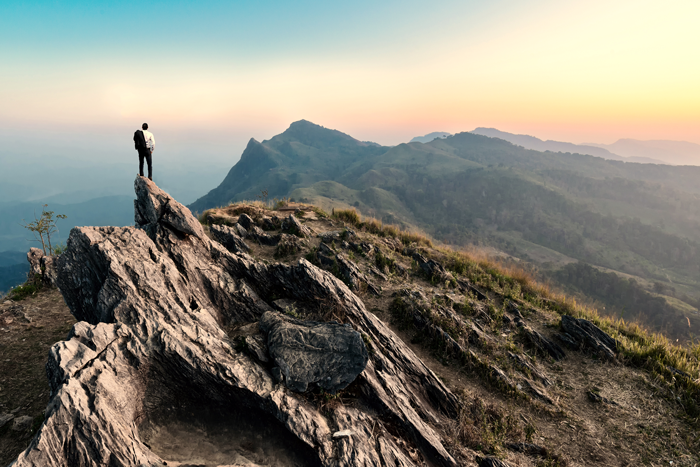 I see a lot of posts in lots of DJ groups on Facebook complaining about brides. "They won't email me back." Or: "All they want is a price and how much for four hours." What those posting tend to forget: Even though you got into this business because you like entertaining people, seeing happy faces and the rush of playing the right song at the right time, staying in business, complete with taxes, payroll, inventory and sales, requires something more.
It's a fact that the day-to-day sales process can suck the life out of your passion for this mistress we call DJing. If you don't enjoy the sales process or find spreadsheets mind boggling and tedious, then hire someone who has a passion for numbers and invest your efforts where they will have the biggest impact -- on your bottom line.
There are many DJs who try to wear too many hats. Trust me, I've been there. The key is to formulate a business plan that focuses on where your efforts would be best invested. To accomplish this, you must practice mental toughness daily, weekly, monthly and yearly if you really want to explode your business to new heights.
The following are some secrets to success that I have found in business and in life.
1. Get up earlier. I'm at my office by 8am every day.
2. Delegate tasks you suck at. I've got a bookkeeper for a reason. :)
3. Daily to-do list should be accomplished within six hours or less.
4. Eat lunch at least one day a week with a colleague or one of your clients.
5. Create short, mid- and long-term achievements. Write them where you see them every day.
6. Pay well. The people on your customer service front lines are who take care of the people who sign your paycheck. They MUST be happy.
7. Save at least three months worth of operating expenses.
8. Handwritten thank you notes. Put handwritten post it notes on mailed contracts.
9. Recharge your batteries when necessary. As I write this I'm on a flight to Salt Lake City for a business trip / vacation.
10. Pay it forward. Give back to your community and your clients. The rewards will come back to you tenfold.
11. Attitude. It WILL make or break you. Choose positively and be amazed at the impact you can have in the world around you.
12. Celebrate a sale! Feel good about a meeting a new client. Be in the moment.
It is my sincere hope that these Business Rules To Profit By will help you grow your business beyond your wildest dreams.
About:
Mitch Taylor owns and operates Taylored Weddings and can be reached via email at mitch@mitchtaylor.net. For more info about his Creating Connections books and workshops visit creatingconnections.biz
---
Music Video of the Month:
Jake Troth "Sunday Smile"
Trouble viewing this video? Watch it on YouTube

Jake Troth's official music video for "Sunday Smile" is sure to make you smile.
Now available in POOL on Promo Only Alternative Video February 2017.
For more on artist
Jake Troth
, visit:
jaketroth.com
---
POOL Pro Tip
Find exclusive content fast!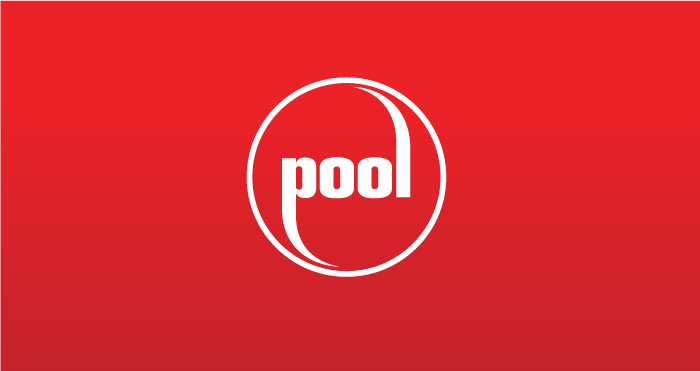 It may not look like much, but our Mix Name field, nestled away on your POOL app's SEARCH tab, can make finding the versions you're looking for one-click easy.
Simply input Clean Edit, Intro Edit, Quick Edit, Mixshow Edit, remixes, instrumentals or acappellas in the Mix Name field, hit enter, and you'll be instantly greeted with every track in your collection that fills the bill.
Sure your software of choice can track down our fully tagged files on the fly, too. But ain't it good to know you can crate what you need for even faster searching...
Have a question about POOL?
Contact us at
poolsupport@promoonly.com
or by calling
407-331-3600
---
JAN 2017
Find out what's trending
Find all the hottest Top 40, Hip-Hop, Country, Rock, Dance and Latin Hits, and where they appear on your Promo Only Series.
**EDITORS NOTE**
The current Hitlist may still be in the process of being compiled so please check back if the one shown is not the most current.
---

Promo Only Special: Best of Love Songs
The ultimate wedding & prom video collection is on sale!!!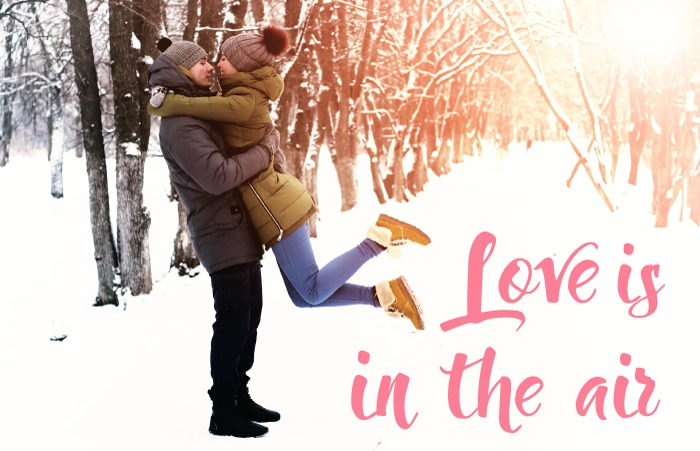 Playable as audio-only via software that supports MPEG4
Digital Download (POOL)

$25.00

$15.00 each


$250.00

$100.00 for all ten (10) (save $150)
add to cart


DVD/DFF Data Disc*

$40.00

$20.00 each disc (50% off!)


$400.00

$200.00 for all ten (10) (save $200)


(+$7.00 shipping & handling on orders of 6 discs or more.)

*Phone orders only, call 407-331-3600
Never tried POOL? Email us for a free, no-strings attached trial.
---

Offer Ends
January 31st, 2017

---
Hot Video Classics
All hits. All the time.



---
Big Think Presents: Diet Science
Techniques to Boost Willpower & Self-Control | Sylvia Tara
Trouble viewing this video? Watch it on YouTube.

As we kick off 2017 many of us have already embarked on a new health regiment or diet as part of our new year's resolutions, and many of us will also struggle to hit our self-iposed goals simply because we lack the willpower. According to Biochemist and Author Sylvia Tara, our willpower is a muscle that can be trained. In this video Tara discusses the wealth of scientific information that can help you understand your behavior so you can engineer a successful health and weight-loss plan.
---

Got a suggestion for future issues or care to comment on our content?
Contact us at promo@promoonly.com