IN THIS EDITION
---
Trending: Ready to get unhitched?
A look at how you can unhook your trailer for good.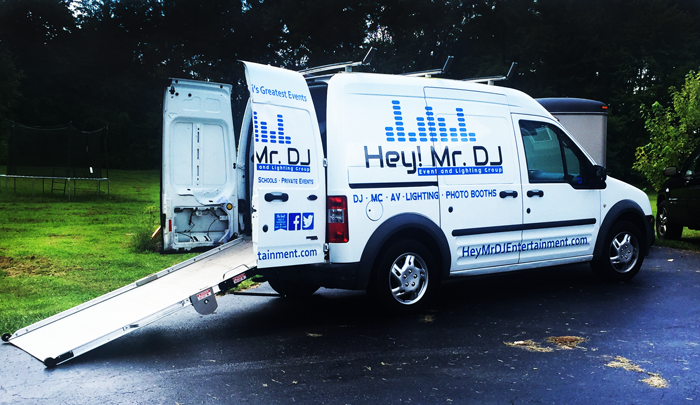 "I love double parking, paying for two parking spaces and backing my trailer into a loading dock," said no one ever. Certainly not DJ Brandon Lindsey, owner of Cincinnati's Hey Mr DJ Event and Lighting Group, whose inspired solution to the trials and tribulations of trailers recently caught our eye.
'When I first started out, like everyone, I piled everything in the car," says Brandon. "Eventually I went with a trailer. Did that for over 10 years. The real problem with that is that you have to have a vehicle capable of pulling a trailer. And after a few years that vehicle can rack up some serious mileage. So as I began looking at other options, I came across the Ford Transit Connect, a cargo van, and started thinking that might be a better way to go. For one, I'd have a car to take to my meetings and use in my personal life; for another, at least once a month I'd see or hear about someone having their trailer stolen. Got a little nervous about that."
Brandon decided to stay calm and buy the Connect, along with some carefully considered upgrades.
Brandon's Top 3 Reasons for Getting Unhitched
Cost:
I saw a lot of used Transit Connects in the $7-$8k range with decent low mileage. It's not a huge investment.
Mileage:
When I first got my Connect, I loaded it full of gear and drove it around just to see what the mileage was. After going through a couple of tanks of gas, I ended up averaging 21 miles per gallon. Pretty happy with that.
Convenience:
I recently purchased a rolling DJ console. It's not heavy, but it is awkward and bulky. So every time I had to move that, or my uplights, I would have to get someone to help me. That led me to add a ramp. And it's gone pretty well ever since. It doesn't take much space. It just stands up in the back. And my load-ins have never gone smoother.
"It was kind of an evolution, going from car to trailer to cargo van," says Brandon. "But it's led to so many advantages. I'm really happy with the results."
For further info visit Brandon's Facebook page.
---
Spotlight: VASSY
Meet the voice behind dance music's biggest hits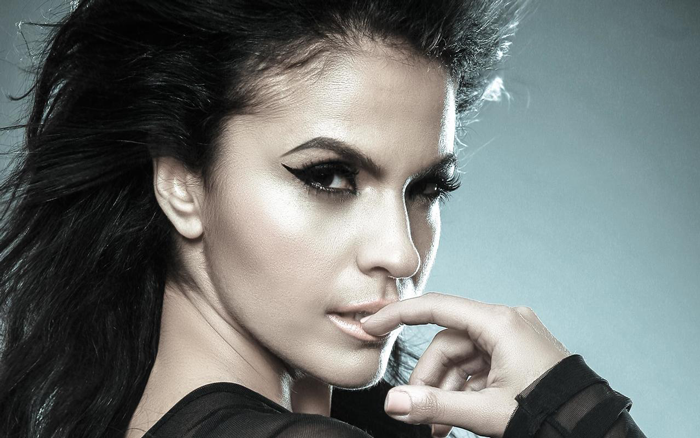 Certified RIAA Platinum and Gold recording artist VASSY is, to quote Tiesto, "One of my favorite singers in the world". Hailing from Australia, the singer, songwriter, and producer lets her music speaks for itself and her progressive popularity in dance music is massive. Her authentic sound has lead to a #1 Hit with David Guetta & Showtek on their track "BAD," which is certified 7 times double platinum, as well as winning an IDMA Award for Best Featured Vocalist Performance. "BAD" has had over 600 million views on Youtube, downloaded 2 million times and streamed via Spotify over 200 million times. Her collaboration with Tiësto and KSHMR on their track, "Secrets," hit over 80 million Spotify plays, 90 million Youtube views, was number #1 in 20 countries, and earned an IDMA Award for Best Electro Progressive/House track.
We recently stole a few minutes of VASSY's time to discuss the secret ingredient to her multi-Platinum success and her approach to creating arguably some of dance's best and most distinct tracks...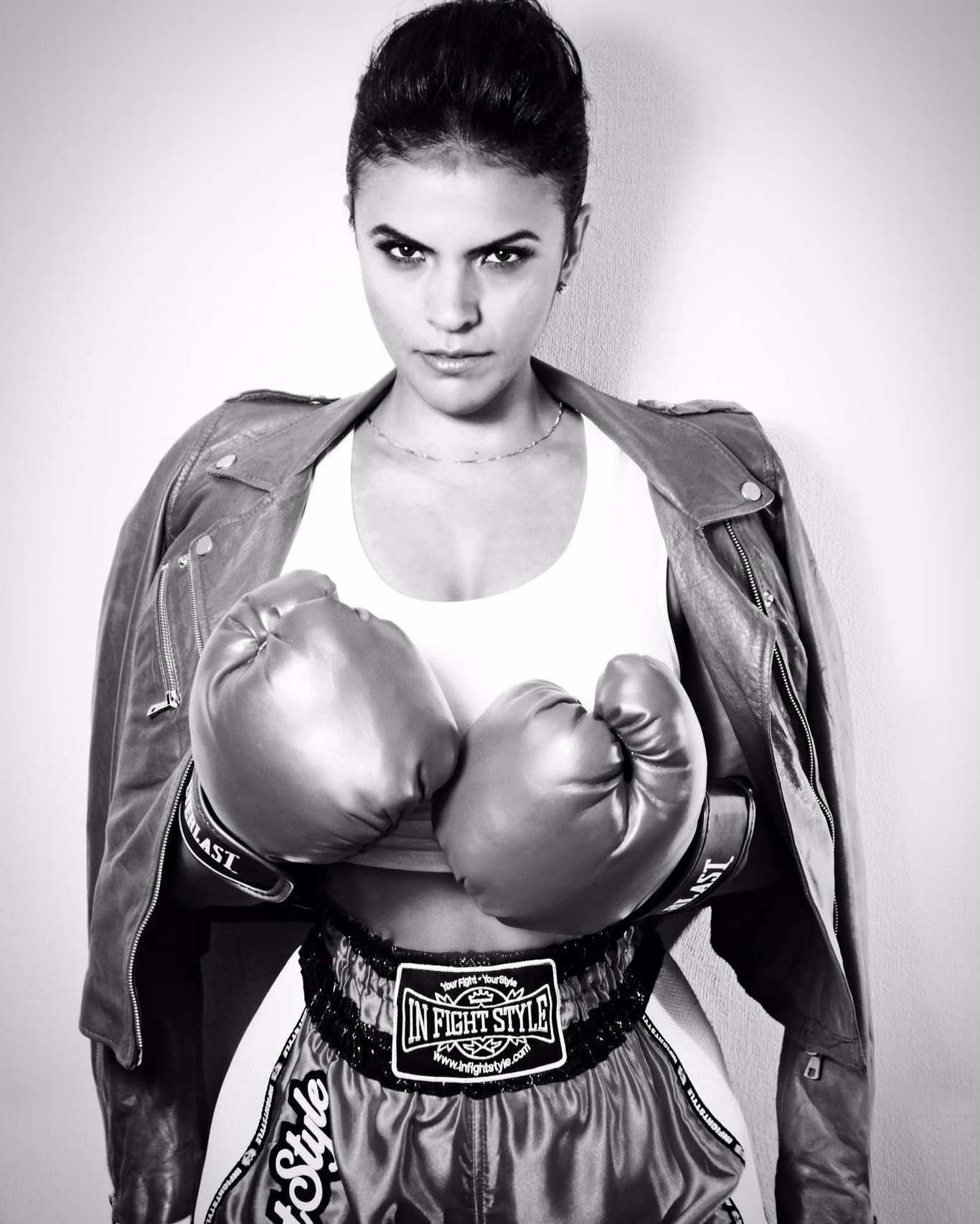 PO:
You're clearly one of the hardest working artists in showbiz today — one look at our release schedule shows that we've released nearly a song or remix a month this year that has you collaborating with a top-shelf DJ. You're currently working on a project with Afrojack, putting the finishing touches on an album of your own, and about to board a train as we speak. The music comes first with you, doesn't it?
VASSY:
Yes. I am about the songs. Absolutely. I'm not trying to deliberately put my stamp everywhere. I'm about the song, about having an experience with the song and about making that song unique. I feel that if I'm authentic to myself, if it feels right, the song's going to shine. And fans do connect the dots: I do have three or four different sides to me, but they're all VASSY.
PO:
Not an easy thing to do, to put the needs of the song first.
VASSY:
That's why I think a lot of people choose to work with me. It's really tough, though. I'm turning down a lot of collaborations with some really incredible DJs and producers, otherwise I would be on so much stuff, but at the end of the day, I want to do my own thing as well.
PO:
You're currently working on a project with Afrojack...
VASSY:
I am. We're trying to finish this record, which is so awesome. It's just a question of finding the time to finish the production. We're looking at a November release. We'll see. The song is written; it's already done. And it will be a VASSY record.
PO:
And you have an album of your own in the works?
VASSY:
I do. I have my own song out now, with Tiësto producing ("Nothing To Lose"). What I'd like to do is give that record time to breathe and hopefully get more rotations over the next few weeks on radio. And then, at the right time, I'll be putting the album out, probably early next year. It's about timing, finding the right label; everything has to line up right.
Trouble viewing this video? Watch it on YouTube

VASSY can now be heard at
vassymusic.com
and anywhere there's a POOL player.
---
Digital DJ Tips Presents...
5 Ways to build up your DJ fanbase using Facebook Live
Live video broadcasting is hitting the mainstream. And while apps such as Periscope and Meerkat have led the charge, it's Facebook Live that's taking live video to the world stage. This is no doubt due to the fact that just about everyone's on Facebook and that broadcasting with Facebook Live is so easy that anyone with a smartphone can do it.
Of course, not all Facebook Live broadcasts are created equal: You've probably seen 'casts with just a handful of viewers, or next to none. Maybe you've even seen successful broadcasts with thousands of listeners, such as Disclosure spinning a set in their kitchen, and you want to do the same but don't know where to begin...
Here are our five content tips for getting started on Facebook Live and creating a broadcast that's fun and engaging for your audience.
1. Stream a DJ set
The most obvious way to use Facebook Live is to live stream your DJ sessions from your bedroom studio. You can stream up to four hours straight (you'll have to restart your feed if you want to broadcast longer). Unless you're doing something technical, like scratching or a controllerism routine, your audience may just keep you in the background while they go about their Facebooking, unless you engage with them.
Engaging with your audience means giving them attention. For example, viewers can send you reactions (e.g. a thumbs up, hearts, and so on), and you'll want to try to acknowledge these reactions while you're DJing. If you take requests, how about asking for them from your viewers and then working the tunes into your set? Anything that would make the broadcast a give-and-take instead of a one-way street is a good idea.
2. Do a live Q&A
The next type of broadcast is to do a Facebook Live event where you can field questions from your viewers. You can do this before, during, or after your DJ set. Choose a topic that's relevant to your intended audience ("What's your favorite throwback jam from 1999? I'll tell you mine and why I like it. Tell me what yours is, and I'll mix it in today's set."). The idea is to show viewers what you're about by answering their questions (the more authentic, the better) and asking them questions of your own. Keep it short so it doesn't get boring (and awkward).
Social savvy tip:
Announce ahead of time that you're doing a Facebook Live Q&A broadcast, and set the topic (eg "Talking about your favourite superstar DJs tomorrow at 5PM EST before mixing. I'll tell you mine if you tell me yours!"). Since Facebook Live is basically available worldwide, don't forget to be very specific about the time, just like what I did with my example.
[continue reading]
About Digital DJ Tips: Featuring news, reviews, show reports, and tutorials, Digital DJ Tips is one of the most-read DJ tech websites in the world, with over 60,000 students on its paid and free DJ courses.
---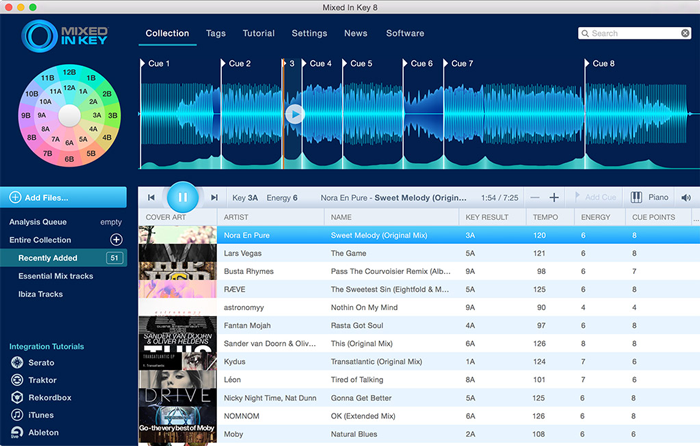 Mixed In Key V8
A look at the all-new key detection software
The always-innovating folks at Mixed In Key have stealth-marketed possibly the biggest upgrade since Mixed In Key's initial incarnation: Version 8 has arrived, offering editable cues, a patented waveform display that separates beats from other musical data and a powerful tag editor, built right into the software. The software recently appeared with little fanfare on the Mixed in Key website and hinted at a free offer we have since confirmed: Mixed in Key will be offering this upgrade as free to all Mixed in Key V7 owners.
That said, at $58.00 those of us weary of exhaustive file-prepping and fly-by-the-seat-of-your pants mixing will want to zip their lips and unzip their wallets.
What's new...
At first blush, it's abundantly clear Mixed in Key 8 will guess where cue points would be useful as it analyses your collection, add them (they snap to the beat), and let you add, edit or delete more, using the much improved waveforms as a guide. As before, cue points created in Mixed in Key will show automatically in Traktor and Serato.
Trouble viewing this video? Watch it on YouTube

Version 8 Feature Set at a Glance
X-ray Vision into your music, so you can see the Beats layer and the Melody layer separately inside the Audio Player.
The new Cue Curve feature shows you the best places to drop your own cue points.
Mixed In Key saves you time by automatically setting up to 8 editable cue points on the first beat, the beginning of the verse, and the beginning of the chorus.
Adjust Serato and Traktor cue points by dragging their markers left-and-right.
Clean up your playlists for all your DJ software (Traktor, Serato, Virtual DJ, rekordbox, etc) with new "TAGS" screen that looks like Excel.
Quickly edit artists, track, comments, and all other info for multiple tracks using the new TAGS view.
View album artwork.
Mixed In Key costs $58. Get it for MAC OS X or Windows.
For more information, visit
mixedinkey.com
---
Disc Jockey News's John Young:
Make The Wedding Sale Move From Need To Want
John Young shares a way to move the sale from just the 'all about the price' to a conversation on what you can bring to the party!
Trouble viewing this video? Watch it on YouTube

---
Creating Connections with Mitch Taylor:
Do you know your DJ IQ? You should...
What's Your IQ? No...not that IQ. What's your intriguing question?
I was listening to the Bill and Jason Show the other day (available at BillAndJasonShow.com and on #DJNTV, as well in a search of YouTube) and they were discussing my book Sales 4 Event Pros. Their topic also covered how to sell in a world where every bride wanted to break things down in just text format: communicating with you via email, FB message or text (I'm still waiting for my first inquiry to come via IM on Pinterest or DM on Twitter.)
Bill made a comment about how hard it is to distinguish your value in an email -- in fact it was practically impossible. While I would agree that it is more difficult, I wouldn't say that it is practically possible. The key is to have an intriguing question.
What's an intriguing question?
One that makes the client you are speaking with stop and think. One that changes their thought process on what they are looking for. One that makes them reconsider the information that you are presenting them. One that makes them realize that YOU just may be the best option and to at least give you the time of day for a meeting.
OK...that's great Mitch. How do I come up with my own intriguing questions? Easy. Start here: Create two columns on a piece of paper. Write down everything you do on one column in a bullet pointed list. Now think of questions you would ask yourself about that bullet point if you were a client. When you are thinking of the questions focus on the "What's in it for me – for the client?" part of it.
For example:
We offer our clients planning meetings. OK that's great. What's the intriguing question here? If you're a single op and you meet with your couples in advance or are a multi talent company that meets with their couples your intriguing question could be this: Wouldn't you like to know whom you are handing a live microphone to in front of all of your friends and family? That question will invite the person to stop and think about that. It positions them there at their event, imagining someone on the microphone and now they will also think back to events they have attended and may remember a bad experience where the DJ on the mic was awful.
Here's another:
If one of the items you wrote down was timeline creation or event coordination (and you do provide that) then ask them "How will you be sure there is a smooth flow to your event?" They may say they're unsure or they think things will just happen. Then encourage them to have one person in charge, someone to take the stress off of them. Ask them about other events they have attended and see if people knew what was happening when and if there was a smooth flow to the event or not. Reinforce your timeline creation and discuss one aspect of the night such as their cake cutting ceremony. You might say "Before we introduce that moment we will behind the scenes ensure that your cake knife, plate, server, napkin, photographer and parents are in the room and all where they should be before we ever announce it. Then we'll also ensure that whatever is happening next is ready so there's a smooth transition that allows your guests to feel more involved and informed of what is happening during the evening. And eliminates any lulls that you may have seen at other events."
The bottom line is this:
Intriguing questions are what draw your client in and gets them to want to know more about you. They are also what differentiate you from any other person they are speaking with. If you're NOT asking intriguing questions and just boiling it down to "Well we offer 2 DJs, full sound and lighting for six hours for $XXX or $XXXX then most likely you're killing the sale before it ever has a chance to grow.
About:
Mitch Taylor owns and operates Taylored Weddings and can be reached via email at mitch@mitchtaylor.net. For more info about his Creating Connections books and workshops visit creatingconnections.biz
---
Music Video Of The Month: "Soy Yo"
Bomba Estéreo captivates us with a message of self-love
Last week the Colombian electro-cumbia group dropped the official video for their 2015 hit, "Soy Yo", and deservedly, it's been making the headlines. Enjoy!
Trouble viewing this video? Watch it on youtube.com

---
POOL Pro Tip
Harness the power of POOL color codes and folder counts.
Did you know:
POOL delivers daily, simultaneous with the record label release. You'll find our daily singles serviced in a BLACK font.
We also offer a weekly batch download folder (Express Audio) to make grabbing a week's worth of releases one-click easy. You'll find our weekly folder serviced in a GREEN font.
Genre folders (Mainstream Radio, Urban Radio, Country Radio, etc.) are serviced monthly and conveniently curate content already serviced daily and weekly. Those will also appear in a GREEN font.
Pro-Tip:
Looking for bonus tracks? Check the folder count of the many singles you receive each week (you'll find that in the "#" column). If you see a count of two tracks or more – jackpot! That signals you've received a mix or edit NOT found in our weekly and monthly folders.
Have a question about POOL?
Contact us at
poolsupport@promoonly.com
or by calling
407-331-3600
---
SEP 2016
Find out what's trending
Find all the hottest Top 40, Hip-Hop, Country, Rock, Dance and Latin Hits, and where they appear on your Promo Only Series.
View the September 2016 Hitlist
**EDITORS NOTE**
The current Hitlist may still be in the process of being compiled so please check back if the one shown is not the most current.
---
Usefull Info: Big Think Presents...
Want to Cultivate Focus? Here's how to train your brain - Charles Duhigg
Pulitzer Prize-winning journalist Charles Duhigg gives us some insight into why it's incredibly problematic that even though we have more tools and digital assistance than ever before in achieving our goals, those same luxuries often make it much harder to focus...
Click image to Watch it on bigthink.com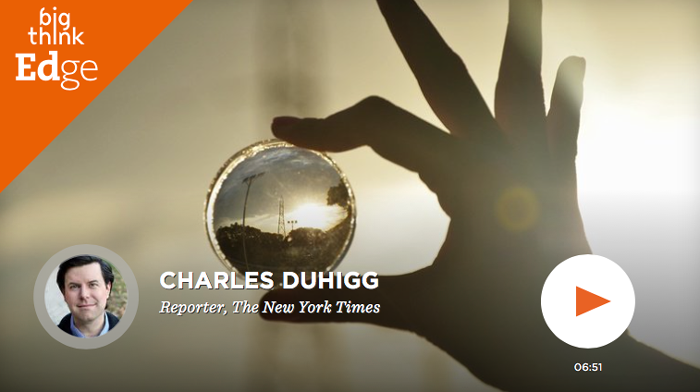 ---
Got a suggestion for future issues or care to comment on our content?
Contact us at promo@promoonly.com