IN THIS EDITION
---
Trending: DJ Associations
3 reasons you should consider joining one...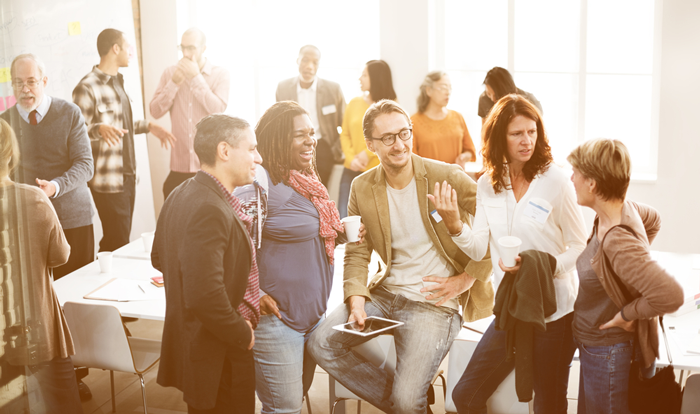 As much as no one likes to admit it, when we sell our DJ services, we're selling a product: ourselves. And what do most consumers want from any product they purchase? Quality and reliability. No doubt you've got your sales pitch finely tuned to convey your years of experience and commitment to excellence, and the testimonials to back it up, but so does every Tom, Dick and Harry DJ Service.
You may feel you need something more.
Can a DJ association membership and the commitment to excellence it conveys make a difference when it comes to closing your next sale? And with so many associations out there — N.A.M.E., USDJA, ADJA, DJCAA — how can you know which service offers the benefits best suited for your needs?
For that how-to we go to ADJA president DJ Dr. Drax with those questions and more…
PO:
Here's one we hear almost every day: Why join a DJ association?
DD:
Because it is what professionals do.  If you're a doctor you belong to the AMA, a dentist, the ADA, an electrical engineer, the IEEE.  Belonging to a body that actively works for the betterment of your industry is important. Here at the ADJA we are the first such body sought out by the media for feedback on breaking DJ news and trends. We've defended our industry in every negative attack piece produced. And in doing so have established the ADJA and its members as consummate professionals who adhere to the highest standards. We are the standard bearers for our industry.
PO:
Will the dues I pay translate into real value?  
DD:
Yes. Absolutely — if you take the time to use all of the benefits and programs most associations offer.  The ADJA offers the longest-running, lowest-price insurance policy available, free Tier 1 web-hosting (valued at $99.00), free premium listings for your service via DiscJockeys.com, free travel discounts, and, of course, the exclusive Promo Only deals our members receive, to mention a few you'll want to put to use.
PO:
There are more than a few DJ associations out there. How can I tell which one is best for me?  
DD:
Call up their national office.  Find out if a real working DJ answers the phone.  Find out if there is a working DJ available to answer all your DJ and business-related questions.  Ask them for their Alexa rating.  Ask them how many brides visit their site looking for DJs.   Ask them how long they have been around. Obviously I'm biased, but ask around and you'll quickly find that the ADJA and its many local chapters represent the longest running, the most recognized and the most respected DJ association in the USA. Not everyone knows that; but they should.
For more info on what the ADJA can bring to your bargaining table visit adja.org
or email
info@adja.org
---
Spotlight: DJBlog.org
We're building a better blog. Help wanted.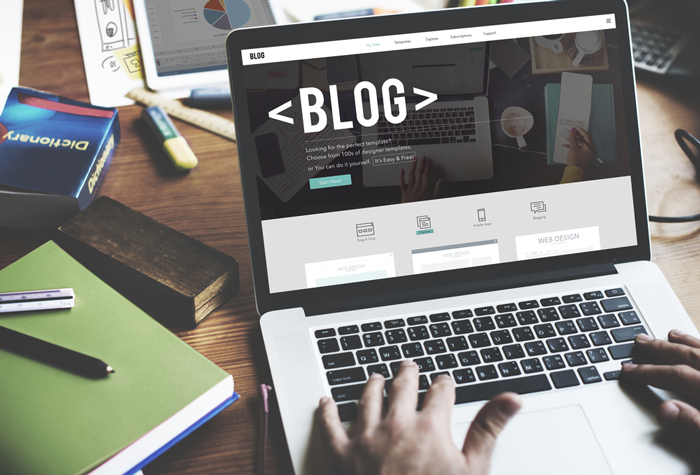 Dear Blogger,

Don't get me wrong; it was fun while it lasted. You were always making me smile with your clever headlines and great content. But you ruined everything. You lost focus. You took advantage of my time and interest with an avalanche of ads and gasbaggery. And now you've left me no choice: I've decided to see other bloggers.

Sincerely,
DJ Outta Here
If you've ever thought about sending a similar Dear John to your current blog of choice, you're not alone. Even the best of blogs can devolve into so-called echo chambers of opinion if not assiduously supplied with a balance of viewpoints. There's also the all-too human desire for profit, which can lead to annoying ads that lead to even more annoying clickbait that ultimately leads to frustration.
All of which leads us to invite you to not only check out but to participate in the wealth of ad-free resources you'll find at DJBlog.org. Hosted by some of the most successful mobile, radio and club DJs in the business, DJBlog.org is looking for new contributors.
Those looking to share their experience on subjects that range from beginner tips to pro-tips to master classes are invited to contact us for editorial guidelines at
promo@promoonly.com.
For more information visit
djblog.org
Pencils ready?
---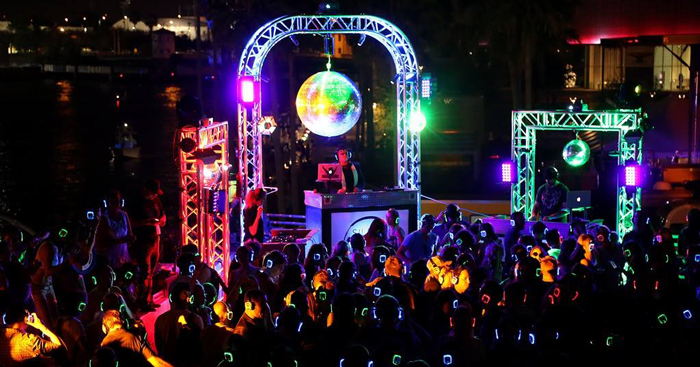 photo courtesy of Drunk Camera Guy
Digital DJ Tips Presents...
True confessions of a Silent Disco DJ
It was while working with another DJ at a friend's wedding that the whole silent disco thing started for me. My DJ pal was involved with a local festival that had been around for about five years, and the promoters tried the first year to put on a dance tent, but this was stopped due to noise complaints. They wanted to carry on with something other than bands late at night, which is where the silent disco idea came from.
My friend and I decided to give it a go as I'd heard of the concept before, and I'm always wanting to push myself to new experiences. This was about as far removed from what I usually do as I could imagine - I felt I had to give it a try.
What is a silent disco?
For the uninitiated, a silent disco is where each person in the crowd is given a pair of headphones on entry. There are no speakers at all (so no external noise). There are two channels, A and B, on the headphones, and these correspond to two DJs on the stage, battling with each other to keep people listening to their channel.
The DJs can only hear the music via their own set of headphones, although they also have access to a second pair that carries the same thing the crowd hears (so the DJs can hear what their music sounds like "out there").
If you walk into the room without headphones on yourself, it all appears really strange, because you see people dancing and singing but there's no music at all - hence the term "silent disco".
What I learned...
Before the gig I was probably the most nervous I've ever been as I had no idea what would work, how to mix properly technically on such a set-up, or the energy of the crowd. But as soon as we went on, after the first couple of songs, all my previous experience of playing to different types of crowds kicked in and it was brilliant.
I thought it'd be good to share five things I learned, so that if you're reading this and want (or have been asked) to play a silent disco, you can hit the ground running. So here they are:
Be prepared to play all styles to all ages - We had children from five years old, up to older adults, so don't stick to one genre
Quick, obvious mixing is the order of the day. Think of it like a hip-hop battle. You are vying for the crowd's attention, which can be limited, and also you're playing against another DJ, so you have to be ready to change songs fast. Forget those three-minute epic mixes - nobody cares
[continue reading]
About Digital DJ Tips: Featuring news, reviews, show reports, and tutorials, Digital DJ Tips is one of the most-read DJ tech websites in the world, with over 60,000 students on its paid and free DJ courses.
---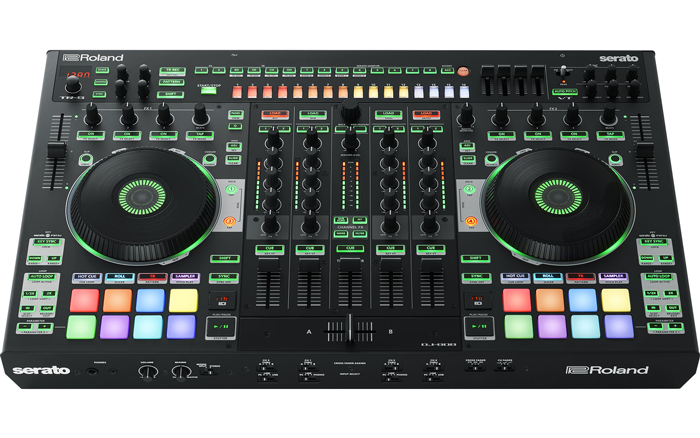 Serato + Roland = The Roland DJ-808 Controller
There's really nothing on the market like it...
Another day, another DJ controller, right? Not so fast, my friend. The new Roland DJ-808 lets you sequence drums as part of your DJ set. We should probably blow that up in bold…
The new Roland DJ-808 lets you sequence drums as part of your DJ set.
That's better; thanks. At first blush, the DJ-808 looks pretty much like your standard four-channel Serato controller — with one dramatic difference: a drum machine that nails Roland's iconic TR-808 drum machine and also offers software emulations of Roland's legendary TR-909, TR-606 and TR-707 drum machines.
Add a few controls for tuning, decay and pattern switching that those familiar with Roland's TR-8 will instantly recognize, and you're looking at the ability to create beats on the fly — and in sync — with Serato DJ software.
In a nod to existing customers other companies might want to take note of (are you reading this, Apple?), two USB ports allow owners of Roland AIRA gear such as the TB-3 or System-1 synth to jam along seamlessly.
There's really nothing on the market like it...
Trouble viewing this video? Watch it on YouTube

The fly-by:
Built-in Roland TR drum machine with 606, 707, 808, 909 kicks, snares, claps and hi-hats
Control the Serato Sampler with the TR-S sequencer
Built-in VT Voice Transformer with Pitch, Formant, Ducking and Serato key matching
Velocity sensitive RGB color pads for HOT CUE, ROLL, TR, SAMPLER and more
Large ultra-low-latency platters with integrated displays
4 high-quality integrated Channel FX
Standalone professional 4 channel digital mixer
Connect external instruments via MIDI or AIRA Link USB and jam along with Serato DJ
24bit/96kHz audio fidelity
Control two decks simultaneously with dual deck mode
100mm pitch faders
Unlocks Serato DJ and comes with a Serato Pitch 'n Time DJ license
Connect turntables or CDJs with the purchase of a Serato DVS license
Can we get that last header one more time, maybe a little bigger?
There's really nothing on the market like this.
Price? $1499.00 (it's a sequencer and a drum machine, duh).
For more information, visit
serato.com/dj808
---
In memory of David Mancuso
A look back at the godfather of disco's Loft legacy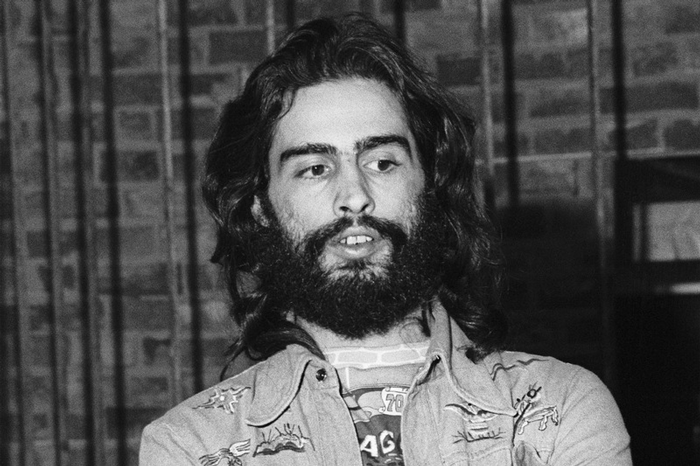 In a year that's taken far too many artists from us comes news that David Mancuso, iconic DJ and founder of New York's legendary The Loft, has passed.
Dubbed "the most influential figure in nightlife history" by British music journalists Bill Brewster and Frank Broughton in their book "The Record Players: D.J. Revolutionaries," Mancuso brought '60s counterculture, an audiophile's fascination with audio technology and a voracious appetite for all styles of music to his Saturday night event. The parties at The Loft, as Mancuso's apartment came to be known, became a near-religious rite for the city's underground.
A Mancuso party was a '60s dream of peace, love and diversity: multiracial, gay and straight, young and old, well-to-do and down-at-heel, singles and couples, all mingling ecstatically in an egalitarian, commerce-free space.
Oddly enough, Mancuso did not consider himself a DJ. A purist, he played records from beginning to end, untouched and unaltered. Responding to the energy of the crowd, he would orchestrate a seamless wave of sound with an integrated light show and a state of the art sound system that lasted until dawn. "I would play everything from jazz to classical and everything in between," he told Discomusic.com in 2003.
As his parties caught on, Mancuso's seal of approval could move a record commercially. "Soul Makossa," by the Cameroonian saxophonist Manu Dibango, became a hit after Mancuso began playing it. And he gave early exposure to dance records like "Cherchez La Femme" by Dr. Buzzard's Original Savannah Band and Ralph Macdonald's "Calypso Breakdown," which came to be featured on the soundtrack to "Saturday Night Fever."
"It was amazing to go to a place that was playing records I'd never heard before and hear them put together in a way I'd never heard before," said Vince Aletti, who covered the disco scene for NY's The Village Voice. "He heard connections between very different songs and could put them together to create a sense of movement unlike anyone else."
Inducted into the Dance Music Hall of Fame in 2005 for his outstanding contribution, and honored by many as not only an immensely impactful figure of New York's nightlife but as one of the pioneers of dance music culture, Mancuso spent his later years performing for the sheer love of music. "It's that simple. It's nonprofit, self-supporting. I've always liked music and always liked bringing people together."
RIP David.
---
Disc Jockey News's John Young:
Create A Targeted Facebook Audience
John Young talks about how to create a targeted audience for your Facebook page.
Trouble viewing this video? Watch it on YouTube

---
Creating Connections with Mitch Taylor:
The best deal you'll ever offer (hint: it's not a BOGO)...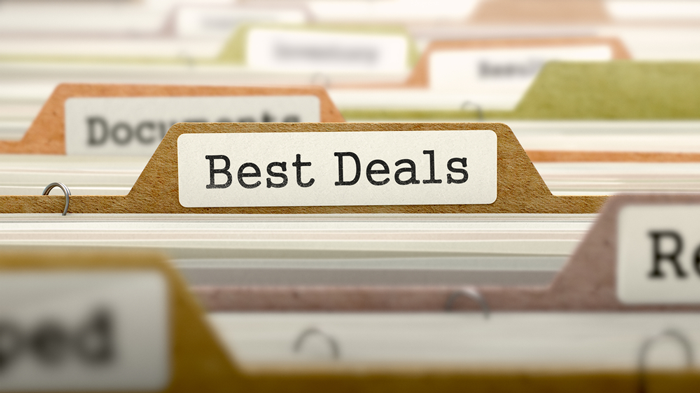 So I'm talking with someone the other day about marketing, specifically email marketing. From their lips came a boast about sending 30,000 emails a month and building relationships.
Say what? I'm sorry but a relationship is a one-on-one transaction. And in the wedding business, relationships are what we thrive on. If you don't have a solid relationship with a customer, you run the risk of losing that customer to a "bigger, better" deal or to those who are willing to personally invest the time and attention that provides a solution to that customer's every problem.
Customers nowadays have their BS detectors on HIGH. They can see a "sales pitch" coming a mile away, e.g. 99 Billion Served or BOGO (aka buy one get one 'free'). Yes, they're attention grabbers. Yes, they may drive sales in the short term. But let me ask you one question: Do such offers build loyalty?
Just today I once again received an email from a service I signed up for. I got an email from them yesterday and at least three the week before. I wanted to know what they were offering, but I didn't expect to be bombarded with messages from them on a daily basis.
How often do you send messages to your clients?
First off, whatever you are sending better have "new" information in it. And if you are sending items that are "you" focused, then your opt-out list will quickly grow.
Second, your message should include something of "value" to that customer. If you are a travel agency, send your clients updates with the latest travel apps for their cell phone. If you're a bridal shop, send your client news of the latest fashions from the most recent show that you attended.
Third, I would recommend sending your offers often enough staying top of mind but not too often that they feel bothered by you. How do you accomplish that? Simple. Ask your clients. You know, have a real conversation. 😀
THAT, my friends, is how you build strong relationships and how you build a business that can withstand all the BOGOs and 99 Billion Served in the world.
About:
Mitch Taylor owns and operates Taylored Weddings and can be reached via email at mitch@mitchtaylor.net. For more info about his Creating Connections books and workshops visit creatingconnections.biz
---
Video Of The Month: Mannequin Challenge
Promo Only takes the challenge...
We couldn't resist and had to get in on the fun...
Trouble viewing this video? Watch it on Facebook

---
POOL Pro Tip
The ultimate short cut to everything Promo Only
Looking for no-hassle access to the many resources you'll enjoy as a POOL subscriber?
The next time you visit our website hit the
Quick Links
icon located on the upper left of our home page and you'll find product menus, a search engine that spans our 24-year history, tracklistings for the 8k+ video classics found in our Specialty Releases library, and more, a single click away.
One click gets you there quick with Quick Links.
Have a question about POOL?
Contact us at
poolsupport@promoonly.com
or by calling
407-331-3600
---
NOV 2016
Find out what's trending
Find all the hottest Top 40, Hip-Hop, Country, Rock, Dance and Latin Hits, and where they appear on your Promo Only Series.
View the November 2016 Hitlist
**EDITORS NOTE**
The current Hitlist may still be in the process of being compiled so please check back if the one shown is not the most current.
---
Special: Best Of Christmas Video
NEW and Now On sale!!!
Get the brand new
Best Of Christmas Videos 5, 6, & 7
and the Original video volumes 1, 1.5, 2, 3, & 4 at a merry special price!
(Special lasts for one week only!)
Playable as audio-only via software that supports MPEG4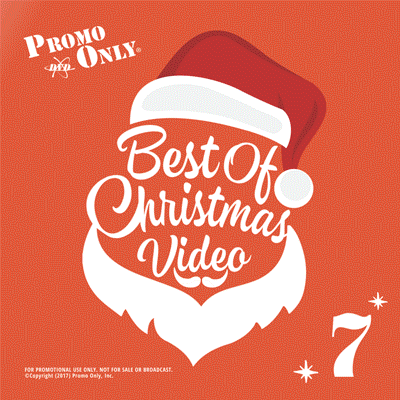 View the video tracklistings here.
Playable as audio-only via software that supports MPEG4
Digital Download (POOL)

$25.00

$15.00 each
add to cart


DVD/DFF Data Disc*

$40.00

$25.00 each
*Phone orders only
call

407-331-3600
Never tried POOL? Email us for a free, no-strings attached trial.
---

Offer Ends
December 6, 2016

---
Hot Video Classics
All hits. And nothing but the hits.



---
Usefull Info: AsapSCIENCE Presents...
Which Diets Actually Work?
The holidays are upon us, which of course means most of us will be indulging in all of the delicious eats the season has to offer. "Pie? yes please!". Come January most of us will also be trying to shed the extra pounds we gained by hitting the gym and trying out some crash fad diet... Debunking some common diets, and seeing which work!
Trouble viewing? Watch it on YouTube.

---
Got a suggestion for future issues or care to comment on our content?
Contact us at promo@promoonly.com