IN THIS EDITION
---
Trending: POOL DJ Tools
There's an edit for every event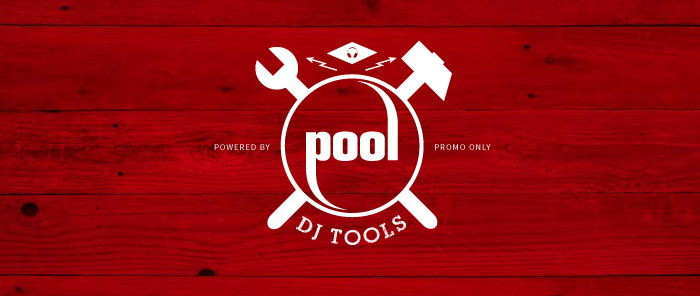 If the only tool you have is a hammer, you tend to see every problem as a nail:
We've all seen that DJ who keeps it real by playing unedited hip-hop at all his events -- including your college roommate's daughter's Quinceanera (true story).
Pro-Tip #1:
Don't be that guy.
Pro-Tip #2:
You can break the habit of over-relying on the same tired tool today with the variety of event-specific edits you'll find available in your POOL subscription.
The Edit

---


Radio Edits - The Swiss Army knife of edits, radio edits check all the boxes for FCC-compliant play, but can include words that while not obscene aren't suitable for "polite" play.


Clean Edits - If words that rhyme with "itch," "pass," "well," and "yo" might get your "putt" in a sling, you'll want to lean on the family-safe play you'll find via our many clean edits.



Intro Edits - Need a few extra beats to nail that next mix? You'll find 32 of them attached front and back to the original version of all tracks that bear the Intro Edit tag.



Quick Edits - Featuring the same 32-beat intros and outros found in our Intro Edits, Quick Edits are designed to provide rapid-fire delivery for today's "don't bore us, get to the chorus" crowds.


Explicit - Unfiltered and unedited, these are the versions your parents didn't want you listening to, even on your headphones. P.S. Your mom knew. She always knew. She just pretended she didn't and hoped you'd grow up to be a doctor.
The Event

---


Recommended for mainstream clubs and adult-driven events.
Tagged: No tag, no problem, it's a radio-friendly edit

Recommended for family events, mainstream venues & middle- and high-school dances.
Tagged: Clean Edit, Promo Only Clean Edit, Promo Only Squeaky Clean Edit

Recommended for anywhere mad-mixing skills are required.
Tagged: Promo Only Intro Edit (radio version), Promo Only Clean Intro Edit, Promo Only Explicit Intro Edit

Recommended for teen events, early night play, and anytime nothing less than a mega-mix will do.
Tagged: Promo Only Quick Edit (radio version), Promo Only Explicit Quick Edit

Recommended for mature audiences.
Tagged: Explicit, Promo Only Explicit Intro Edit, Promo Only Explicit Quick Edit, A Cappella Explicit
---
Pro Tip # 3:
Success is all about having the right tool for the right job.
You can do it. We can help.
---
Spotlight: Erik Dennison
The Promo Only Programmer with a thing for playlists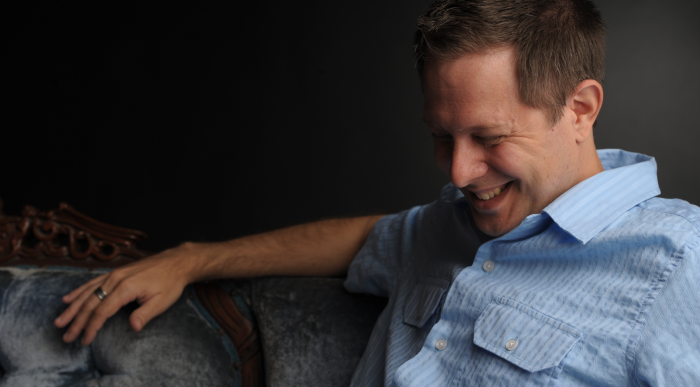 He comes by it honestly: Having a father in radio, Erik Dennison's musical education began at an early age. "I watched him spin 45's throughout the 70's, sat in on a few shows, and decided to take the plunge in 1992." A date easy enough to confirm; harder to believe, given our temptation to card Erik prior to any adult beverages that may or may not have been consumed as tape rolled on our chat.
In classic you've-got-to-start-somewhere fashion (selling radio spots at Springfield MO.'s KTOZ), Erik quickly charted a course through local news director and on-air/MD positions to posts in sunnier climes that included producer, talk-show host, production, and MD for Orlando's WTKS Real Radio 104.1, a stint in the Walt Disney programming department, and club residencies at some of Orlando's most cutting-edge hotspots.
All while still being asked for ID.
It was while working at Real Radio that the obscure new wave and underground club mix-tapes Erik was passing around the office landed him Sunday Night Vinyl, a request-driven show that required preternatural knowledge of the classic alternative format and a formidable music library. "SNV began in 1994 as an outlet for the deeper cuts absent in my regular programming; now it's how I justify taking up the spare room with my music collection to my wife," says Erik.
These days he brings the same deft hand and passion for playlists to work for you vis-à-vis his role as Promo Only Director of Programming, a role he sees primarily as that of a hunter-gatherer.
Says Erik:
"Probably out of everything I do here - programming Hits HD, putting together video playlists for Promo Only Networks, programming the audio for our rock releases - what I love most is looking for up-and-coming indie artists that wouldn't get a platform anywhere else, and helping them to get their music out there."
PO:
And that happens on our Alternative Video series?
Erik:
Mostly, but once a new artist edges into the mainstream you'll see some spillover - and you never know what artists are going to break out. There have been more than a few acts placed on Alternative Video that end up much bigger stars. Capital Cities is a great example. We put them on AV a year before they broke and helped take them from indie to major label. Same thing with Echosmith. They were already on a major, but we were on them before Top 40, even before alternative radio. By putting them on Alternative Video we got them in clubs and word got out.
PO:
Today you're working on playlists for NASCAR?
Erik:
Yeah, I handle all the programming for their fan areas, meet-and-greets, autograph sessions, driver meetings - anywhere they need high-energy alt-type stuff.
PO:
Why "Erik" with a "k"?
Erik:
My parents would say that it's because we're Swedish, but they often lie.
Never checked out Alternative Video?
Click here for a free look at one of our most groundbreaking selections.
---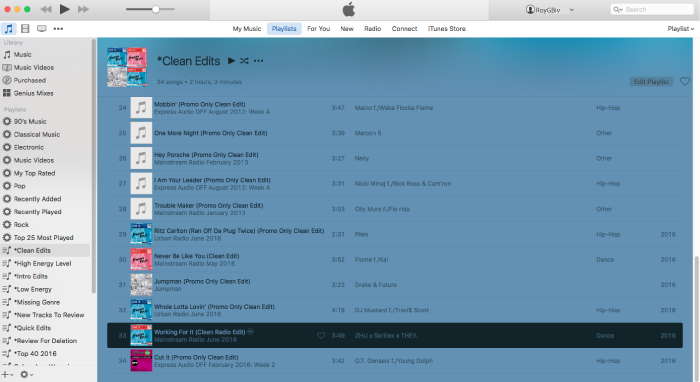 Digital DJ Tips Presents...
8 iTunes Smart Playlists You Should Be Using
Smart Playlists are a great feature of iTunes. Whereas a normal playlist is "manual" - you add tunes to it yourself -- a Smart Playlist can be set to automatically update itself with tunes that fit one or more rules you choose. So as you add new tunes to your collection, your Smart Playlists update accordingly. You can play from them inside your DJ software, or use them to help you explore your collection in iTunes itself.
8 SMART PLAYLISTS TO MAKE
1. A "review for deletion" list
Keeping a lean, clean music collection is a smart move as a DJ. Assuming you use iTunes to play your music when you're not DJing with it in your DJ software, you could have a list called "review for deletion", that auto-populates with music you haven't listened to in, say, more than a year
2. A set of "energy level" lists
We strongly advise DJs to use the iTunes "rating" column as "energy level" - 1 means strictly chill out, 5 stars means absolute floor-filling banger, and everything in-between. Unfortunately, most DJ software won't show this rating in its library. But by having five Smart Playlists that filter according to star rating, you can access all the tunes that are of the same rating in your DJ software easily.
3. A "new tunes to listen to" list
This one has music you haven't listened to at all that's been recently added. In other words, good tunes that you may have added to your collection but for whatever reason just not got around to auditioning since you added them in the last month or two. Just add the list to your smartphone to do some "homework" next time you're out and about with some time to pop your earbuds in.
4. A "missing genre" list
Actually, it could be a missing anything -- this is a "work needs to be done" list. You find a field (in this example, genre) that's empty and get all those tunes into one playlist. Then, you know that anything in there needs you to decide what genre to file it under, and add that info to the "genre" column. As soon as you do it, bam! It disappears from the list.
[continue reading]
About Digital DJ Tips: Featuring news, reviews, show reports, and tutorials, Digital DJ Tips is one of the most-read DJ tech websites in the world, with over 60,000 students on its paid and free DJ courses.
---

The Pioneer DDJ-RB & DDJ-RR
We take a look at the rekordbox dj controllers
Pioneer DJ is taking its range of rekordbox dj controllers viral with the launch of the DDJ-RB and DDJ-RR, a deuce of two-channel controllers that each boast buttons that zero in on some sporty new rekordbox 4.1.1 features, at decidedly pocket-friendly prices.
Both models also hit the ground running with a fully licensed copy of rekordbox dj performance software (a $129.00 value).
As for differences, let's take a look...
Trouble viewing this video? Watch it on YouTube

New!
Designed for gigs on the go, the DDJ-RB offers compact, lightweight control of advanced features such as Hot Cues, Pad FX, Slicer, and Sampler (all easily triggered via 16 tactile Performance Pads). And introduces the push-button ease of Sequence Call and its ability to call up samples directly from the hardware. Noteworthy: The DDJ-RB also connects straight to your speakers or amplifier via a single USB cable that doubles as a record-out to rekordbox dj.
Trouble viewing this video? Watch it on YouTube

New!
Billed as the little brother of the Pioneer pro-controller family, the DDJ-RR comes with dedicated controls for rekordbox dj, such as Slip Mode, Release FX, Sequence Load, and Deck Select -- an inspired reworking of the standard 2-channel layout that allows you to switch between all 4 rekordbox dj decks with the touch of a button. Noteworthy: The DDJ-RR offers the same electronics for master and booth outputs you'll find in the gold-standard DDJ-RZ to ensure pristine, powerful sound.
Look for the DDJ-RB to retail at $399.99 and hit your front door at
$249.00.
The DDJ-RR is expected to list at $829.99 and follow you home for a more-than-reasonable
$697.00.
Impacting store shelves in late May.
For more info, picks and video visit
pioneerdj.com
---
Disc Jockey News's John Young:
What Do You Offer That Is Different As A DJ? | The Bar Clamp Story
John shares a lesson from his recent trip to the hardware store when he purchased some bar clamps. There are some lessons for DJs and how they are selling there service you don't want to miss when getting a higher rate for your events!
Trouble viewing this video? Watch it on YouTube

---
Creating Connections with Mitch Taylor:
Your competitor has a system. Do you? (A Cautionary Tale...)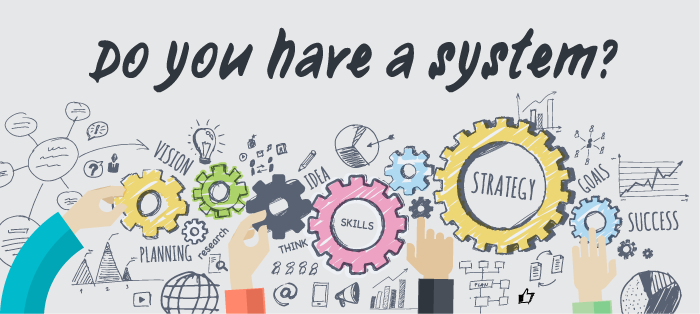 Tell me if this sounds familiar.
Person "A" works in an industry for years, learning, implementing, developing excellence in product knowledge and outstanding customer service. He thinks "Hey! Why should the owner get all the money? I should own my own business." So Owner A decides to open a new office, hangs his shingle and gets to work. He does well for a while, working hard to take care of his customers, ensures that each customer is given attention to detail and eventually builds a decent client list. He hires a person or two but not everyone seems to work out after they are given just a couple days of training and expected to sink or swim.
Person "B" works in an industry for years, learning, implementing, developing excellence in product knowledge and outstanding customer service. He then buys the business he was working in. He gets training in every aspect of his new business, hires staff, trains them properly vs. just throwing them on a computer, and enjoys the fruits of his labor with time off when it's appropriate.
Here's the problem:
Owner A has spent too much time working IN his business vs. ON his business. He has been focusing on minutiae rather than the big picture of where he wants his business to go 3 years, 5 years, 10 years down the road. He doesn't reinvest in software that can help actively promote to his customer base. He instead primarily focuses on sales and customer service (which is VERY important mind you) but fails to outsell his problems in other areas.
Meanwhile Owner B has put systems in place that will run efficiently, trained his staff appropriately and/or hired out experts to handle his business. He has an active business plan, not just one that was drawn up years ago and filed in a drawer somewhere (if he even had one made at all). He takes time to re-energize and rewards his staff for a job well done with incentives both personally and professionally.
Here's the solution:
If you've read my new book,
Sales 4 Event Pros
, you've heard me state that there are six facets to any business: sales, marketing, planning, production, performance and operations, collectively referred to as a system. Systems are crucial and MUST be applied to every facet of your business -- not just one or two. Many people dislike the word "system." They think that systems take the human element out of their connection with a client, or that systems can destroy the heart and soul of a business. To the contrary, systems allow you to re-energize your heart and soul into your business. Systems keep you sane. They are VITAL to the life support of your business. Without a system in place your business (and your wallet) will flat line.
Maybe you're reading this right now and thinking "But Mitch, I suck at sales." or "I'm no good at the operations side of things." HIRE people that you trust (interview at least twice and hire once) to handle those situations for you. Or know where to get help...
Need help with sales?
There's workshops for that available at
mitchtaylor.net/workshops
or sign up for
Jeffrey Gitomer's
Sales Caffeine ezine, or read any Gitomer book.
Need help with marketing?
Read
Michael Port's
book
Book Yourself Solid
or Harry Beckwith's
Selling The Invisible
or
You, Inc.
Maybe planning is what you need.
Take a course in event planning through Association of Bridal Consultants or attend
Wedding MBA
.
If you're looking for help in production and performance, watch improv. Study comedy. Take Bill Hermann's "The Entertainment Experience," available at
billcreates.com
. Some of the best performance-based courses I've ever taken have comes from my mentors Mark and Rebecca Ferrell who can be found at
markferrell.com
. Randy Bartlett's Advanced Mic Skills workshop and 1% Solution DVD has also been an integral part of my skill set.
Aah, operations -- one of my favorites and quite possibly one of the most neglected aspects of our business. Systems are extremely crucial here. Lay out a calendar of when you need to accomplish things. Set out your workweek in advance. The best to learn from here is Matt Radicelli of
Rock The House
in Cleveland, OH. Matt has recently started coaching entrepreneurs about their business and is well worth your investment. Another resource for you is
sba.gov
. Visit their website and browse areas where you need the most help and seek out trainings that can assist you.
It's amazing to me how two different businesses, both in the same town, both in the same industry can have two COMPLETELY different outcomes. Owner A is just going through life, without having a clear path or vision. He more than likely won't have anything to sell when he wants to retire because he IS his business. Owner B can retire whenever he wants, gives back to the community when he can, and invests in his employees as well as new technology for his business.
Which one do you want to be and where do you want to go? The key is in the work and counsel you seek. Choose (research) wisely.
---
Video Of The Month: Prince Ea
Everybody Dies, But Not Everybody Lives
Trouble viewing this video? Watch it on youtube.com

The One Thing You Should Know; Before You Die.
---
POOL Pro Tip
Need to make a change to your POOL account? There's a click for that.
Things change. Usually when you least expect it. When they do, whenever they do, you'll find 24/7 access to your POOL account a few clicks away.
Simply visit
promoonly.com
, log in using your POOL username and password and you can:
Update your info
Add a new email address
Download our desktop app to that brand new computer
View statements/print receipts
Search for past releases
LiveChat one-on-one with a customer service rep
And more...
Have a question about POOL?
Contact us at
poolsupport@promoonly.com
or by calling
407-331-3600
---
MAY 2016
Find out what's trending
Find all the hottest Top 40, Hip-Hop, Country, Rock, Dance and Latin Hits, and where they appear on your Promo Only Series.
**EDITORS NOTE**
The current Hitlist may still be in the process of being compiled so please check back if the one shown is not the most current.
---
Important Update:
Promo Only moves from Paypal to Wells Fargo...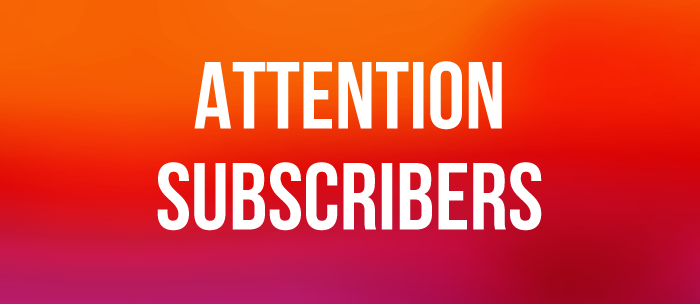 Dear Valued Subscribers,
In order to continue to provide the most secure handling of your POOL account information, we are updating our system effective June 1st 2016. This update requires that you call or go online to
re-register your credit card information
with us.
Your prompt cooperation will ensure a seamless transition that will in no way impact your delivery or billing.
To update your credit card info by phone
You'll find us at (407) 331-3600 M-F from 8am - 7pm EST to assist you

To update your credit card information online
Simply log in using your POOL username and password or go to promoonly.com and login.
Thanks for your time and support!
Promo Only
customerservice@promoonly.com
---
Usefull Info: TED-Ed Presents...
The origin of countless conspiracy theories - PatrickJMT
Trouble viewing this video? Watch it on YouTube.

Why can we find geometric shapes in the night sky? How can we know that at least two people in London have exactly the same number of hairs on their head? And why can patterns be found in just about any text - even Vanilla Ice lyrics? PatrickJMT describes the Ramsey theory, which states that given enough elements in a set or structure, some interesting pattern among them is guaranteed to emerge.
---
Got a suggestion for future issues or care to comment on our content?
Contact us at promo@promoonly.com