IN THIS EDITION
---
Trending: ARMDJS 9.0
The Appalachian Regional Mobile Disc Jockey Symposium
June 20th, 21st & 22nd 2016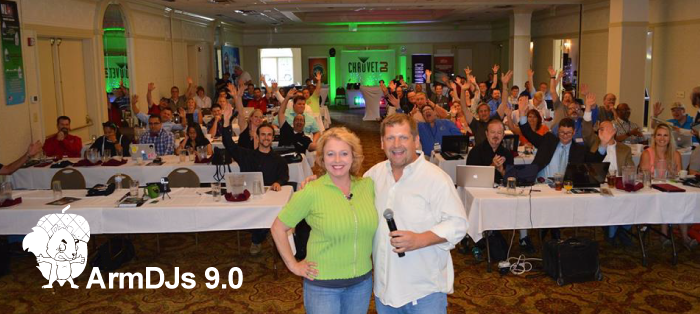 It's been a slow and steady climb, to be sure, but in eight short years the Appalachian Regional Mobile Disc Jockey Symposium (ARMDJS) has proven itself to be the little show that offers a big return on your convention dollar. Ideally located in the mountains of Greeneville, Tennessee, a short flight from pretty much Anywhere USA, ARMDJS offers a laid-back educational experience uniquely designed to mix work with pleasure. "Our event is a very small, very social event," says ARMDJS' founder Robbie Britton. "This being our ninth year, I want to keep things as fresh as possible, so I'm bringing in new faces to share new ideas. What won't change is the secret sauce I add to every event: We're all about networking, helping each other and having a little fun."
The fun starts Monday, Day One, with a morning of golf and an evening Meet, Greet and Jam. "Basically, if you play an instrument, you just get on stage and start jamming," says Robbie. "I set up a full backline of drums, guitars, pretty much everything, and invite everyone to join in."
Day Two dawns on an ADJA-sponsored breakfast, followed by a day of TED-style seminars that range from "Top-Down Selling" to "Networking: From Garage to Super Bowl" and concludes with an 8pm DJ Spin-Off. "We're going to have the new Denon MCX-8000 on hand for a hands-on look, plus a Serato station with a couple of 400s available. We're open to anyone who wants to bring his or her own gear, too. We want to see people take turns spinning."
Day Three sees ARMDJS' first featured keynote speaker, New York Times best-selling author and self-styled Pitbull of Personal Development, Larry Winget, deliver the cold, hard truth about what it takes to be successful, minus the usual motivational clichés.
"Whether you're a part-time or a full-time DJ, like me, the one thing we all have in common is we love what we do," says Robbie. "But imagine just how much fun it would be to make more money doing what you love. We're going to help you do just that."
Robbie thinks saving cash is fun, so catch his
$159.00 Early Bird Special
before
April 30th
.
"It's amazing where we've been and amazing where we're going," says Robbie. "We hope to see you there."
For an up-to-the-minute look at the ARMDJS 9.0 lineup visit armdjs.com
---
Spotlight: DJ PopRoXxX
He's blowing up our Intro Edits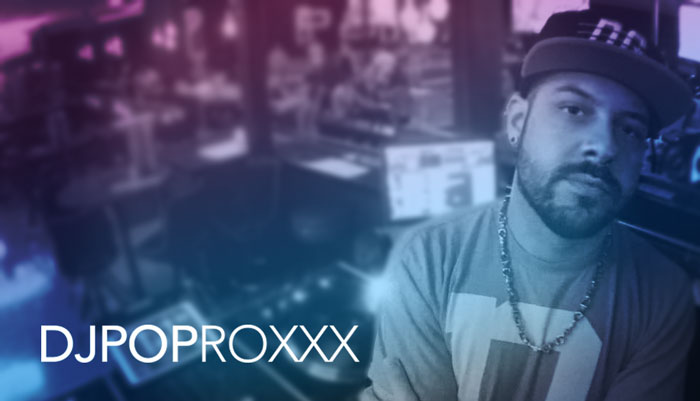 Explosive is not the word that comes to mind when you meet Jeremy Carpenter, aka DJ PopRoXxX. Mellow, outgoing, quick to laugh, Jeremy is clearly content to save the pyrotechnics for his live shows and the remixes that ultimately brought him to our Promo Only studios - and to your POOL playlists.
A true Renaissance man (he is an accomplished singer/multi-instrumentalist who's drumming skills were the mainstay of several Florida bands), Jeremy can trace his love for music and prowess for beats to the LPs and tapes that filled his parents' house.
"I grew up with music. Sang at Carnegie Hall when I was 16. I was always playing," says Jeremy. "Everywhere my bands played there was a DJ spinning between or playing the club side, which was always open later than the rock side. So we'd pack up our stuff, throw it in the trailer, and head on over for a drink or two. Well, while my band members would mack on the ladies, I would stare at the DJ. I would just stand and watch. Eventually I got the nerve to ask a guy to show me a couple of things. That was the beginning of a 13-year friendship."
And a DJ career that is very different now than it was in the day.
"It's kind of crazy when you think about how things have changed," says Jeremy. "Back then you could play whole songs. People would just enjoy themselves. Today, thank God for music management software, because these devices - cell phones, iPads, whatever - have given America super-ADD. You give an audience today the hook and they're done. Song's over. Better have the next one ready. It's sad, in a way, because there are still some great songs out there."
And, thanks to Jeremy's keen ear, some great alternatives for when the full-length version won't do.
"Whether it's an extended intro, a quick mix or the beat-mixed sets I do for our videos, I like to try as much as possible to maintain the integrity of the song," says Jeremy of his approach to the many mix-friendly versions he produces for POOL consumption. "Just because they're a little longer or a little shorter doesn't mean they can't be musical. The song doesn't have to suffer."
By night, Jeremy keeps his skill sets sharp with a Tuesday/Thursday residency at Universal Studios' The Groove nightclub and a variety of events for Electro Magic Productions (a Promo Only special-events subsidiary).
"I especially love the corporate parties, because these days, corporate is me. They're my age, they like the same throwbacks, they like the same new stuff. The new corporate is not like it used to be."
Things change. And the best DJs, like Jeremy, change with them.
For more DJ PopRoXxX mixes + re-drums visit
djpoproxxx.com
and catch him on
Facebook.
To hear more about the Intro Edits, Quick Edits and beat-mixed Powersets that bear the RoXxX stamp, look no further than your POOL player.
---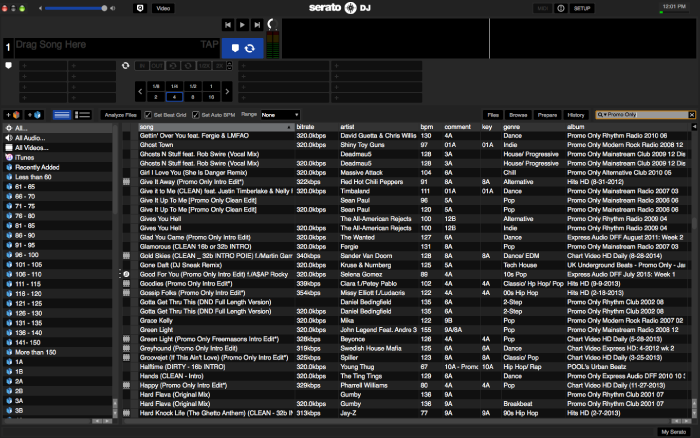 Digital DJ Tips Presents...
How To Declutter Your DJ Library: Part 1
(Surround yourself with things you love)
Today's high-speed internet connections allow us all to download enough music for a lifetime of DJing in single afternoon. This does, however, come at a price. How many times have you encountered tracks in your hard drive that you couldn't remember why you had them in the first place? Or what about when you do a song search, and multiple copies of the same song exist on your drive, but with slightly different tags (album art, album names for instance)?
In small doses, this kind of thing is tolerable - if you're just starting out DJing and have a few hundred songs in your hard drive, you may be able to skirt around these minor annoyances to get to the song that you're looking for. But what if you've got a bigger library of tunes, say upwards of a thousand, and your once-pruned collection is starting to look like an overgrown lawn?
This is the jump off point for our training series on decluttering, and towards that end I'm going to introduce you to the KonMari method that could be just what you need to get your library in shape.
What is the KonMari method?
A few years ago, a "tidiness guru" from Japan made waves Stateside. Her name is Marie Kondo, and her book The Magic Of Tidying Up was a big hit with consumer-obsessed America, and it all relied on the simple concept of only surrounding yourself with things that you love.

This meant discarding items from your home and office that no longer "spark joy", and led to a tidiness revolution (the book became a New York Times bestseller with two million copies sold). The method was dubbed KonMari.

It's easy to think of this system as a "discard everything and live minimalist in solitude" sort of thing, but it's not. The intention is not to make you live with less (although that is a byproduct of the method), but rather to live with more of what you love around you - the things that have meaning.
1. Does it "spark joy"?
Central to the entire KonMari system is asking yourself "does this spark joy" while you hold a piece of clothing or item in your hand with a loving gaze. You don't have to get all sappy with your music library, but it is worth asking yourself: "Do I really like this song?"
Always listen to it one last time before you decide whether or not you like it. This is an important step - our DJing tastes and style evolve as we go through changes, so you're basically reassessing who you are as a DJ and where you stand right now in your artistic growth by doing this. If you don't like it, delete it immediately.
2. Segregate, then file away
Tossing the songs you don't like is easy, but what about the ones that you aren't sure about? Or what about songs that you need for special events and occasions (Auld Lang Syne for NYE, David Guetta for your son's upcoming fifth birthday party)? This is where segregating them for later filing becomes essential.
Basically, we'll be making several "boxes" on our computer where we can place these songs that we aren't sure about yet, or songs that we're sure we'll use but only on rare occasions. We'll then keep those boxes separate from our DJ music library, allowing us to trim the fat in our main DJ collection for quicker browsing and less clutter...
[continue reading]
About Digital DJ Tips: Featuring news, reviews, show reports, and tutorials, Digital DJ Tips is one of the most-read DJ tech websites in the world, with over 60,000 students on its paid and free DJ courses.
---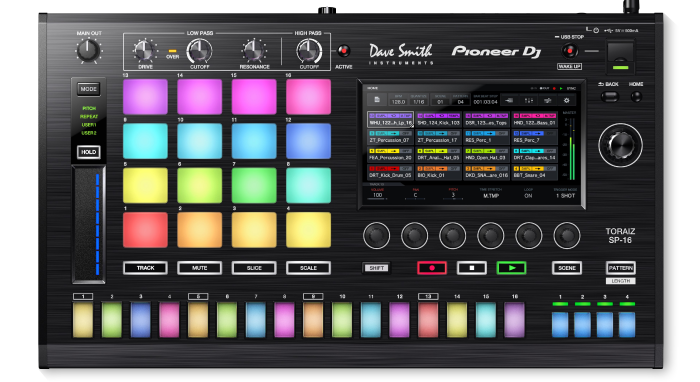 The Pioneer TORAIZ SP-16 Sampler
Perfectly timed one-shots and loops
As you're about to see, Pioneer DJ has checked a lot of boxes with its impressive new TORAIZ SP-16 sampler and step sequencer. We're going to get in front of the inevitable comparisons to the Roland AIRA TR-8 by simply saying that if you're into dance music production, but not a fan of MIDI syncing outboard gear or Ableton Live, you'll want watch this more than once.
Trouble viewing this video? Watch it on YouTube

Features
16-Step Sequencer: Quickly drop sounds into 16-step loops, and then modulate the sounds with the knobs below the touch screen. Save and play back up to 256 patterns.


Touch Screen Control: 7-inch full-color touch screen with detailed sample information allows browsing, sample loading and real-time waveform views.


Multicolor Performance Pads with Velocity: Load up to 16 samples and finger drum to layer sounds on the fly. Yes, there's velocity detection.


Analog filters from Dave Smith Instruments: Analog filters from legendary synth-creator Dave Smith's iconic Prophet-6 synthesizer = unparalleled warmth and presence.


Pro DJ Link and MIDI clock: Sync like a boss to your CDJ or XDJ set-up using Pro DJ Link or seamlessly connect to third party devices via USB.


8GB of onboard flash memory: No need for a laptop.
The TORAIZ SP-16 Sampler is available for pre-order today at $1499.00 (list $1799.00). Look for it to pop up on store shelves in early May.
For more info video and mouth-watering pics visit
pioneerdj.com
---
Disc Jockey News's John Young:
5 DJ Tips For Becoming A Master Of Your Time
John shares some ideas for taking control of your time to be more effective and profitable... so you can have more free time with family!!
Trouble viewing this video? Watch it on YouTube

---
Creating Connections with Mitch Taylor:
Share Your Heart Part 2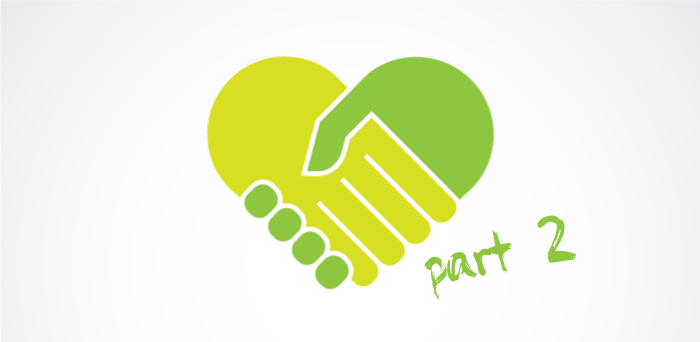 Last month we covered the first three letters of the acronym H.E.A.R.T., with the "H" standing for Hugs, the "E" standing for Emotion, and the "A" standing for Attitude. We continue this month with the final 2 letters of the acronym, Reality and Thoughtful, and one final Thought.
Reality
Kenny Chesney said it best: "Reality, yeah, sometimes life ain't all that it's cracked up to be. So let's take a chance and live this fantasy." Okay, so maybe I'm in a bit of the island spirit right now, but the truth is reality can sometimes sap the creativity we must bring to every sales situation. Sometimes you need to bring your client's reality back down to earth (read: champagne taste and beer budget). How do you do this? By getting to the HEART of what they need. Is their reality that they need the over the top latest photo booth or décor lighting? Or is the reality at the HEART of the party the emotion of their friends celebrating with them, or of the cherished memories being brought back by the song that you play at just the right time?
This is where you as a salesperson come in. You need to not only walk them through each moment and how you will handle it (basic), but how they will feel IN each moment, how together you can create an experience they and their guests will remember forever vs. what they see at every reception. Show them the difference in reality with you vs. someone else and more often than not, you will earn the sale.
Thoughts
The key in sharing your thoughts is to do it in a way that benefits your client. How can you shine? How can you put a smile on their face? Let's look at three ways: before, during and after the sale.
Before the sale: After your meeting, send them a small thank-you card with a personalized note based upon something that was said in the meeting. The card will stand out and the personalization will create the "wow" factor, showing that you are thoughtful because you cared enough to take the time to say "thank you"
During the sale: Send monthly reminders as to where they are in the process for their planning -- not just for your role in it (music and entertainment), but for other aspects as well. This will show you as the expert in the marketplace and also put your name on the tip of their tongue when their friends ask about who they've hired for entertainment for their event.
After the sale: For Taylored Weddings wedding clients, we provide a thoughtful exchange to those who are having children by staying in touch via social media. Once we see a baby is on the horizon for the young couple, we reach out again to get a current address and then follow up by sending a personalized note along with a copy of the book "The Little Engine That Could" by Watty Piper. It's a universal children's book with a great theme of perseverance. Clients still comment on books that we sent FIVE years ago! Talk about being thoughtful and making a connection. The cost: $7 and a bit of your time. The results:
Referrals many times over.
Always be thoughtFULL.
Provide tips on how to better their experience. Become an expert on the types of events you service. Ask yourself what other problems can you help solve for them. Another way of being thoughtful is being full of thoughts that can help your customer in ways they may have never thought of.
Final Thought
How do you share your HEART? Don't jump into a canned pitch. Don't think about you. Find out how you can help them. What do they want more than anything else? What's stressing them out? Find common ground and connect with them. How do you find common ground? Ask them: Where are you from? Not where do you live? BIG difference. Where are you from conjures up images of family, of sentimental moments from their childhood which (more often than not) they wish they could go back to. Connect with them first. Then find out how you can help them.
Share your passion. Share your HEART.
Want more ways to connect with your clients? Go to my YouTube page at
youtube.com/MitchTaylorGCA
and click on the DJNTV Playlist to subscribe to our
Creating Connections
Podcast with Certified Personality Trainer Vickie Musni.
It's fun and it's free.
---
Remembering an Icon: Prince (1958 - 2016)
"Purple Rain" | Superbowl XLI Halftime Show (2007)
Trouble viewing this video? Watch it on vimeo.com

This past Thursday morning, the music community and fan's worldwide lost one of the greats. The Artist known as Prince, was a pop icon and one of the best-selling artists of all time, with a career that spanned nearly four decades. As a musical innovator, he blended funk, rock, R&B, soul, psychedelia, and pop selling over 100 million records worldwide.
Among his many achievements, Prince won seven Grammy Awards, a Golden Globe and an Acadmey Award. In 2004, he was inducted into the Rock and Roll Hall of Fame, and is considered one of the 100 Greatest Artists of All Time by
Rolling Stone
.
An interesting fact about Prince's anthem, "Purple Rain", came up in a recent Billboard interview with songwriter Jonathan Cain & guitarist Neal Schon of the band
Journey
. Before it's release, Prince reached out to them about similarities to their song "Faithfully": "I just thought it seriously showed the kind of caring, classy guy Prince was," says Cain.
Considering it the highest form of flattery, Cain never asked for a co-writing credit. "No, no, that'll just bring bad juju on you, and you don't want to do that," says Cain. "I just thought it seriously showed the kind of caring, classy guy Prince was.
---
POOL Pro Tip
Customize your POOL app via the Preferences tab
Like snowflakes, no two DJs are exactly alike. When it comes to sorting, tagging, and storing our media, we all have our own way of doing things.
If you've ever wished you could:
Sync to iTunes
Never download a duplicate track
Edit your ID3 tags the way you want them
Eliminate pesky video skits
Batch download by select folder
Preview via continuous playback of any folder
Hide content marked as explicit
And more...
There's a tab for that:
Preferences.
Enjoy POOL your way.
Have a question about POOL?
Contact us at
poolsupport@promoonly.com
or by calling
407-331-3600
---
APR 2016
Find out what's trending
Find all the hottest Top 40, Hip-Hop, Country, Rock, Dance and Latin Hits, and where they appear on your Promo Only Series.
**EDITORS NOTE**
The current Hitlist may still be in the process of being compiled so please check back if the one shown is not the most current.
---
New All-Time Party Classics!
Last call on the hits you love and intros you need!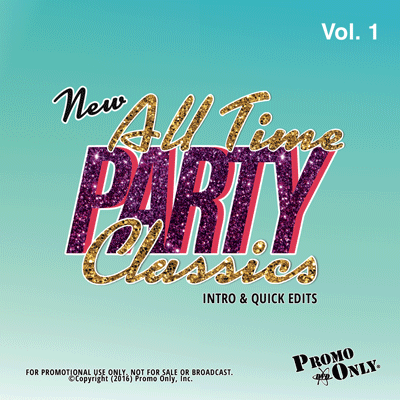 Now available at an all-time great intro price!

View the tracklistings here.
Playable as audio-only via software that supports MPEG4
Digital Download (POOL)

$25.00

$15.00
add to cart


DVD/DFF Data Disc*

$40.00

$25.00
*Phone orders only
call

407-331-3600
Never tried POOL? Email us for a free, no-strings attached trial.
---

Offer Ends
April 30th, 2016

---
Hot Video Classics
All hits. And nothing but the hits.



---
Usefull Info: TED-Ed Presents...
Why do cats act so weird? - Tony Buffington
Trouble viewing this video? Watch it on YouTube.

They're cute, they're lovable, and judging by the 26 billion views on over 2 million YouTube videos of them, one thing is certain: cats are very entertaining. But their strange feline behaviors, both amusing and baffling, leave many of us asking: Why do cats do that? Tony Buffington explains the science behind some of your cat's strangest behaviors.
---
Got a suggestion for future issues or care to comment on our content?
Contact us at promo@promoonly.com