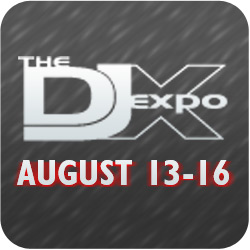 DJ Expo 2012
Atlantic City, August 13-16th
Rite of passage or refresher course, DJ Expo and the endless earning opportunities it presents to newcomers and return visitors alike is right around the corner. Here's what you'll need to know to make the most out of this year's must-attend event.
The Seminars
As always, DJ Expo will present plenty of sponsored seminars from exhibiting companies looking to better connect with you. You can look for a host of sessions from the likes of Chauvet DJ, ShowXpress, BrideLive, Open Air Photo Booth, Pioneer and more, each overflowing with in-depth strategies and technologies designed to enhance your earning opportunities.
Our don't miss list: Over 25 hands-on workshops presented by DJ Times' hand-picked DJs, remixers and producers; over 100 booths from the world's leading manufacturers featuring the very latest cutting-edge audio, lighting, studio, and specialty products; special discounts on gear, accessories & supplies you won't find anywhere else; and, of course, the Promo Only Showcase.
The Showcase
Sponsored by Denon and Chauvet, the Promo Only Showcase celebrates the special relationship between artists, DJs and the gear that makes it all possible by putting you front row for an evening of non-stop performances from industry legends and legends in the making, free of charge.
Past showcases have seen countless jaw-dropping DJ performances, as well as special appearances from the likes of Akon, Pitbull, Iyaz, Jason Derulo, Cyndi Lauper, and Lady Gaga (yeah: free) – all of which have cemented the POS as the de facto event of the Expo.
How do we top that? We're keeping details hush-hush for now (but stay tuned); suffice to say that this year's Showcase will not disappoint…
When and where: Tuesday, August 14th, 2012 at the prestigious Showboat Theatre/House of Blues. Doors open at 8:00 pm. Performances run from 8:30pm - 2am. Simply show your Expo badge at the door and admission for you and one guest is FREE.
The Specials
You'll want to jot this down: Booth 200. Why? Because that's where you'll find some of the best show specials we've ever offered on music, music video, classics, subscriptions, renewals – and an exclusive hands-on look at all our new POOL Audio and HD Video selections.
For more Expo info visit http://djtimes.com/thedjexpo/