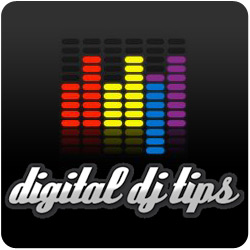 And the winner is...
Digital DJ Tips
Our mission this month: To find the best DJ resource site on the www. Our criteria...
Truth-worthy – We first looked for sites that were completely independent, with no affiliation with any manufacturers and no hardware of their own to hawk -- sites that shoot straight without aiming for your wallet.
Gear'd Up – Like you, we want a site that reviews it all, quickly, independently and thoroughly. We quickly passed on any site that came off as trying to pimp high-end gear in favor of those that tell you what's best at all price points, be it software, hardware, headphones, speakers, audio interfaces or digital DJ controllers.
Cutting-edge – What's different about DJing with computers? How do you transition into digital DJing? How do digital DJs deal with prejudice and resistance to the new tools of the trade? You've got questions. We found answers.
Learning-based – We like learning. And not just because it rhymes with earning. And so we searched for sites that feature tutorials on everything from DJ etiquette to beatmatching to mixing in key to overcoming DJ block and more.
Real-world – Like you, we're working DJs. We play out, to real people, regularly. We expect the same experienced hand at the helm of any website we'd recommend.
So where did we find all over the above? In Estepona, Spain, of all places, where renowned UK DJ/Editor/Founder Phil Morse rides blog over Digital DJ Tips, easily the web's most complete DJ resource site.
Reviews, previews, interviews, overviews and talk-throughs of the latest gear, software, and techniques are Morse's passion – a passion he shares freely via daily blogs, tutorials and a series of buzz-worthy tutorials and books.
"The world of DJing today – post superstar-DJ, post-vinyl, post genre-snobbery – is very different to when I started," says Morse. "It's a world where DJs and bands not only don't see any conflict with each other, they're often the same people. A world where a dance party can go off in a beach bar or lounge as easily as in a traditional club. A world where music is changing, fast, and where the old order, established rules and traditional DJs are fast becoming history."
Catch all the benefits of Digital DJ Tips today by hitting them up on Facebook (chat), Twitter (upfront news), YouTube (weekly video content), and at their online forum (cutting-edge community).
"Make that commitment to us," says Morse, "and we promise to help you on every step of your digital DJ journey, in each and every way we can."
Visit Digital DJ Tips today at http://www.digitaldjtips.com/
For more info on our digital content, call or click 407-331-3600 / customerservice@promoonly.com