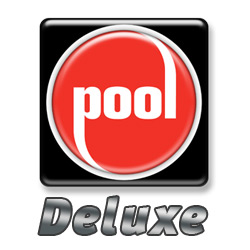 POOL Deluxe
Catch our fully loaded ride.
Like it or not, every gig you do is advertisement for your next gig. You may be working a wedding this week, but who's to say there's won't be someone there planning a Church social or Quinceañera or backyard barbecue next week who might beat feet to book you after hearing a little Christian Top 40, Latin Pop or Country? You never know. But you can be prepared -- easier and more affordably than you might think.
How many gigs have you missed this year because you didn't have
the tunes to book out of the box?
There's a new way to receive all the music you need, one that combines the speed of the Internet with the Clean Edits, Intro Edits, Quick Edits, and media-rich programming Promo Only is famous for. And you can experience it today.
POOL delivers your choice of any single genre or multi-genre bundle directly to your PC or Mac in just seconds. One click and our exclusive POOL Player app does it all: download; organize; check out the latest charts; search by title, artist, or BPM; create, export and submit playlists; even customize your ID3 tags – POOL makes it easy.
POOL Deluxe takes easy to the extreme...
Our Deluxe package earns its name by bringing you every format we offer, every day.
POOL Deluxe brings you all-access to the newest Top 40, Urban, Rhythm Crossover, Rock, Country, Dance, Latin, Christian, plus a host of exclusive Intro Edits, Quick Edits and mix-show edits daily, just like the many radio stations we service.
And that's the shallow end of the POOL.
Deluxe goes deeper to bring you the most complete assortment of exclusive electronic dance, remixes, instrumentals and acapellas in the industry. All without going over your head – or budget. POOL Deluxe delivers fully tagged files in conveniently labeled folders directly to your hard drive for as little as $49.99 per month.
For more info or details on our special prepay discounts call or click
407-331-3600/customerservice@promoonly.com
POOL Deluxe. We're taking you places...