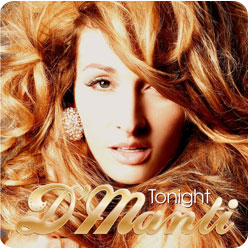 Artist Spotlight:
Get to Know D'Manti "Tonight"
Dance-pop artist D'Manti might not be a name you know (yet), but her new Billboard Breakout release, Tonight, is about to change all that.
Born and raised in star-studded Las Vegas, NV, D'Manti couldn't help but be drawn to the spotlight at an early age. Singing, acting, dancing, and songwriting are lifelong passions for her, passions she has brought into sharp focus with her newest release.
"Tonight is a song I wrote driving to Las Vegas," says D'Manti. "It just kind of flew out of me. It's a love song; it's about falling in love; about being present in the moment. I love anything that has to do with love. What I'm most excited about is how people, especially DJs, have been so accepting of Tonight. That support and the support of my amazing team means so much to me. It's exciting!"
We couldn't agree more.
Catch the climb as Tonight rocks Billboard's Dance Chart here...
POOL Plus and Deluxe – August 2011 Week 4 (Promo Only Tony Svejda Intro Edit)

Dance Radio – September 2011 (Smash Mode Radio Edit)

Mainstream Club/POOL Deluxe & Electronic Bundle – November 2011 (Wawa Club Mix)

For more D'Manti visit http://www.dmanti.com/