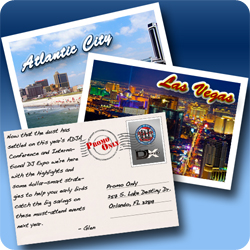 Postcards from the Road
Wish you were there...
Now that the dust has settled on this year's ADJA Conference and International DJ Expo we're here with the highlights and some dollar-smart strategies to help you early birds catch the big savings on these must-attend events next year.
American Disc Jockey Association National Conference & DJ Show (Las Vegas)
This year's inaugural ADJA Conference broke substantial ground by offering two simultaneous educational tracks designed to boost performance and business skills, covering everything from marketing, sales, music, games, school events, beatmixing, MC skills, weddings, social media, website design, and more.
"We designed our conference to be easy," says event producer and ADJA president Hugo Drax. "Easy to find, easy to navigate, you could easily find any booth you wanted on one open floor and easily take advantage of any number of seminars located directly off the hall. Food, beverages, and the best of the best exhibitors and educators in one convenient location made for an incredibly educational experience. Best of all, the exhibit floor was totally free. Pay for the seminars you want; shop and network on us."
Why hit the road next year? With over 18 seminars to choose from, featuring the newest tips and trends from the industry's most celebrated minds, you'll find attending the ADJA conference your best avenue to the continuing education necessary to keep your business moving steadily forward.
For more info on how early registration can lock you in for substantial savings and exclusive two-for-one and all-access Las Vegas nightlife passes, courtesy of the ADJA, visit the all-new ADJA website at http://adja.org/
The DJ Times International DJ Expo 2011 in Atlantic City
f. the Promo Only Artist Showcase
August 8-11 saw Atlantic City's Trump Taj Mahal host this year's 21st annual DJ Times Expo and an ever greater range of in-depth educational seminars geared for DJs of every strata and stripe. Attendees this year enjoyed the new "Mobile Operator," "DJ Culture & Music," and "Gear & Tech" sessions, as well as 25-plus additional sessions scheduled.
As usual, DJ Expo also rolled out its sweeping exhibit hall and nightly bashes, most notably the Promo Only Artist Showcase. Co-hosted by Denon and Chauvet, this year's showcase played host to a capacity crowd of 2500 DJs gathered at the House of Blues to enjoy hosts Kimberley Locke, Blake Lewis and Traci Lords and performances by 50 Cent, Jason Derulo, Jeremih, Iyaz, Crystal Waters, Dev, Wynter Gordon, Pete Wentz & Black Cards, Rockell, Kreayshawn, Hot Rod, Tony Yayo, Kimberley Locke, Jessica Sutta, Alyssa Reid, Blake Lewis, Neon Hitch, Kerli, Blush, DaCav5, and Eva. For free.
Why go? With 100 booths of cutting-edge tech, exclusive Expo steals and deals, unforgettable nightly showcases, exclusive giveaways galore and the chance to write it all off your taxes, why not?
For up-to-the-minute info on the 2012 International DJ Expo, keep it tuned to http://djtimes.com/djt/