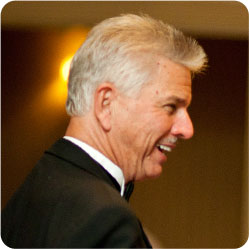 Are You a Top Gun DJ?
You can be with a little help from maverick DJ Alan Dodson
There is something quietly revolutionary about industry expert Alan Dodson's approach to business mentoring. He lays no claim to the secrets of success, pimps nary a DVD or book, and doesn't have to because what Alan excels at is distilling decades of experience into homespun advice that can lead to an enduring bump in your bottom line.
"My goal with Top Gun is to help those people who want to deliver excellence every time do just that," says Alan. "Any competent DJ can walk in to an event and create a good party; but taking your business to the top of your market requires more. We're looking to start with the best and make them better. We're helping DJs take excellence to the extreme."
Alan begins each two-day Top Gun DJ workshop with the basics required to be successful: the nuances of social media, website optimization, lead generation, networking and marketing. "Over 85% of all potential clients begin their search for a DJ on the Internet. If you don't have a thorough understanding of how to harness the power of the Web, you'll always be playing catch-up," says Alan.
Workshops flow from marketing to sales to preparation & planning to successfully managing event day operations and follow-ups. Also noteworthy and unique to Top Gun are Alan's tips to help you generate alternative revenue and the performance advice he offers that transcends cliché to establish you as a true master of ceremony.
"If you're in my workshop, I'm going to make you work," promises Alan. "I'm going to make you get up and participate. You'll talk on the microphone. You'll play the games. It's going to be interactive and hands-on and you'll benefit from it. You'll learn to do it yourself. That's the difference between a workshop and a seminar -- this is one-on-one education."
Bringing the Top Gun DJ Workshop to your neck of the woods is neither complicated nor costly. A typical workshop will run $1200.00 plus travel expenses to your location, allowing for a group of 25 or so to attend for $50 to $65 per person, or less depending on local sponsorships. "Often a local hotel will provide a meeting room and accommodations for the speaker at no cost in exchange for one of two of their staff members to attend the workshop," says Alan.
For more info or to book a Top Gun DJ Workshop in your town call 423.383.7577, email alan@topgundj.com or visit www.topgundj.com.