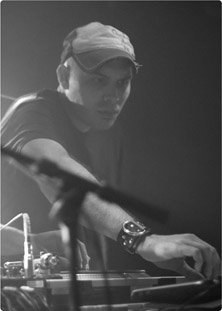 In the Spotlight:
DJ/Producer Evan Gamble Lewis

A year in the life...
We first had the pleasure of speaking with Evan Gamble Lewis in February of last year. It was then we learned of the relentless work ethic that had landed Evan a host of creds ranging from MTV interviews, horror/snowboarding movie scores, a nine-month headlining tour of Europe's top mega-clubs, and the right to rub elbows in the studio alongside legends such as Omar Santana, Superstar DJ Keoki, Decoding Jesus, Sonic Trip, and Rabbit in the Moon.

Little did we know at the time Evan was just warming up.

Having been there, done that with a considerable range of techno, trance and breakbeat releases, Evan has since relocated, re-partnered, and recommitted to the priesthood of production.

"I've been ridiculously busy this year," says Evan. "I linked by up with my old mentor, Omar Santana, we did a lot of break-beat stuff back in the day, to start up a project called The Speaker Tweakerz. We wanted to keep our names in the background to get unbiased feedback on a new direction we were taking."

That new direction has resulted in three albums and 40 releases. In a single year.

"What happened was Omar was living in St. Louis and I was living in Tampa and we agreed that if we wanted to be serious about this we needed to get a house [in Atlanta], put our studios and savings together and start working."

The duo's prodigious output and talent soon brought them to the attention of Moist Music, and from there to a world-wide audience already captivated by a viral YouTube video of Omar's head-bobbing, fist-pumping toddler as she enjoys a bowl of chili to the strains of the duo's newest dubstep project, Floor Damage.

You can catch that video (and a smile) below:

For the original release of Floor Damage, a preview of the new Dubterranean album, and much more by Omar Santana and Evan Gamble Lewis visit http://soundcloud.com/the-speaker-tweakerz

For a closer look at dubstep be sure to check out our Alternative Club article.