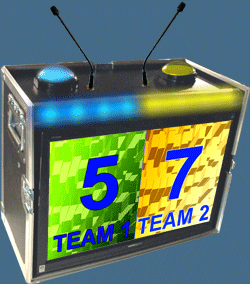 If you could find an easy and fun way to generate more income, with minimum start-up costs and all the marketing and tech support you can carry, would you be game to try? If you buzzed in with a resounding "yes!", we've got some good news: DigiGames' wireless game show system won't actually deposit money into your bank account; but it comes close.

Taking its cue from highly successful (and highly addictive) trivia board games and TV shows, DigiGames taps into quiz-based entertainment's proven appeal with a range of instantly familiar interactive games that can make for mad mid-week money and more.

"Everyone loves game shows, and now you can offer all the fun and excitement of a live, network-style game show at your next event – or as your next event," says DigiGames' Rob Johnson. "DigiGames gives you the classic games we all know and love and the ability to customize them for any group or event."

We'll take Easy Upsell for $1000.00, Alex.

With a DigiGames Game Show System You Can:

Add more bookings.  DigiGames' free professional marketing strategies, performance guides, and insider tips for attracting new clients make for a worry-free return on your investment.

Leave the trivia books at home.  Just like Alex Trebek, you don't have to know all the answers -- questions and answers are displayed on the computer screen for your reference plus DigiGames flashes the answers to the players and audience before moving on to the next question.

Emcee at large.  Control your DigiGames from anywhere in the room.

Instantly access a variety of sound effects.  All your sound effects are built into the software for instant access. Modify, create, and add your own sound effects on the spot with ease.

Add/Remove game points with a single click.  DigiGames software and hardware systems all easily interconnect so that each player's score is updated automatically. Additionally, you can easily add or take away points at will from any player at any time.

Upgrade your library any time.  Add your own questions for free or inexpensively add new questions with updates provided by DigiGames.

Offer variety, variety, variety.  Software simulations of all your favorite TV game shows are available.  

Think Big.  Although a connection to a TV or projector is not required to run DigiGames' products, you can enhance the game show experience by going big screen.

Install DigiGames on multiple computers.   DigiGames will allow additional licenses for installing on multiple machines.

Setup In Minutes.  Setup and teardown takes less than ten minutes.  Cleaning your DigiGames product is as simple as wiping your system down with a damp towel.

Relax – you're covered.  DigiGames stands behind their product, offering a one-year warranty that covers parts and labor at no charge; and free support for the life of your system.
"In addition to DJ'ing weddings and other events on weekends, trivia parties from DigiGames increases my bottom line during the week" [Rob Johnson]
Whether it's the "free" money of a mid-week gig or the new opportunities that await those willing to meet the corporate and educational markets demand for teambuilding services, DigiGames can give you the answer you've been looking for: How can you make more money? DigiGames.
For more info on DigiGames, including the chance to speak with a DigiGames rep, visit digigames.com