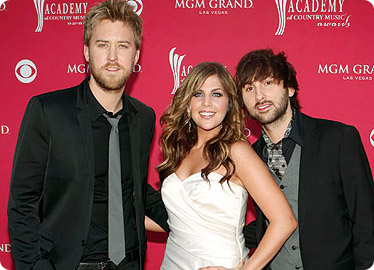 Lady Antebellum...Taking middle of the road to the top of the charts
If there was a more unlikely success story in 2010 than Lady Antebellum's, we sure can't find it. Springboarding off their 1.6 million selling 2008 debut album, which generated three big country hits, including the No. 1 single I Run To You, co-lead singers Charles Kelley and Hillary Scott put their patented low-key formula to work again for last year's megahit Need You Now, the title track of their second album. The song first hit radio in August 2009 and hasn't stopped playing since.
Need You Now is a rarity: a country hit that has leapt across genres, borders, oceans, and, nudged along by the pulsing four-four beats of DJ/remixers, penetrated the traditionally country-free sanctum of the nightclub. It spent five weeks at the top of Billboard's country-singles chart and reached No. 2 on the Hot 100, one spot behind Rihanna's Rude Boy. The song topped Billboard's Adult Contemporary chart for 10 weeks and shattered the record for the most weekly plays in the 14-year history of Adult Top 40/Adult Pop Songs countdown. It was a No. 1 hit in Mexico, New Zealand, Switzerland, and Brazil and cracked the Top 5 in more than 20 countries, including France, Spain, Portugal, Sweden, Finland, Norway, and Israel.
Not bad for a group that strives to be as anonymous as possible. In fact, it's hard to pin Lady A down at all. They're not quite country, pop, or rock. They're neither soft nor hard. They stride the middle ground like they own it—because they do.
And this is exactly what sets Lady Antebellum apart. As pop music cycles through another periodic phase of excess (two words: Lady GaGa), Lady Antebellum's laid-back attitude has become an asset -- the perfect fit for listeners who want simple, tuneful songs delivered with minimum fuss and no information age hoopla.
Lady A are up for six Grammys next month, and they're by far the oddest of the lot. Consider their competition for best-album: Arcade Fire, Eminem, Lady Gaga, and Katy Perry; in 2011, Lady Antebellum are the stand-out act: superstars who don't feel the need to come off like superstars.
For a look at some of the Need You Now remixes you need now, click here.