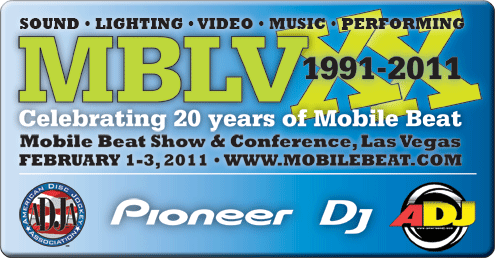 MBLVXX
Mobile Beat Las Vegas February 2011
Celebrating 20 Years of Mobile Beat!
Ask any Vegas bookie and he'll tell you the only sure bet in town this February is Mobile Beat Las Vegas. That's where the smart money finds exclusive access to expert advice on everything from business to performance, as well as killer deals on sound, lighting, music and video that can translate into a high-profit jackpot when applied to your DJ business.

"It's no secret that a lot of DJs are experiencing a downturn; they're worried about their business," says Mobile Beat's Ryan Burger. "For many right now corporate bookings and holiday parties are off 50-60%. Brides are being tighter with their budget, too. All the more reason, we think, to make plans to join us this year: Not a year goes by when we don't hear from past attendees who tell us how a relatively small investment in air fare, hotels and an expo pass has given them the tools they needed to generate more business."

What to expect...

Seminars: You'll find a variety of industry experts sharing a wealth of information designed to give you and your business a serious boost at this year's MBLV, as well as afternoon seminars hosted by preferred vendors that provide you with an up-close look at the newest gear you'll need to stay cutting-edge.

Exhibits: "MBLV offers mobile DJs the largest exhibit floor in North America," continues Burger, "as well as access to convention-only pricing on gear, music and video from a variety of vendors. Promo Only will be there with its usual convention specials and surprises, as will Pioneer and a host of others. For a full list of vendors you can visit our website." Nightlife: It is Vegas, after all, so you can expect to party...

Cupid & Naughty By Nature

American DJ is turning up the Old Skool for their Customer Appreciation Party with party-anthem performer Cupid. Cupid will be performing his mega-hit Cupid Shuffle and introducing his new dance release, Teach Me How To Wobble alongside Grammy-winning, Platinum-selling, Jersey super-group, Naughty By Nature. American DJ invites you to get down with the O.P.P. opening night.

Village People

Wednesday February 2nd sees Pioneer DJ proudly presenting the legendary Village People performing their ultimate party and disco anthems – San Francisco, In Hollywood, Go West, In the Navy, Macho Man and YMCA.

Warrant

Also on deck Wednesday evening, hard-rocking 80's and 90's act Warrant – with original members Joey Allen, Erik Turner, Jerry Dixon, Steven Sweet and lead singer Robert Mason – will take center stage to perform their mega hits Cherry Pie, Heaven, Down Boys, Uncle Tom's Cabin and more!

And when the fun is done...

"MBLV is a total jumpstart," concludes Burger. "Our guests leave high on the opportunities we've presented. It's a pleasure for us to see so many attendees so excited about putting what they've learned to work when they get home, and to hear about the great results they've had next year."

For up-to-the minute info on scheduled seminars, speakers and registration, click here.

Your Promo Only PASSCODE to discounts on registration is POEOXX. Be sure to stop by our booth for special conventions offers!