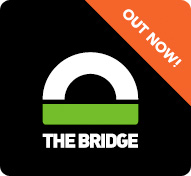 The Bridge: Where Beatmaking and Beatmixing meet
(& why you need it!)
Barely a month after its release and The Bridge, a creative partnership between software titans Ableton and Serato, is already being hailed as the Next Big Thing, with good reason: The Bridge encourages DJs to become producers and producers to become DJs by merging the functionality of Ableton Live and Serato Scratch Live into a unique DAW that serves up a new world of opportunities for remixing, mash-ups and live performance.
Simply put, The Bridge allows you to combine Scratch Live's renowned deck control and mixing capabilities with Ableton Live's benchmark on-the-fly remixing for spot-on, multi-track manipulation of audio files, drum patterns, effects, and loops.
Scratch Live also acts as a window into Ableton, effectively allowing you to control your Ableton set from within Scratch Live, allowing Ableton to function as the ultimate synchronized loop player.
If you're saying to yourself "That's real-time studio stuff!" -- you're right: It's a brand new ball game.
Says Ableton's CEO Gerhard Behles: "We can't yet see the limits of where these combined tools will take our users, but it will be exciting to watch."
We agree, which is why we invite you to watch these exciting videos, and check out our personal take on what The Bridge can do for you today...
First Look: The Bridge
The Bridge gives you real-time turntable-style control of your own multi-track productions – a new spin in real-time performance. Simply drag your Ableton Live Set to a deck in Scratch Live and use your turntables or CDJ to control the transport. Scratch Live enhances your productions with deck control, mixing, nudging and DJ style looping, allowing you to remix, mute/solo tracks, use virtual instruments, change drum patterns, manipulate audio, tweak effects and launch loops on the fly in Ableton Live.
Making the Perfect Mixtape

In addition to serving as a state-of-the-art live remix tool, The Bridge also functions as the ultimate mixtape creation tool, letting you export your Scratch Live mix to Ableton Live, where you can edit it as much as you want; add new loops; apply effects; adjust your timing; smooth out your fades and correct any mistakes.
Perfection is a tweak away.
Cool features at a glance...
What you see:
A limited window on Ableton's Session View: You can see 4, 5, or 8 scenes, and 4, 6 or 8 tracks, clip color and status (just as if you were in Session View), track controls, and two sends. You also get effect device controls and two sends.
Live's tempo
Indicators for bars and beats, overlaid atop your waveform views in Serato, so it's easy to see how the two are meshing (or not)
A sync player, which Ableton's describes as being useful "for embellishing songs, in case you'd like to assign Ableton Live's sync to a song on one of your decks, without using up that deck with a Live Set."
DJ-style Looping of Ableton Live's Transport — that is, the entire transport for the entire set, not just an individual clip. This is a big one, as previously Ableton Live users weren't able to loop like this, i.e. do 16-beat looping; and when you exit the loop, you end up back on the 'one.'
What you can do:
Control Live's transport: play and stop with Serato as if Live itself is another deck.
Sync Live and Serato easily, without having to worry about which you load first.
Change tempo in Live.
Nudge forward and backward (which should make for some nice beat syncopation effects).
Use virtual vinyl to control the Live transport.
What you can't do — yet:
There's no reverse audio recording of the output of Ableton Live — there's no way to route audio from Live into Serato, so –
You can NOT scratch or reverse Live's audio as if it were another deck, yet...
"Yet" being the operative word. Keep in mind this is a first-generation product from two perpetually forward-thinking companies.
Our take: With today's digital DJing moving further and further away from merely beatmatching and mixing and more towards live performance and remixing, The Bridge could be the perfect middle ground between live production and DJing; and maybe just the push needed to persuade those with passion for production into trying Serato, and Serato users into making their own music using Live.
Pricing and availability
The Bridge is free for anyone who owns registered versions of both Serato Scratch Live hardware and Ableton Live 8 or Suite 8. The Bridge for Serato ITCH will be released in 2011.
ANNOUNCING THE BRIDGE WORLD TOUR!!!
If none of this is melting your face, two words: Try it. Demo Bridge and see for yourself if getting from here to there didn't just get a whole lot easier...

How? Serato and Ableton product specialists and the industry's top DJs and producers are taking The Bridge to select cities worldwide.

Special guests include Rob Swift, DJ Spider, Jeff Milligan, DJ Revolution, Poirier and J-Boogie.

These free demos will offer an introduction to Ableton Live and Serato Scratch Live, as well as an in-depth look at The Bridge, so whether you're an experienced digital DJ or just getting started, these Bridge demos offer invaluable tips and tricks to help you get the most out of Serato and Ableton.

For details visit http://www.ableton.com/bridge-tour