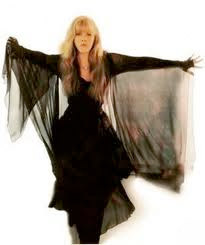 Icon Spotlight
Taking Stevie Nicks for a spin

There are those artists who inspire the DJ community. And there is Stevie Nicks, the voice that launched a thousand remixes.

Stephanie Nicks was born May 26, 1948, in Phoenix, AZ. The granddaughter of a frustrated country singer, she began performing at the age of four, singing at the tavern owned by her parents. Nicks began writing songs in her mid-teens, and joined her first group while attending high school in California. During her senior year, Nicks met fellow student Lindsey Buckingham, with whom she formed the band Fritz. Between 1968 and 1971, the group became a popular attraction on the West Coast music scene, opening for Jimi Hendrix, Janis Joplin, and Creedence Clearwater Revival. Ultimately, tensions arose over the attention paid to Nicks' pouty allure, and Fritz disbanded. Buckingham remained her partner, however, and soon became her lover as well.

After moving to Los Angeles, the duo recorded their 1973 debut LP, Buckingham Nicks. Despite a cover which featured the couple nude (or perhaps because of it), the album flopped; it did, however, catch the attention of Fleetwood Mac, who invited Buckingham and Nicks to join their ranks in 1974. In short order, the revitalized group's LP Fleetwood Mac topped the charts in 1975; its follow-up, 1977's Rumours, sold over 17 million copies and stood for some years as the best-selling album of all time.

A quick Google search shows Nick's-penned hits Dreams, Rhiannon, Gypsy, Stop Draggin' My Heart Around (a duet with Tom Petty & the Heartbreakers), Leather and Lace (a duet with Don Henley), Edge of Seventeen (Just Like the White Winged Dove), Stand Back, and Talk to Me continue to inspire an armada of remixers today, including such luminary DJ/producers as Deep Dish, Dave Aude, Dean Coleman, Morgan Page, and Tracy Young, all of whom have added a touch of their brush to her work.

Which brings us to this month's icon throw-down...

Are You Ready to Take Stevie Nicks for a Spin?

We'd like to hear your Stevie Nicks remix.

What's in it for you? Well, exposure to be sure (we'll be plugging your name and mix in our January 2011 eNewsletter) and the bragging rights that go with topping our list of entries.

Our winning remixer will also take home a full year of CD or DVD service plus one Specialty DVD (may we suggest a copy of Promo Only Remixes*?) to Promo Only, free...

Entries must be submitted no later than Friday, December 17, 2010. Submissions must be original remixes and can be submitted as MP3, AAC, WAV, or M4A to promo@promoonly.com

Join us this month as we celebrate the art of the remix.

Looking for inspiration? You'll find dozens of Nicks' mixes here!

And be sure to check out our personal favorite, the Tracy Takes You Home Mixshow version of Stand Back, as featured on PO Remixes*, by clicking here.

Game on.

Stuff our lawyers make us say: No subscription is required to enter the Take Stevie for a Spin Contest. Contest ends 12/17/2010. Winner(s) will be announced on or after 1/15/2011. Promo Only and its subsidiaries are not responsible for incomplete, lost, late, scrambled or misdirected entries or other errors of any kind whether human, mechanical or electronic. Promo Only Inc. reserves the right to cancel or modify the contest if fraud destroys its integrity, at our sole discretion. All entries become the property of Promo Only Inc. and will not be returned or distributed. Acceptance of prize offered constitutes permission to use winner's name and/or likeness for purposes of advertising, worldwide in perpetuity, without future compensation, unless prohibited by law. All submissions must be original remixes. All participants must have FUN preparing them.