Lighten your load (in)
The case for powered speakers...
We're here this month to talk powered speakers.
Whether on the road or in the club, powered speakers offer a number of advantages over their individual counterparts. Powered speakers free you from the tyranny of external amps and the extra connections required -- plug your mixer's outputs directly into the speaker inputs and you're ready to roll. But there are sonic advantages as well: Finding the optimum match between amps and speakers involves much more than simple impedance calculations, and can be a tall glass of confusing given the vast number of choices available. Today's powered speakers come to you prepackaged for premium portable sound.
Think easy button.
Yamaha MSR400
The MSR400 typifies the new breed of bi-amplified 2-way powered system. Frequency division is accomplished prior to the power amplifiers via a line-level active crossover, eliminating problems with loss, distortion, and phase that are virtually unavoidable in conventional passive crossover networks. Another advantage of powered speakers allows power to be assigned to the low-frequency and high-frequency units as needed for optimum efficiency as well as smooth, natural balance across the entire audio spectrum.
Perfect for small to medium venues, the MSR400 sends 400 watts maximum burst power to its 12" cone woofer and 1.75" V.C. compression driver to deliver crisp highs, well-defined mids and a respectable low end thump.
In true turnkey style, the 400 accepts input levels ranging from –36 dB to +4 dB, meaning that you can directly connect any source from microphones to professional line-level gear. Three parallel-connected connectors are provided – two balanced XLR-type connectors and one balanced phone jack – that can be used as either inputs or parallel outputs. The MSR400 also features an input level control for matching with the source signal. Low and high EQ controls can be used to adjust the respective bands over a plus-or-minus 3dB range.
Our take: At this price point, the 400 is hard to beat. Combine it with Yamaha's MSR800 sub woofer (available separately) and you're talking a total package that sounds – and looks – like a system that cost much more.
Priced at or around $499.00. For more info visit click here.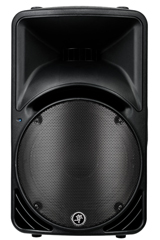 The Mackie SRM450v2
How do you improve on an industry icon? If you're Greg Mackie, designer of the legendary SRM series, you deliver a bigger, badder sound in a lighter more efficient box.
The SRM450v2 combines superior quality with innovative technology to bring ultimate performance and portability to Mackie's next generation SRM series. While the SRM450v2 doesn't stray too far from the best of the original SRM design, the welcome addition of a new ultra-efficient switching power supply, lighter-than-ever neodymium woofer and Class-D Fast Recovery amp (300W LF/100W HF), allows the SRM450v2 to pack way more power, punch and clarity than its predecessor – and to remain ultra cool while doing it.
Best of all, the v2 gives a whole new meaning to the word "portable" by weighing in at 11 pounds less than the original 450...
Our take: Live has never sounded so good. The 450v2's wide dispersion, outstanding bass extension and ultra-low distortion deliver studio monitor fidelity even at full-on, dance-dammit levels.
Priced at or around $599.00. For more info visit click here.
The JBL EON 515
Representing the next generation in its groundbreaking and industry-standard EON series, JBL significantly raises the bar with its new EON 515. From its industrial design to its sonic performance, robust utility and extreme portability, this is clearly a new breed of powered speaker.
Pop the hood and the 515 boasts a built-in, 450-watt Class-D power amplifier that provides ample power to its 15" differential drive woofer and 1" tweeter. Factor in the on-board integrated 3-channel mixer with its line level and direct microphone input capability, preset EQ settings for vocals, instruments, and speech, and handy mix/loop function for adding additional speakers or sending submixes, and you've got the makings of a true turnkey system perfect for small to medium venues.

In addition to its stellar sonics, the 515's light weight and balanced ergonomics make for true portability and ease of handling. We're not sure exactly what a copolymer is, but this enclosure reeks of rugged. A full steel grille offers additional protection for both the woofer and compression driver components.
Our take: The 5I5's simple, effective and professional plug-and-play architecture should appeal to anyone who has to set up quickly and deliver premium sound in a hurry.
Priced at or around $799.00.
Want to know how you can give yourself a raise right now?
Spend less time loading in and out.