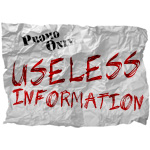 Useless Information! - Fun facts, trivia, or just plain silly stuff!
Internationally Speaking...
The first European countries to have McDonald's: Germany (1971), Holland (1972), Sweden (1973), UK (1974), Switzerland (1975), Ireland (1977), Austria (1977), Belgium (1978), France (1979), Spain (1981),


Some Things invented by Americans:
Lighting Rod, Bifocals, Revolver, Fiberglass, Sewing Machine, Safety Pin, Elevator, Machine Gun, Typewriter, Barbed Wire, Vacuum Cleaner, Denim Jeans, Telephone, Lightbulb, Saccharin, Electric Fan, Coca-Cola, Handheld Camera, Jukebox, Zipper, Motion Pictures, Matchbook, Escalator, Pepsi-Cola, Tractor, Electric Toaster, Autopilot on Airplanes, Automatic Rifle, False Eyelashes, Bulldozer, Frozen Food, Car Radio, Scotch Tape, Nylon, Teflon, Microwaves, Polaroid Camera, Oral Contraceptives, Heart Pacemakers, Laser, Pull-Tab Opener, Bar Codes for retail use, Electronic Mail, Personal Computers


Some Things invented by Britains:
Pressure Cooker, Match, Kitchen Range, Sandwiches, Modern Flush Toliets, Gas Lighting, Locomotive, Lawn Mower, Computer, Postage Stamp, Bicycle, Travel Agency, Gliders, Refrigerators, Linoleum, Color Photography, Stapler, Thermos, Loudspeaker, Car Disc Brakes, Telephone Booth, Geiger Counter, Stainless Steel, Tanks, Decompression Chambers, Food Processor, Hovercraft, Acrylic Paint, CAT Scanner, Genetic Fingerprinting, Test-Tube Babies, Soccer, Tennis, Sell-By Dates on Food, Disposable Diaper, Airline Meals, Kissing Under the Mistletoe, Package Tours, Hearse, Christmas Cards, Punk Rock


Some Things invented by The French:
Suits, Ties, Aspirin, Coffeepot, Handkerchief, Christmas Cracker, Wallpaper


Actual Products :
"Sor Bits" - Danish Mints
"Krapp" - Scandinavian Toliet Paper
"Grand Dick " - French Red Wine
"Nora Knackers " - Norwegian Biscuits
"Moron" - Italian Wine
"Mukki" - Italian Yogurt
"Craps Chocolate " - Chocolate in France
"Plopp" - Swedish Toffee Bar
"Bum" - Turkish Biscuits
"Donkee Basterd Suker " - Dutch Sugar
"Zit" - Greek Soft Drink
"Bimbo Bread" - Bread in South America
"Darkie Toothpaste" - Toothpaste in Taiwan
"Pschitt" - French Soft Drink
"Homo-Milk" - Milk in Canada



How To Say "Beer" in other Countries: .
cerveza (Spanish), sor (Hungarian), cerveja (Portuguese), biere (French), bier (German), bjor (Iceland), pombe (Swahili), pivo (Russian), ol (Swedish), olut (Finland), bira (Turkish), bir (Indonesian), bere (Romanian), birra (Italian), beera (Greek)


Some Deadly Australian Creatures:
BLUE-RINGED OCTOPUS- one bite or squirt causes immediate paralysis & death in minutes.
SEA WASP/BOX JELLYFISH - human survival rate almost zero, 4 minutes from being stung to being dead.
TAIPAN SNAKE - 180 times more potent than a king cobra. You're dead within 3 seconds of a bite.
TIGER SNAKE - death takes 12 hours, antidote must be taken within 30 minutes
FUNNEL-WEB SPIDER - Tree dweller, kills humans within 15 minutes
CONUS TEXTILE SHELLS - underwater sea creature with 21 darts, each of which has enough poison to kill 300 people. Death in minutes.
IRUKANDJI JELLYFISH - deadly transparent sea creature with poisonous tentacles; sting causes heart attack in humans, leaving swimmers to drown.
SALTWATER CROCODILE- kills 2000 people a year because of how fast it is in and out of the water; it can outrun a galloping horse and kills in seconds.
GREAT WHITE SHARK - most dangerous of the many sharks in Aussie waters, kills in seconds with just one snap of its awesome teeth.
RED-BACKED SPIDER - the female is the deadly variety, kills in a few minutes, but deaths have ceased since an antidote was found.