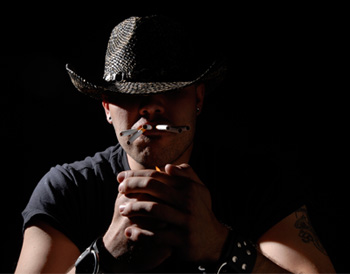 DJs to Watch:
Evan Gamble Lewis [First in a Series...]
Want to know how to make a serious name for yourself? Ask up-and-coming DJ Evan Gamble Lewis and he'll tell you creating your own tracks is key…
"I used to have a lot more gigs before I started writing, but that was only because I had more time," says Lewis. "But once I started writing music, creating my own tracks from the ground up, I didn't have to chase shows anymore."
Evan's passion for music has deep roots: his mother is an accomplished blues singer/guitarist who surrounded him at a young age with musicians, instruments, and recording studios. At the age of seven, Lewis was playing guitar and experimenting with synthesizer sequencing. 

By the age of twenty-one Lewis' accomplishments had landed him MTV interviews, horror/snowboarding movie scores, and a nine-month European tour headlining over 50 massive techno, trance, and breakbeat parties in mega clubs such as Kanty, Poland's 1 techno club, Sfinks, Planeta, Klimate, and more. 

These days it's Lewis' production chops that keep him in high demand with producers, artists, and promoters. To date, Evan has released over 20 tracks in the past two years, working with such legends as Omar Santana, Superstar DJ Keoki, Decoding Jesus, Sonic Trip, and Rabbit in the Moon.
"It's all about building your network," suggests Lewis. "I'm working now with about five different records labels – we're all friends, really. We all help each other out building our own thing."
Evan is currently signed with Bombeatz Music. His mixes are available on Beatport.com, ConnectBeats.net and anywhere great music is distributed for free.
"At first I wasn't s too sure – I was nervous," concludes Lewis. "But there are so many people who are going to pirate your product anyway. So I thought why not just give a ton of it out. And I definitely see a lot more people showing up at shows."
FREE DOWNLOAD!!! Check out Evan Gamble Lewis' new track, "Roonie Choon", f/Trikki Nikki
For more info on all things Evan Gamble Lewis – and a free mp3 promo pack of Evan's new album -- visit www.myspace.com/evangamblelewis