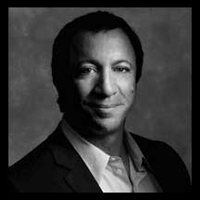 Tom Silverman of Tommy Boy Records presents...
The New Music Seminar
Tomorrow's blueprint for success today
Part One of Two...
Mention the name "Tom Silverman" to most DJs and you're likely to get nothing more than a raised eyebrow. Mention Tommy Boy Records, however, the landmark hip-hop/dance label Tom Silverman founded, and you're guaranteed a smile of recognition. Mention DJs to Tom Silverman, a former DJ himself, and you're guaranteed not only a smile but some incisive opinions as to where the industry is headed from one of the industry's most forward thinking individuals.
Silverman's business acumen is legendary within the industry, as is his willingness to share his knowledge and vision with others via his renowned New Music Seminar, coming this February 2nd to Los Angeles.
The old record business is over.
A new music business is rising from its ashes.
We are entering the greatest era of opportunity in history.
You can take advantage of this opportunity if you know the secrets...
"Why would anyone invest in a new artist today?" observes Silverman. "The chances of return are so minimal that you're much better off going to Las Vegas and gambling. If you know how to play blackjack you have a 49% chance of winning if you can't count cards. If you can count cards you go above 50%.
"Nobody in the record business today has a 50-50 shot of breaking in a new act. You might as well buy a lottery ticket," Silverman laughs. "We have to fix that. So the New Music Seminar is the place where we talk about the new model. And this model applies to DJs and dance artists, as well as hip-hop or country artists or, for that matter, magicians and strippers – it applies to everyone."
If the old business revolved around the record,
the new business revolves around the fan/artist relationship.
"Let's take David Guetta, for example," continues Silverman. "Guetta has hundreds of thousands of fans, and while he may only sell 20,000 albums, he'll sell out 2000 seat venues at $30,000 two hundred nights a year; as a result he's positioned himself to remix Madonna records and build his career as a producer or whatever he wants to do. He's monetizing his fan/artist relationship.
"Daft Punk can earn $250,000 playing a giant festival or a big rave; Tiesto or Paul Oakenfold can get $100,000 – all because they have a great relationship with their fan base.
"What our seminar is about is how you as an artist can monetize that relationship in more ways than just selling tickets. You can create merchandise, you can have direct access to your fans via email, you can even sell out shows yourself in some markets. All you need is a venue. And a plan."
The New Music Seminar

A low-cost, one-day event that appears in four different cities four times a year, Silverman has designed the New Music Seminar to give artists the knowledge and the tools to step into tomorrow's music business today.

Highlights include a keynote speech, followed by four seminars hosted by a blue-chip panel of industry experts brimming with vital information that ranges from how to maximize revenues from your fan base to the latest techniques for breaking through the noise level generated by MySpace, Facebook and Twitter; and more.
Attendees will also receive a copy of the New Music Seminar Handbook filled with important contact information and vital new music business basics, as well as the opportunity to network with other delegates and attendees.
"In the new world, if there's a brilliant DJ or dance or electronic producer they should be able to rise to the top, regardless of whether or not they can get airplay," concludes Silverman. "At the seminar, we don't look back at the problems; we look forward to the possibilities created by new technology and explore how DJs can make more money the new way.
"We're here to help you discover what you have to know to quit your day job, to turn your avocation into your vocation, to do what you love all the time. Here's where you'll learn how you can make at least $30k a year doing your music fulltime and how to take it from $30k to $40k to $50k to $100k and more."
There are five million artists with MySpace pages.
How can you become one of the few hundred each year
that break out and become successful?

New Music Seminar
February 2, 2010
Los Angeles
http://www.newmusicseminar.com/